Game Spotlight: slash - romance without boundaries
---
The creators behind slash: romance without boundaries were kind enough to send me a demo copy of their game. For those who haven't heard about it, the goal is to create the best fan-fiction romantic couples. Game play is similar to Apples to Apples, Cards Against Humanity. One person, the matchmaker, chooses a person card in their hand and the rest of the group chooses a person from theirs that they think would make a great pairing. Of course, great is highly subjective. In some versions of game play, the matchmaker may ask players to "defend" their choice by asking them to create fanfiction on the spot, often according to a prompt. For instance, the player might be asked to describe the first date between the two.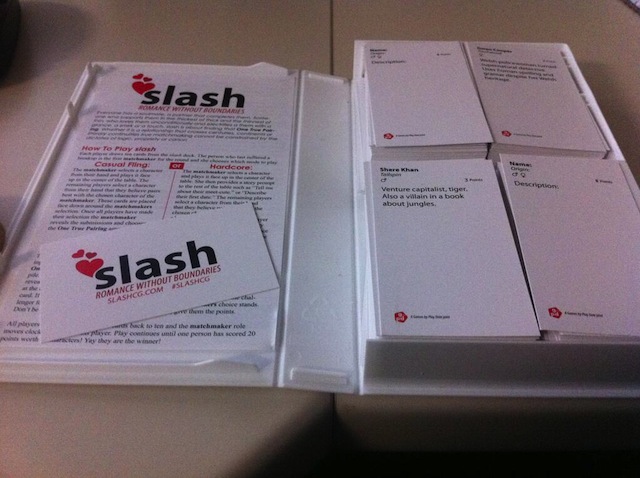 slash: romance without boundaries
For some of my friends, this game would be absolutely perfect. They love fanfiction and this game is a natural fit for them. But I like it for a number of additional reasons. First, I find that this sort of knowledge doesn't get rewarded as often as it should. Being able to converse about a wide range of people and characters - everyone from pop culture to historical figures to characters from literature are included. In the version of the game where you have to create fanfic, you probably could use more than passing familiarity with a name to make it truly epic.
Additionally, I think overall it might break some barriers (although it doesn't have to). There's no gender, sexual orientation, or other barriers to suggesting a match.
Beyond the game itself, I want to use this for character generation, especially NPCs. When I want to create a new character, I could just pull a card from the rather large deck and use some elements from that person to create a character. It might even be cool to pull two or three and create a character that combines aspects of those people.
Currently, the cards are available for download through the game website. Games by Playdate also have a Kickstarter for the game. Filamena Young has a great interview with Meg about the game on Gaming as Women.
Thanks to Meg McGinley-Crowe, Glenn Givens, and Dan Brian for putting this on my radar. It's awesome.