Blogs
---
As I looked through a bunch of the discussion around the Love Domain cleric, it became clear that the criticism of some of the powers removing consent wasn't clear, especially concerning the criticism made that it could be referred to as the "'roofie' domain."
I appreciate that discussion was fast and often furious and folks might not want to discuss the details anymore. Having a full-time job and a three-year-old makes it hard to participate in the conversation in a more timely manner, but I'd like to give the conversation a try.
First, I want to say it's clear that through some of the design that thought was put in, especially in the area of the bonds. My gut tells me some portion of the folks involved in the design were going for an Aphrodite/Eros/Cupid vibe and particularly their tendency to use mind control and those folks either weren't aware or chose to ignore the problematic aspects to those stories.
I don't say that to shame or otherwise assign blame. Just that we live in a culture that tends to minimize the importance of consent and sometimes make excuses for stories that involve in removing the ability to willingly and enthusiastically consent.
Second, while it's important at some point to discuss the role of consent when it comes to sex (especially with regards to a Love Domain), for the purposes of this discussion, I'm going to keep the conversation more centered on the idea of what it means to remove consent and how some types of drugs make that easier. I won't talk about instances of sexual assault or rape but will use the story of someone who was drugged but didn't have anything additionally negative happen to them.
With all that said, let's dig in, shall we?
Understanding Roofies
One of the first things that stood out to me reflecting on the response is that a lot of folks don't understand the group of drugs called "date rape drugs" or "roofies." For instance, I recently had a conversation with someone under the impression that roofies knocked the victim out, rendering them unconscious. That was because the expected usage is to help people unable to fall asleep do so.
However, when these drugs are used in an off-label way (often on unknowing or unwilling participants), it's the combination of the following reactions that the administrators of the drug are looking for: reduce inhibitions, sedate folks, and cause memory loss. It's also important to note here that while "roofies" are often used to facilitate sexual assault and rape (along with other substances such as alcohol), there have actually been many cases of people just adding these substances to people's drink for what they consider to be fun.
Because people are sometimes unwittingly drugged by an unconnected third party, we have situations where reliable third parties are present during the episode. For instance, I found this description in an article by Jordan Kisner, describing what happened when she was drugged while at a bar with her then-boyfriend, John.
Twelve hours after being drugged, I woke up shaking in John's bed, fully clothed, and on top of the covers. My knowledge of the interim is pieced together mostly from what he told me. Apparently, I'd grown radiantly happy and then quickly, dramatically incapacitated. I'd stopped talking, and then walking. I ran into walls. He took me back to his apartment to put me to bed, but I managed to lock myself in his bathroom for 30 minutes and either wouldn't or couldn't respond to his attempts to coax me out. When I finally emerged, he suggested I sit down, and I sat. He told me I should drink water, and I wordlessly accepted the cup. This was what unnerved him the most in the retelling: how pliable I had been. "You would do things, but you weren't there," he said.
https://www.thecut.com/2014/10/what-you-might-not-know-about-getting-roo...
What we can get from this description is that for at least some folks, the response is not to turn into an unconscious log but rather someone who clearly has an altered mental state and may become more "pliable" or compliant. It's important to keep that in mind as we look at the components of the domain.
Comparison to Charm Person
Now let's quickly look at Charm Person and Charmed.
Charm Person
You attempt to charm a humanoid you can see within range. It must make a Wisdom saving throw, and does so with advantage if you or your companions are fighting it. If it fails the saving throw, it is charmed by you until the spell ends or until you or your companions do anything harmful to it. The charmed creature regards you as a friendly acquaintance. When the spell ends, the creature knows it was charmed by you.
Charmed
A charmed creature can't Attack the charmer or target the charmer with harmful Abilities or magical Effects.
The charmer has advantage on any ability check to interact socially with the creature.
Right away I see a few things here that line up with the criticism. Charm person can take someone who is hostile to you and make them a friendly acquaintance. It doesn't say it here, but I think it's common knowledge that the reason why this spell exists and used is to make the target more agreeable to the person. This could be relatively benign, for instance a character could use it to counter someone who is under a different mind control spell. Or it could be more malicious, make someone more likely to do something that is in the caster's favor at the expense of the person who would have benefited from the target's free will.
Most importantly, this sort of modification, typically for the benefit of the administrator of the substance, of a person's mental state is the purpose of these drugs. And yes, there are additional protections here that don't apply in real life, the caster and their companions can't do anything that the DM would rule as harm to the target and amnesia isn't part of the spell. But I hope that folks can at least see where this criticism is still valid. The intent of both is to alter someone's mental state and make them more likely to do things they wouldn't otherwise do.
Comparison of Hypnotic Pattern, Confusion, and Hold Monster
Hypnotic pattern
You create a twisting pattern of colors that weaves through the air inside a 30-foot cube within range. The pattern appears for a moment and vanishes. Each creature in the area who sees the pattern must make a Wisdom saving throw. On a failed save, the creature becomes charmed for the duration. While charmed by this spell, the creature is incapacitated and has a speed of 0.
The spell ends for an affected creature if it takes any damage or if someone else uses an action to shake the creature out of its stupor.
I hope by now, this is an easy one to see the comparisons. As with charm person, the creature becomes charmed, making the target more pliable. And now, we've added incapacitation which can be an outcome of many of the date rape drugs.
Confusion
This spell assaults and twists creatures' minds, spawning delusions and provoking uncontrolled action. Each creature in a 10-foot-radius sphere centered on a point you choose within range must succeed on a Wisdom saving throw when you cast this spell or be affected by it.
More mind control, this one honestly feels eerily similar to what happens with some abusers.
Hold monster
Choose a creature that you can see within range. The target must succeed on a Wisdom saving throw or be paralyzed for the duration. This spell has no effect on undead. At the end of each of its turns, the target can make another Wisdom saving throw. On a success, the spell ends on the target.
Another incapacitation outcome.
Comparison to Channel Divinity: Impulsive Infatuation
You can use your Channel Divinity to overwhelm a creature with a flash of short-lived but intense admiration for you, driving them to rash action in your defense. As an action, you present your holy symbol and choose one creature you can see within 30 feet of you. That creature must make a Wisdom saving throw; a creature can choose to fail this saving throw if it wishes. On a success, the creature is unaffected. On a failure, the creature is charmed by you until the start of your next turn, and it must immediately use its reaction to make a weapon attack against a target you designate. If there are no valid targets, it uses its reaction to admire you.
Here again, we are overriding a creature's free-will and consent in hopes of influencing the outcome of an event and making that part of a "love domain." It's a bit harder here because the issues are only implicit in the text. By and large, the reason this class feature exists is to force a creature to do something it would not do such as attack one of its allies or something in the environment that would be helpful to hostile enemies.
Not only do the same critiques of charm person apply, but not only are we engaging in removing consent, it's a domain feature. Unlike charm person, which is just part of the game (not saying there aren't issues there, just the issues get highly magnified when packaging with the Love domain), this domain feature should, in part, be key to telling us what this domain is about. This should be iconoclastic. And what we end up getting is tightly tying the domain to removing consent.
Thoughts
Do I think this is easy to forget when designing something? Abso-f*ing-lutely. Especially when combined with all of the other criticism of the game, right? I mean, the bond powers are nice, but a lot of folks have been upset when clerics don't get enough damage dealing powers, right? And we definitely want to be careful of that with the love domain because it often gets thought of as feminine, right? Add into that a healthy serving of stories where this makes sense (looking at you Aphrodite/Eros/Cupid) and I totally get how someone gets to this place in writing.
But moving from there to publishing is super hard. We know the time we live in. Where we're still in the position of having to say "Cosplay is not consent" and even trying to get the public at large to live by the fact that consent can be withdrawn at any time. We live in a time of #MeToo. To put this as a domain feature of the love domain is, well, it's hard to process and feels, from the outside, like a failure somewhere in the chain.
Currently on Kickstarter is a game called One Child's Heart, designed by Camdon Wright.
There are pivotal moments in every child's life that shape who they become. One Child's Heart is a tabletop roleplaying game that invites players to take the role of child welfare professionals participating in a new mental health care memory exploration experiment. The Central Limbic Engagement Recovery System (CLERS – pronounced, "clears") brings characters into the memories of these key moments to give support and guidance to a child who needs both.
What I love about this game is that it focuses on human connection and empathy while not being about "tragedy tourism." In addition, as hard as at may be to accept, players cannot change what has already happened. There is no ability to be the savior. But, just like in real life, what can be done is helping the child learn tools to cope with their life to come.
The basics of game play are described in the Kickstarter. Players take on one of five playable professions: the child psychologist, the clergy, law enforcement, the social worker, and the therapist. They help the child through the memory and attempt to earn enough tokens for an optimal outcome. Dice are used to determine whether or not a connection is made, which makes sense because each child is unique and the reality is that we cannot know what is going to connect with an individual.
In addition to the game idea itself, the reason why this is a "More Like This Please" post is because it has a kickass team working on it. First, let me be clear and say a number of people I know and admire are part of this, including Sharang Biswas whom I know from outside of gaming. The whole group is immensely talented and bring a diverse range of experiences to the table, incredibly important in a game such as this.
If you are interested in learning more, I recommend listening to the actual play sessions listed on the Kickstarter page:
A couple of weeks ago I posted a blog post discussing how including pronouns for characters could be helpful in a number of ways. Soon after I did a highlights flip through of a PDF and saw an example of including pronouns. The product? Uncaged Anthology: Volume 1*, a collection of adventures, each of which feature a creature that is traditionally considered female. Many of these adventures have a section called Dramatis Personae and within this section, some authors decided to include the character's pronouns.
As an example, here is the list from one of the adventures, The Guardian of the Forest, by Awkward Bard: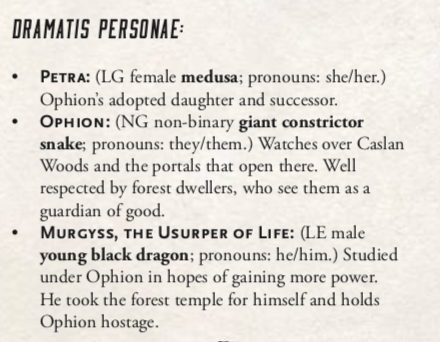 • Petra: (LG female medusa; pronouns: she/her.) Ophion's adopted daughter and successor.
• Ophion: (NG non-binary giant constrictor snake; pronouns: they/them.) Watches over Caslan Woods and the portals that open there. Well respected by forest dwellers, who see them as a guardian of good.
• Murgyss, the Usurper of Life: (LE male young black dragon; pronouns: he/him.) Studied under Ophion in hopes of gaining more power. He took the forest temple for himself and holds Ophion hostage.
It was awesome to see that some folks are trying this out and this is an example others can use in their adventures.
If you are interested to learn more about Uncaged Anthology, the project's website can be found here. In April they are partnering with Non-Toxic Gaming to run a charity stream to raise money for RAINN.
I also did a selected flip through of the pdf and posted it on YouTube.
* Affiliate link
Swordsfall is an Afropunk Sci-Fantasy setting and future tabletop roleplaying game. It's a world where gods and spirits are real, where mortals can kill a god and the aftermath has world changing consequences.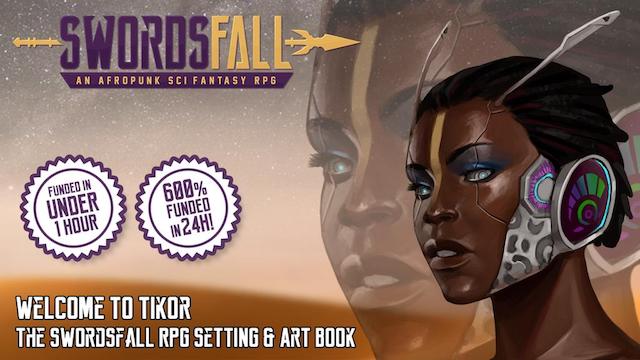 The action takes place on the world of Tikor, which is heavily influenced by and pulled from the rich and diverse pre-colonial history of Africa. For those who would love to learn more about the world, there are pages upon pages of content on WorldAnvil discussing and detailing it, sometimes in the form of knowledge articles and other times through fiction. The world comes alive through the words and artwork. Currently, there are more than 100 posts and the creation of the lore is supported through the Swordsfall Patreon.
If you are interested in learning more and especially if, like me, you might need a bit more of a clear introduction to the world (it's not easy to read websites with a toddler about), you might be interested in the Welcome to Tikor Kickstarter. The project aims to provide a setting and art book about the world, get a bunch of amazing art produced for this project and future use in the role playing game, and be a springboard for exploration into the world.
Since the project is already at almost $28k, backers will likely get at least 3 pdfs: the setting and art book, a book detailing the 34 professions, the pantheon, and a comic about the pirate Nubia. The lore is from Brandon Dixon. In addition, there will be art from T'umo Mere and Sabina Lewis, and pins from Taylor Ruddle. If additional goals are met, we'll also get art from Jonah Lobe and an additional book, this time on the creatures of Tikor.
For me, this project is important not only because representation matters, but also to undo some of the harm done by colonialism. We need to see this art and explore this lore. With so many ways to support this project (the Kickstarter, the Patreon, and by reading and sharing content from World Anvil), perhaps we can bring more light to the world. I love what I have read and seen thus far, and can't wait to see more.
Just to be clear, I'll be talking about some spoilers for the Captain Marvel movie as well as topics of dehumanization and the overemphasis on genitals.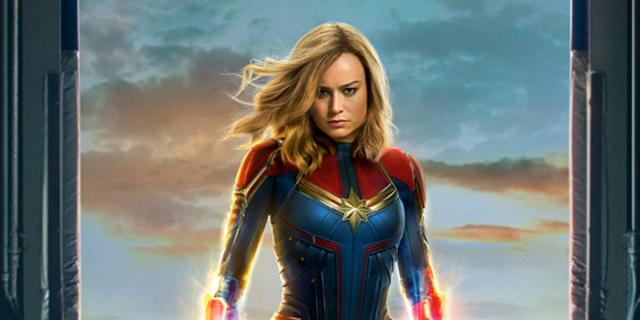 This past Sunday, I was fortunate enough to go and see Captain Marvel in the theater. I think it's the first movie I've been able to see opening weekend since my child was born. And there was a lot that I loved about the movie.
I had tried to keep reading about spoilers to a minimum before seeing it, but there was one scene I knew was present in the movie. Because the person didn't want to get too specific about it, I knew that someone at some point "peeked" at someone's genitals. That general information and an understanding of how upsetting that can be to some, especially given the history of treatment of trans folks, was about all I knew going in.
For those who haven't seen the movie, and yes, let me remind again, spoiler alert, some folks learn for the first time about the existence of extraterrestrials, notably Fury. He learns this after a Skrull who had been impersonating his partner is killed and reverts form. We see him and his boss in the autopsy room discussing this new information and Fury at one point lifts the sheet to not only look at the alien's genital area (or at least assumed to be the genital area) but to share with his boss the looking at that area.
Most people have reported that at this point the audience laughs.
Ouch.
Part of the issue is that for many trans folks, this is pretty much a nightmare. People's emphasis and curiosity about "plumbing" cause many, many issues. And hearing people laugh at this makes it hurt even more. I want to say that the upset and pain experienced from that scene is valid and real.
I also want to talk about something I saw that I haven't heard discussed (although I admit to not looking too hard to see if anyone had.) I bring it up because I think it underscores how "dehumanizing" the lifting of the cover was. (Yes, I'm also at a loss for the correct terms to use for this since technically the Skrull aren't humans.)
At the moment Fury lifts the cover, we do not yet know that his boss is actually a Skrull in disguise. When we react to that scene the first time, we do so believing that this is about two humans checking out a dead alien's "junk."
However, it is soon revealed to us that what we thought we saw isn't reality since as soon as Fury leaves the room, we find out the boss isn't human after all. We know this because he begins to mourn the fallen alien. Not only does this rehumanize the dead Skrull but allows us to find out that the boss is an imposter as well.
This stood out to me in the theater because it undercut whatever had been built up in the "bonding" moment. It's something that happens to us any day, no? You go around with this assumption that you can guess or assume a lot about another person and then you find out that your assumptions are not only wrong but inconsiderate and callous. And it's not just the bad guys that do it but our heroes as well.
We just watched someone have to "be polite" in an incredibly traumatic and hurtful situation and the film didn't even clue us in before it happened, and thus, we have to live with our individual and collective actions to it.
At least that's what I took away from it. It clearly still centers on cis folks and it seems fundamentally unfair that a film that attempts to be conscious of the effects and history of gender didn't take more care with this. But if it's going to do that anyway, hopefully some folks can take from it an important lesson.