The Crater in Fury Road
---
In "An Immersive Experience" I discussed my push to consume more media where women are prominently featured as characters and/or constitute a significant portion of the creative team. Thus, it should be no surprise that while looking through the newest releases on Comixology, Mad Max: Fury Road: Furiosa #1 caught my eye. However, between its $4.99 price and having been stung by such purchases in the past, I thought it would make sense to read some reviews before investing in a new series.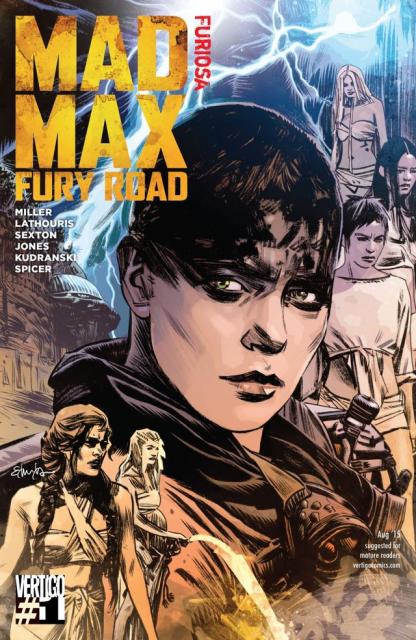 A quick Google search brought me to the Mary Sue and a review by Ana Mardoll, "Review: We Need to Talk About the Furiosa Comic." The review quickly made it clear, with citations and panels from the book, that this was not something I needed to buy right now. I was disappointed and everything, but this sort of thing happens so often it didn't seem to make sense to say much about it.
But then I saw a retweet by Mardoll of a share of the review by one of the creators of the comic book.
Quite extraordinary review of Mad Max: Furiosa here - http://t.co/6dSzo6qbGS Incredibly subjective, very angry. But fascinating.

— Mark Sexton (@Mark_H_Sexton) June 20, 2015
I don't really get this. All reviews are subjective. Also, the fact he thinks the reviewer was very angry hints at a lot about him. I looked through some of his other tweets and found this conversation.
@KameronJdevine Interesting. Could answer this any number of ways...

— Mark Sexton (@Mark_H_Sexton) June 17, 2015
@KameronJdevine Best answer is that the use of institutionalised rape by Immortan Joe is not only central to the story -

— Mark Sexton (@Mark_H_Sexton) June 17, 2015
@KameronJdevine - but without it, the story could be viewed merely as a bunch of young spoilt girls whining about being kept in relative -

— Mark Sexton (@Mark_H_Sexton) June 17, 2015
@KameronJdevine - luxury by an older man who's concerned with their safety. Not really much room for dramatic tension there..!

— Mark Sexton (@Mark_H_Sexton) June 17, 2015
Let that sink in for a moment.
The reason why rape is used so heavily in the first issue is because the concern by at least one of the creators is that without it too many people wouldn't understand why a bunch of women would want to leave Immortan Joe. In fact, those people would only be able to view the wives as a bunch of spoiled young women who can't understand that Immortan Joe is just caring for them.
My first question is what the fuck?
My second question is who seriously thinks this way outside of a small number of misogynists?
My third question is why would that be the audience you cater to? Why is it their ability to feel dramatic tension that you seek?
Not only do they decide to center on that view point and craft their work so people with it are able to feel dramatic tension, but as a number of reviews point out, the book reinforces that point of view. For example, the wives are told multiple times that they need to show more gratitude for what they've been given.
Imagine making that argument to a male character, like Max. Generally speaking, when it comes to male characters the reader is supposed to understand that any sort of enslavement is untenable. A male character, particularly white male characters, are supposed to want to escape their bonds as soon as possible. Nothing else is needed to create that dramatic tension. But apparently women's natural state is to want to want to be submissive and controlled by others and if they get that and gifts, apparently readers can't understand their need to be their own people.
[NOTE: There are serious issues here when it comes to slavery especially because there are people out there who make these sorts of arguments about African-American slaves of all genders. I've read articles and seen documentaries where people try to make the case that people "need to understand" that African-American slaves were well taken care of by some slave holders. It's a harmful and hurtful argument in that context and the same here. Thanks to @AskelandLori for the reminder and check out Ask A Slave and @afamhistfail for more examples.]
In looking into this, I also began to worry about something in regards to the movie which has been praised for leaving out exactly this sort of approach. If you look at the Comixology page, it appears that the comic was meant to come out *before* the movie.
From the mind of George Miller, the creator of the Mad Max trilogy, the prelude miniseries to the upcoming film Mad Max: Fury Road continues!
This leaves me with the impression that maybe they didn't cover it in the movies not because they saw how awesome it would be to leave it out, but rather because they thought it was already covered by the books and so, why cover it again in the movies, especially when they could drive book sales. What makes me even more uneasy about this is that there's a pretty big overlap in creative teams on both projects. See, the Mark Sexton quoted above didn't just work on the comic, he worked on the storyboards for the movie. He was part of that creative team too.
And that's what bothers me about this. He repeatedly states on Twitter that they treated the women so horrifically in the comic book because otherwise people wouldn't understand why the wives had to leave the Dome or why Furiosa was able to empathize with them. Which baffles me because people sat down and sang the praises of the movie without having that sort of horrific detail on display. The wives said they lived through bad times and the audience accepted it. THIS ISN'T HARD. Yet here we are, after the movie is out, and he's still singing the old song about how we need this sort of thing in order for people to get it. After people have already said that they get it without depicting that violence.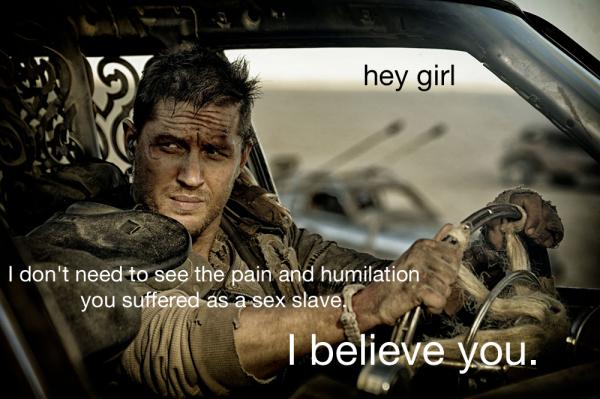 Understanding this is critically important. These justifications for the horrific treatment of female characters in our media need to stop. They serve primarily to reinforce the misogyny in society instead of working against it. Women don't need to have these things happen to them for us to understand that they need to have their own agency and not be property.
(In addition to the Mary Sue review, i09 presented some of the issues in the comic as well.)