Arete: Experience the Greek epic
---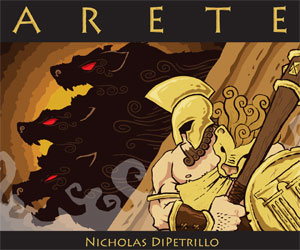 Arete (pronounced are-E-tay) is a new role playing game from Expy Games based on greek mythology. The designer is Nick DiPetrillo, @DMingNicholas. Nick also wrote Zombie Murder Mystery, Sailing Stormy Waters, and many articles on the Dungeon Mastering blog.
Designed to be Greek
However, that description alone doesn't really do it justice. This product doesn't use the bolt-on approach similar games have used, instead it was designed from the ground up to be a focused on Greek mythology. The game design focused on four principles for creating a Greek feel:
Greek heroes are defined by the size of their actions, not the morality.
Combat in Greek epics is fast, visceral and bloody.
Gods play a constant role in the lives of heroic figures, for better or worse.
Greeks have a unique culture, including elements like blood guilt, guest friendship and proper ritual.
Players are Story-Tellers Too
In addition to designing the game specifically for greek mythology, Nick sought to create a game focused on more cooperative story telling. In fact, players attempt to win narration rights during conflicts. This means that players are given a lot of story telling opportunities. For instance, the player not only indicates that he wants to fib but also gets to create what that lie might be. This can help DMs who are short on time as well as help make the game as exciting for the DM as it is for the players since the DM will never know how the story is going to go. This cooperative element of the game is driven by four more design principles.
The story should be driven by the players and goals of their characters.
The players and game master establish the premise of the game together. From that point on it is the role of the game master to be reactionary to the players and introduce complication to their goals.
Players should compete for glory but not seek to undermine or defeat each other. The characters are all working towards the game goal, they just want to be the most impressive in attaining it.
Even failure should be fun, sending the story in an unexpected direction.
What You Get
When you purchase Arete, you will be able to download a zip file. Once unzipped, you will have 3 pdfs: a character sheet and two versions of the game information, one with artwork and a printer friendly version. The game information itself consists of the following bits:

Table of Contents
Introduction
- The Making of a Greek Hero?
Conflict Resolution
- The Essence of Arete
- Types of Conflict
- Narration Rights
Character Generation
- Overview
- Abilities
- Traits
- Magic Items
- Goals and Boons
Combat, Injury and Death
- Combat
- Wounds, Recovery and Death
The Culture of Arete
- Ariestea
- Blood Guilt
- Divine Favor
- Gender
Running Arete
- Role of the GM
- Campaign Building
- Setting Obstacles and Scores
Allies and Enemies
- Bestiary
- The Gods
References

In addition to the 40+ pages of Arete content, people who purchase the book will get lifetime updates, customer support via forums, email or toll-free phone number, and, if you don't like it, there is a 90 day money-back guarantee.
The Company
I haven't had the chance to play this game, but I have purchased other items from Dungeon Mastering and I've contacted Yax (@dmyax) before. I've found Yax to be a great guy and very easy to deal with. Recently I purchased the Dungeon Mastering Tools and realized after that there was a deal that I had missed. I contacted him and I was reimbursed the money I would have saved.
Quick Note and Excerpt
Being female, I often worry about how genders are treated in role-playing games, particularly historically-based ones. Nick dedicates a section of the rules to discussing his use of masculine pronouns in discussing Greek heroes and also gives suggestions one female heroes players might want to use. Finally, he states that if any of the social restrictions in the game would hinder enjoyment, the players should feel free to get rid of those portions of the game. This is often a thorny subject so I'm glad he decided to take it head on.
An excerpt of the first chapter can be found on the Arete game info page.