Adulthood, Sex, and Medieval Marriage
---
While it wasn't one of my main points, people picked up on my comment regarding humans having adulthood set at 15. One of the things it brought to the forefront is that what adulthood means is rather nebulous. It has no meaning in the rules or even necessarily the setting. Outside of elves who decide when they are adults after their 100 birthday and take on an adult name at that time, we know only that it happens when a human turns 15, halflings at 20, and dwarves at 40.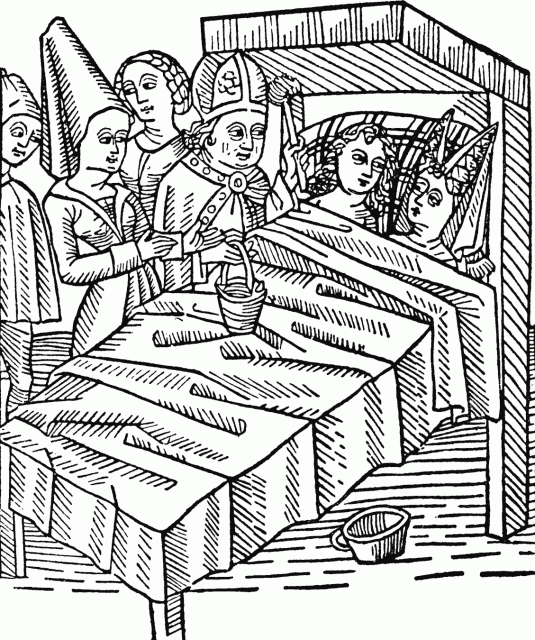 How Reymont and Melusina were betrothed. From the Melusine, 15th century.
Some people asked why I thought it was creepy. I can understand why it might seem like a weird thing to say. Fifteen to sixteen is a common time for coming of age stories, many of which take the form of a quest or adventure. The difficulty I have is that in the same literature and folk stories that have tales of late teen male adventurers, many of the girls are being sent off to be married, quite often against their wishes. My fear is that we would see more stories about the 16 year old princess kidnapped by the old creepy wizard to be his bride or part of some dark ritual. And, because she's an adult, I'm afraid of that being sexualized in a way that's really uncomfortable to me.
Additionally, it reinforces some misconceptions we have about history. For instance, while it's true that some girls were married at very young ages, it appears that may have been more predominant among the nobility. According to the Wikipedia entry on the Hajnal line.
[A] thousand marriage certificates issued by the archdiocese of Canterbury between 1619 and 1660 show that only one bride was aged thirteen years, four were fifteen, twelve were sixteen, seventeen were seventeen, and the other 966 of the brides were aged nineteen years or older when they married for the first time. The church stipulated that both the bride and groom must be at least 21 years of age to marry without the consent of their families; the most common ages of marriage were 22 for women, 24 for men; the median ages were 22.75 for women and 25.5 for men; the average ages were 24 years for women and nearly 28 years for men. The youngest brides were nobility and gentry.[17]
Here are some more tidbits collected from the Wikipedia page on marriage:
According to Aristotle, the prime of life was 37 for men and 18 for women.
The Visiogothic Code of Law (7th century) placed the prime of live at 20 years for both men and women.
It can be presumed that most ancient Germanic women were at least 20 years of age when they married and were roughly the same age as their husbands.
The average age of marriage for most Northwestern Europeans from the late 14th century into the 19th century was around 25 years of age; as the Church dictated that both parties had to be at least 21 years of age to marry without the consent of their parents, the bride and groom were roughly the same age, with most brides in their early twenties and most grooms two or three years older, and a substantial number of women married for the first time in their thirties and forties, particularly in urban areas, with the average age at first marriage rising and falling as circumstances dictated.

Outside of marriage, there was no clear line for adulthood. From Family and Household in Medieval England, medieval theorists had three divisions for childhood. The last, adolescentia, was from 15 to the age of majority. As time went on, the age of majority became more commonly 21, but much of that was tied to inheritance laws. "For society in general the defining point came when the young person was married and began to live with his or her spouse as husband and wife."

Given this connection between marriage and the definitions of adulthood, the young age for adulthood bothers me on another level. Children are a common result of marriage. It's fairly common these days to discuss older age and its effect on fertility on maternal mortality, that women tend to lose fertility as they get older, until menopause hits, and older women are at a higher risk for complications. What isn't as often discussed is the impact age has on maternal mortality, in particular, that girls and women under the age of 19 tend to have a higher mortality rate. According to Advocates for Youth, pregnancy is the leading cause of death for young women ages 15 through 19. They "are twice as likely to die during pregnancy or child birth as those over age 20; girls under age 15 are five times more likely to die."

So, when we start discussing setting adulthood in a fictional world at age 15 for humans, those are the types of thoughts that come to my mind. Obviously there are other thoughts to have as well. But given that adulthood was a nebulous concept, even historically, that it can have different implications for women in the setting, often limiting them or raising issues of child brides, I might suggest it's something that is better left to each table to decide. There's no need to set the thermostat in this case, especially since setting the thermostat can lead to some rather uncomfortable conversations. I should know, I've had to had a few of them just by pointing out how it made me feel.

All that said, I loved the suggestion some people had which was to create rituals that signified the passage into adulthood. If we look at the elves, they have that in a way. After turning 100, the elf decides when adulthood starts and even takes on an adult name at that time. Many human cultures have this. Perhaps this would be a better way of going than giving a definite age, particularly for humans given that race description discusses how variable humans are?