Minotaurs, Udders, and Worries of Gender Stereotyping
---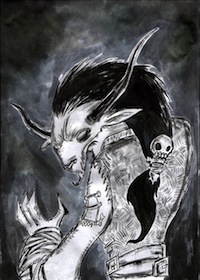 Minotaur Shaman by Jared von HindmanIn two recent posts, Jon Schindehette and James Wyatt explore the minotaur and question what defines a D&D minotaur. From everything I can tell about D&D Next, the entire mythos of D&D is getting a once over in preparation for the core books and two of the important guiding principles seems to be 1) does it feel like D&D and 2) is this creature/class/background iconic enough. For the latter, I believe they want to make sure that each creature seems unique and is instantly identifiable.
One of the issues with minotaurs is that over the years the creature has gone from the one-of-a-kind monster created as a punishment for defying a god's commands through the union of a snow-white bull and a human woman and found in the labyrinth beneath Crete to a full race with society, offspring, and the like. Since there was no society in the original stories, the earlier D&D authors had to create one. They often centered on the beastly qualities of minotaurs, and that makes sense to a degree. Hence why minotaurs often have a gore attack or are described as being incredibly strong.
It's not wrong to have some races who exhibit these traits, and I can see the minotaur as being one where it makes sense to have so a strong dichotomy between sexes. I do quibble a bit on a few elements though on how things are presented.
Physically representing the gender of a minotaur
In his article, Jon has a section on, if there are female minotaurs, how should their sex (or gender) be signified in the art. The poll has three options: human-styled breasts, cow-like udders, and they should just all be male. This left me with some questions. Why do we only talk about how females should be represented physically, but not males? Do they not see how this reinforces that females are the other? And why is the first thought to represent gender as a biological dimorphism rather than in another way? I mean, we don't have to display the male minotaur's penis to show that he's male (even though it would also fit with our mythology since bulls are often tied to virility and fertility).
Minotaurs as a symbol of Strength and Power
From James' article we have this possibility for the minotaur origin story in D&D:
Sometimes, when Baphomet's petitioners plead with him for strength and power, he rewards them by transforming them into minotaurs. Some cultists thus transformed view it as a blessing, others as a curse, and each viewpoint largely depends on the opinion they held of Baphomet before the transformation.
This quote in itself isn't worrisome, but I start to get a little nervous when we consider that according to Jon's poll, minotaurs might be male only. One of the issues I've had with D&D (and part of why I didn't play for a long time) was that all-female races were often tied to looks, either being so beautiful that poor adventurers, especially male ones, couldn't help but want to have sex with them, or so ugly that no one would want them and that made them bitter old, well, hags. All-male races tended to be beasts of some kind, influenced by their out of control appetites, whether they be sexual, as with the satyrs, or gastronomical in nature. If minotaurs are male-only, this continues the tradition of gender stereotyping where it doesn't make much sense. I realize that cows are often seen as docile, but they are also strong.
Things I'd Love to See
Again, it's none of these are at the "this is so obviously sexist and I will not purchase these products" level of thinking, but it makes me worry a bit and is one of the difficulties of looking at individual races without seeing the whole picture. How many other races support this rather human-based dimorphism?
Focus on Needs and Motivations More than Sex and Gender - What do these races eat? Are they civilized? If so, what do they produce and trade to others? What are the race's core needs - food, shelter, companionship and the like. In just about every society, all sexes contributed more than just children to the community. If you need gender roles, give everyone jobs beyond procreation. In some early societies, physically weaker (but perhaps faster or higher endurance) people would help herd deer and other game towards the skilled and physically stronger hunters. Find interesting things for everyone to do. Characters tend to have very similar needs and motivations; their sex and gender often influence how they satisfy them.
Write from the Point of View of the Female Members - My experience with many previous editions is that they took either an outside observer stance or spoke about the society from the male viewpoint. The main exception I can see are the Drow, but they are so incredibly problematic in my opinion that I can't advise someone use them as an example. I'd love to see more of a person on the ground approach.
Value Female Contributions Equally (Where it Makes Sense) - Yes, we will have some societies and/or races that are horribly sexist (like the Drow). However, as noted above, in many societies, especially where there isn't an overabundance of resources, everyone has to contribute to society. In societies that have gender roles but aren't meant to be oppressively sexist, consider valuing the contributions from female members of society as highly as those from the male members. Remember, many fantasy societies still rely heavily on a barter economy rather than a currency based one. Food and clothing was often a more immediate need than a new sword or iPod and, in settings that lack of technology, could be a bit more expensive to get.
Understand the Biases in the Source Material - Many of those myths we use as the basis of our stories, including D&D, were meant to transmit values to younger generations. The heroes and monsters were meant to convey what behavior would be rewarded and punished by the societies that told them. Likewise, many of the earlier editions took a field guide approach to discussing creatures, concentrating on what they ate and looking at their mating and childrearing habits. One thing to consider there is that there's a long history of scientists trying to use nature to reinforce what they considered to be proper human behavior and they hid or would not report on behaviors that deviated from their expected script.
Is Sex-DIfferentiation Important for this Race? - Consider how important sex-differentiation is for the race. There are lots of animal species out there where it's rather difficult for humans to tell the sexes apart. They still seem more than capable of reproducing, so why should it be so important to every race in a fantasy world to outwardly display their sex?
Move Beyond Primary and Secondary Sex Characteristics - This emphasis on primary and secondary sex characteristics, especially of women characters, feels a bit creepy to some women and men. Seriously, a female character should be more than her organs, whether they be her legs, her breasts, or her skin. Many societies find it important to mark the transition to adulthood in some outward way. Perhaps we can use those as signifiers instead, and have them for all sexes and genders in the society?
Consider non-heterosexual and non-cisgender viewpoints - Throughout human history, we've had differing opinions on close and romantic relationships between members of the same sex. We've also had differing opinions on the importance of gender and even whether or not gender is binary. By bringing some of that diversity to the gaming world, we can cut down on some of the sameness we often experience.
Remember Rule Zero - Rule Zero doesn't just work in the game, it happened in real life. When war came knocking, people often didn't care whether or not so-and-so didn't want women to have weapons. Women are just as intelligent and resourceful as men and they would use what they knew about to try to fight off invaders.
Stop Giving Gendered Answers to Poll Questions - Seriously, guys, enough with poll answers like "My kid sister could kick its butt."