Zora Neale Hurston
---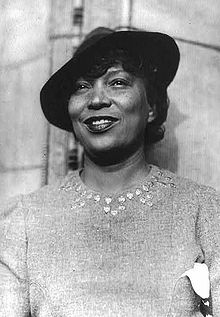 Zora Neale Hurston: from WikipediaDuring my freshman year of college, I was fortunate enough to take a two-course class called Humanities. That class introduced me to an author that left a profound impact on me, Zora Neale Hurston. I had grown up in a working class household, my father worked at a junk yard, my mother at factories or, later, in the local school kitchen. I grew up surrounded by books but most of those books could have been placed in a fantasy world for all I knew; they rarely showed life from the point of view of me or my extended family.
Then came Their Eyes Were Watching God. In some ways, it too felt like I had stepped through a looking glass. While my family had visited Florida once when I was younger, I didn't have enough experience with the place to know the wisdom that those in the book had, the innate connection with the land. I had never considered what would happen to a cemetery in the event of a flood. Additionally, while I grew up in an agricultural area and each fall brought migrant workers, I still felt removed from that world. We merely passed each other in the small local grocery store.
Thus, unlike most books I had read until this point, it had the delicious mixture of the familiar and the fantastical, of people I could identify with in a land that seemed so different from where I lived in New York. As I learned more about the author, I started to understand why I loved the novel so much. Her books were an unapologetic presentation of the world she grew up in, one in which women are sexual beings, where people are a mixture of the rational and the spiritual, where love is not always the safe option but its pursuit can lead to adventure.
While Their Eyes Were Watching God is her best known work, Zora Neale Hurston was also a folklorist and anthropologist. She traveled extensively throughout the Caribbean and the American South and immersed herself in the local cultures and traditions of the places she visited. The stories she learned there lead to other works such as Mules and Men and Tell My Horse, both of which capture the stories and practices of the subjects. In Mules and Men, the stories are recorded in the words of the people telling them, but she also records how she got the stories, the little bits of everyday life. Tell My Horse explores Jamaica and Haiti, in particular the practice of Voodoo, but also touches on botany, sociology, anthropology, geology and politics. Many of the reviews note that this is a non-fiction book that reads like a novel, a nod to Hurston's incredible abilities as a storyteller.
Her books would be a great addition to an updated and expanded Appendix N and reading them helps provide another perspective on an aspect of world history that is too often told as if it is alien or exotic or with characters that are overly simplified. Additionally, Hurston would make a great character to add to many games that take place during the 1920s to 1950s. While she faded into obscurity by the time she died, she was a well-known author and she attended Howard University and Columbia University.
Interested in more black history? Quinn Murphy is posting and collecting great content on his website Thought Crime Games. Please consider taking part of his challenge.