Wizards D&D Name Generator
---
Wizards of the Coast released their D&D Character Name Generator. So far, it seems pretty neat, allowing the user to adjust the name guidelines on a wide variety of settings and providing not only first and last names, but also nicknames. When I first got to the page, I received the following name: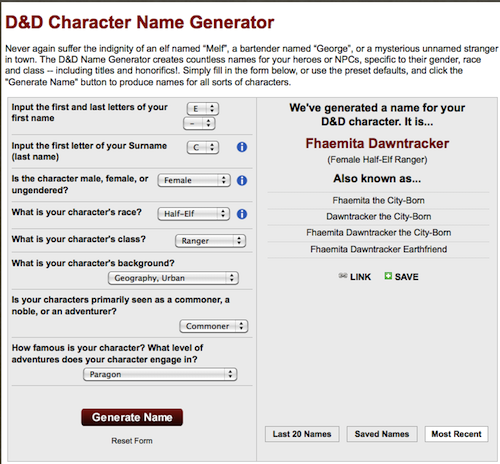 You can save the names generated as well as link to names created. Following the link appears to show you the criteria used to generate the name, although the drop-down menus for first letters of the first and last name are off by one. The tool also automatically saves the last 20 names it generates for you.
The number of options is pretty nice. Beyond specifying letters for the first and last names, you can choose gender, race, class, character's background, societal class and renown. The last is mostly tied to the level tiers. I can see this being useful to DMs and players alike.