Why random roll gender?
---
This morning, Pelgrane Press had a pretty awesome tweet:
RPG idea: define your character. Last thing - roll for character's gender.

— Pelgrane Press Ltd (@PelgranePress) August 10, 2012
So why is this awesome? Consider that while there are a large number of women who game, many groups are predominantly male and many of the content creators are male. As an additional layer, parts of the community feel uncomfortable about gender bending during games, that is having players play characters that are not their own gender. What this means is that many of the characters, especially PCs, are male and the focus is on male stories[1].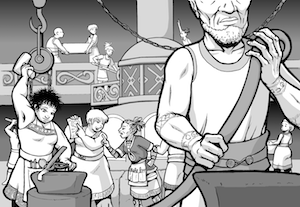 Artwork © 2012 by Susan Knowles. Available through the Prismatic Art Collection. Licensed under the Creative Commons 3.0 Attribution-ShareAlike license.Given this focus on the male characters, it becomes easy to forget about women, particularly in games that claim some degree of historical accuracy. We've always had exceptional women and, in every society, women were rarely true victims and usually had their own sources of power. However, since those power structures tended to exist separate from the public sphere, they are left out of many history and gaming books. Furthermore the opportunities and challenges faced by women tend to vary depending on socio-economic class, but many of our stories focus on the interests of the ruling or upper classes.
Also, women's power tended to ebb and flow. Women have a long history in resistance movements in part because those movements often promised more freedom for them and also because the groups needed all the help they could get. During times of disease or war, women were called upon to fulfill traditionally male tasks. Someone needed to keep the farms and shops producing. For wars on local soil, women were called on to aid in defense. Even armies that marched elsewhere often had some women in the camp followers: wives of soldiers and officers, wives and daughters of the provisioners, blacksmiths, and the like, women who provided entertainment or other services.
The interesting thing about these stories is that while they were often promoted during the conflict, most often aren't spoken of after the conflict ends. Sure we might talk about the ones we can't ignore, especially if in the end it doesn't turn out well for the women, such as Joan of Arc. One reason for this is that it often didn't suit societies needs to talk about the bravery of its women when the men returned home. These acts of heroism and individual resolve were in direct conflict with the female gender role which stressed that a woman's worth was to be found through marriage and children.
My hope is this. Random rolling of gender should lead to a greater number of female characters. In order to make them unique and interesting, we'll have to look at history how it really was, complex. We'll start appreciating women's contributions to society and value what people like Molly Pitcher and Elizabeth Wynne. While I might hope that people would expand their ideas of what women are capable of, even if they decide to keep to the traditional definitions, I hope they might see that women often faced the same problems as men and found their own solutions within the framework they were presented. Finally, if more characters were women, I might hope that the audience would demand more artwork of women that was meant to fit their character and the world, rather than to serve as decoration.
[1] I don't point these things out to make a judgment about it but rather to explain how behaviors that are reasonable and rational might lead to unexpected and perhaps even unwanted outcomes.
The artwork is from Farewell to Fear.