For Want of a Story: Thor
---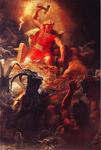 Thor is the red-haired and bearded god of thunder of Norse mythology. He is the son of Odin and the giantess Jörð. Thor has two sons, Magni and Modi, with his mistress, the giantess Járnsaxa and a daughter, Thrud, with his wife, Sif. The family lives in Bilskirnir, the greatest of all buildings and containing 540 rooms. It is located in Asgard, the capital city of the Norse gods. Thor provides many interesting story lines since so many of his stories feature trickery and cunning in addition to pure physical prowess.
Ways to Incorporate Thor
Close companions can be used by enemies.

Loki was captured by Geirrod and, in exchange for his freedom, promised to bring the giant's enemy Thor to him. Thor is saved by the giantess Grid, who tells him of the plan and gives him the magic items that help him defeat Geirrod and all the other frost giants he could find.

Failure can be success in disguise.

Útgarða-Loki, a giant king, outwits Thor at one point. The king challenges Thor and his companions to several contests and they lose every one. In the first, Thor's swift servant Þjálfi runs a race against one of the king's men. Then Loki is challenged to an eating contest against the king's servant Logi. Then Thor is challenged to lift the paw of a cat, to a drinking contest and to wrestle an old woman. It turns out that none of these tasks were what they seemed. The runner represented Thought, Logi represented Wild-Fire, the cat was an illusion of the Midgard Serpent, the horn was connected to the ocean and the old woman was Old Age. Thor left the contest humiliated but it turns out that in attempting the contest at all and getting as far as he did, he had done deeds worthy of his position.

The mind can be a most dangerous weapon

At one point, Thrymr, King of the Giants, steals Thor's hammer and won't give it back unless the goddess Freyja marries him. Of course, Freyja refuses but they decided, against Thor's initial objections, to send Thor in her place, dressed in her bridal gown. He is able to play a woman well enough to convince Thrymr to have the hammer brought to his "wife."

Recurring enemies are the most fun.

Thor is in a life-long struggle to defeat the Midgard Serpent. Sometimes, he calls out the serpent and other times it appears in places, and ways, he least expects it.

A few details of his appearance make him recognizable

Thor is often represented by his uniquely shaped hammer. The weapon is so symbolic of him that it became a very popular ornament during the Viking Age and is a well-known symbol of Germanic paganism.
How might you use parts of the mythology of Thor in your campaign?