The Waiting Game
---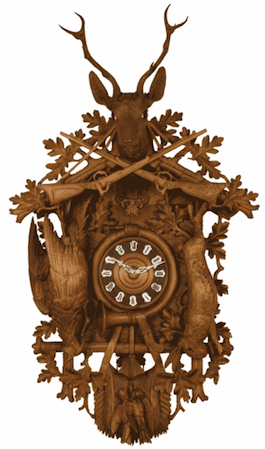 Cuckoo clock (from Wikipedia)The last 2 months have been filled with a lot of waiting. Waiting for announcements. Waiting to learn more. Waiting for the mourning period to be over. Lots and lots of waiting.
The hard part, for me and a fair number of others, is that we love most, if not all, of the changes that were made in 4e. I realize that in presentation, the game easily could be seen as a radical departure from the past. And the particular way the designers evolved the rules of the past to form the 4e ruleset at least makes it harder for some to see the game's past in them. I can only speak from my point of view, but to me, 4e was an amalgam of previous editions, letting the non-combat be more freeform and rules light like my experiences in OD&D were while providing rules to make fair the life and death combat scenarios. I know others will disagree, but that's how I've always seen 4e.
Some of you will remember this but it bears mentioning anyway. When I started playing, I was enthusiastic about the game. I loved to post about what I did and how I enjoyed it. I'd get some people who would put me down for not playing D&D correctly and others in the community would support me. The latter is and will continue to be the awesome part of what we have online.
But I also learned something else, not everyone enjoyed the game the way I did. Part of what led to me learning game design was a desire to take the 4e ruleset and create the type of experience they talked about because I have a huge amount of empathy for people who love D&D but don't feel like the rules support their style of play. Why? Because I spent over 20 years on the sideline, watching, and unknown to me, waiting for 4e to come out. I truly want this to be a game that captures the feel of D&D in all, ok, most, of its forms and also supports the vast array of playstyles shared by the D&D community.
The early editions of the game, because they were the seeds of the D&D tree, were lighter weight and more tightly focused on the implied style of play of the time. If we're going to have a game for all, the core of that game has to look very similar to them. This makes sense because everything we know today was built out from that core. We need to test that the game can handle an adventure from that time period and still both feel like D&D and come across as fun. And Caves of Chaos, part of the introductory Keep on the Borderlands, is the perfect adventure to use since many, especially at a convention like DDXP, no longer play D&D that way, at least not on a regular basis.
So, it's going to take some time before they get to the mods that form the basis of the 4e playstyle. I'm ok with that. I'm going to do my best not to worry about whether or not every mechanical choice in the core rules feels like 4e, because, in fairness, they probably shouldn't. I will try to give my opinion of what I think is fun. I will try to figure out if the proposed core rule precludes the feel of a 4e game. When I think it does, I'll say something constructive. Beyond mechanics, I will be a voice who tries to push to a more inclusive world story, but again, doing my best to stay constructive.
To the fans of the later editions: Our time will come. We just need to be a little patient and wait.