Using Paprika 3 for menu planning and grocery shopping
---
Right around when the pandemic started, I had decided to make some significant changes to my life in an attempt to tackle my type 2 diabetes and sleep apnea. As I was talking about the changes I was making, Jeff thought it might make for an interesting podcast and we started Fit for D&D.
I had just changed my work schedule, going in slightly earlier so that I could have time to use the walking treadmill desk first thing and getting home in time to cook a meal that concentrated on vegetables and proteins. It also allowed me to get up early and hit the gym in the apartment complex we had recently moved to and to take a walk after dinner. Finally, I had started shopping at Trader Joe's while Fred was in the gym nearby, concentrating on lots of veggie options and semi-prepared meals.
This system worked for a good 2 months. My post meal blood sugars were in great ranges and I was feeling better about myself and had more energy.
Then the pandemic hit. The move to work-from-home, the concerns about going to the grocery store, and just trying to juggle parents each with a full-time job while having a 3 1/2 year old at home just proved too much for sustainability. I was able to hold it together for about a month and it started falling apart. It just about completely went away when I had to spend most of a summer in an uninsulated shed in my parents' backyard in order to just make everything sorta work while there was no childcare options.
While I'm still working on figuring out what works today and to try to get back to that combination of activity and good food choices for my medical condition, I wanted to share something that has worked for me pretty well over the past year, and that is Paprika 3 for collecting recipes, menu planning, and grocery shopping.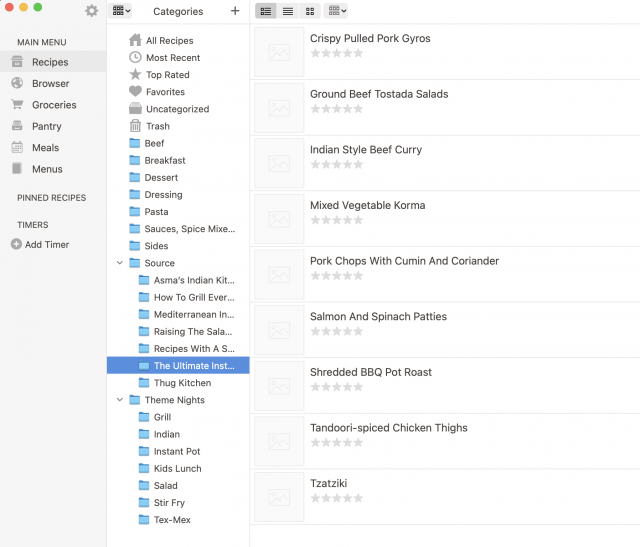 Paprika 3 Recipe List
The foundation of the system is collecting the recipes. I'm blessed to have a number of cookbooks with sources of lower carb meals perfect for my diabetes, including some InstantPot ones. I've invested some time and effort to add them to the Paprika recipe manager.
For online recipes, it's super simple. I can use the built in browser to find a recipe I like and click on the Download button to import it into Paprika. It's been pretty good at parsing ingredient lists and instructions.
The recipes can be organized into a number of categories, which can work great for finding inspiration later.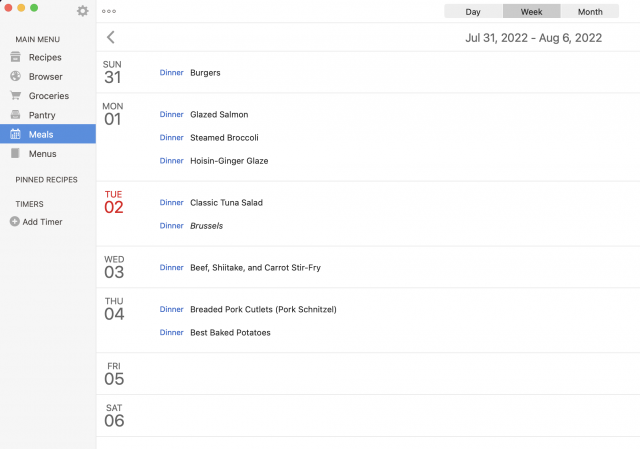 Paprika 3 Meals List
Once the recipes are in the system, I can do two things. The main thing I do is on Saturday, I look at the next week and our schedule and I pick recipes to make for most nights of the week. Son has a baseball game after school? That's a great night to make a super fast meal, like frank and beans or grilled cheese.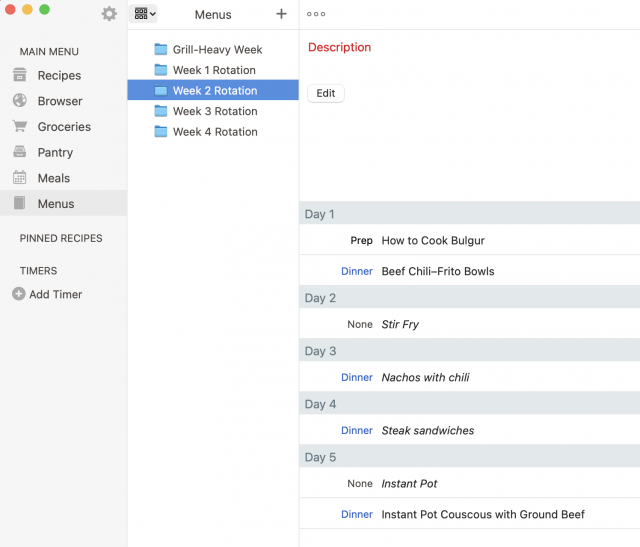 Paprika 3 Menus List
The other thing I can do, and I've mostly just experimented with this, is that I can actually create menus for an entire week that work well together. I actually did this more when I first started because I had the idea of creating theme nights and then instead of thinking which of all of these recipes I wanted to make, I'd just see it was a night I had set aside for cooking an Indian-inspired dish and look for a recipe that fit that theme. I want to get back to this, at some point, especially since some recipes work well together, like crispy pork gyros (which is essentially carnitas) one night and then use the leftover pork to make quesadillas.
Once the week's recipes are in, I can choose each one and add the ingredient list to the grocery list. Paprika does its best to group like items together and if the ingredient is exactly the same, it will add them together. For instance, if you need a can of black beans for two different recipes, it will present one line with two cans of black beans instead of two separate lines.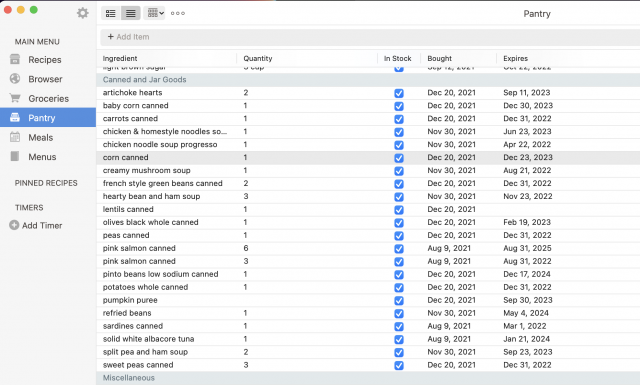 Paprika 3 Menus List
Another helpful feature that I'd like to use more in the future is the pantry feature. If it knows you have an item in your pantry, it won't add it to the shopping list. And you can import your shopped items into the pantry.
After I've built the grocery list, it's super simple to split my iPad or laptop screen in half, with Paprika's grocery list on one side and my local grocery store's website on the other (they have online ordering for curbside pickup). I go through the list, add the items to the cart, check it off in Paprika, and then check out.
The only thing that hasn't been great about this system is while I can capture amount of time to prepare and difficulty of the preparation, it feels like no one is capturing how complex clean up is after. And for me, that's actually a big deal, as between work, chores, and living with a 6 year-old, I'm dang tired at the end of the day.
If you are interested in learning more, Paprika's website has a lot more detail. It is available for Mac, Windows, iOS, and Android.