Understanding Life Expectancy
---
In discussing things such as age of majority, age of marriage, etc, one thing that often comes up is the statistic that life expectancy in medieval Europe was 35. They argue that since it was so relatively young, people were treated like and became adults much earlier. It definitely has a ring of truthiness to it, doesn't it?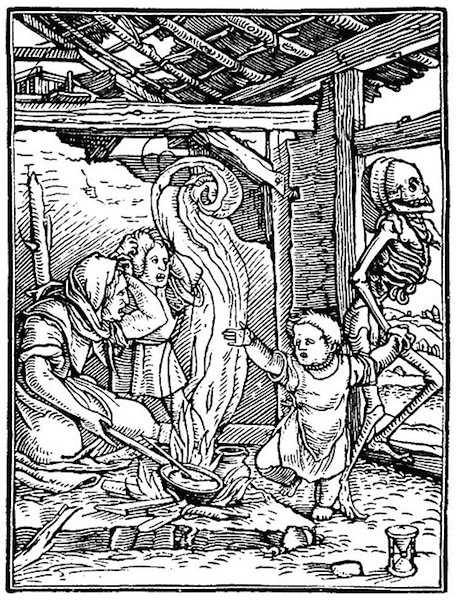 Hans Holbein "The Dance of Death Woodcut"
However, there are a few potential issues with this view. For one, this number is life expectancy from birth. People often forget or don't know that life expectancy from birth for a group where all members are currently dead, is a simple average of age at death for the population. So, if I have the following set of ages at death [1 29 15 31 76], the life expectancy would be 34 years from birth. Using an example from the Wikipedia entry on life expectancy, "in a hypothetical stationary population in which half the population dies before the age of five, but everybody else dies at exactly 70 years old, the life expectancy at age zero will be about 37 years, while about 25% of the population will be between the ages of 50 and 70." As you can see, the average life expectancy on its own doesn't give us a ton of information about actual life spans.
The problem is further compounded by the fact we just don't have a lot of data from that time period. However, that's not to say that we can't make some guesses. According to this write up of the issue, we know that countries like Canada had an infant mortality rate of 10% in 1921. While it's possible that the infant mortality rate was lower in medieval Europe, all data we do have points to that being unlikely.
So, let's take our 35 year life expectancy and figure some stuff out.
Let's start with that 10% number.
(1 +9x)/10 = 35
1 + 9x = 350
9x = 350
x = 350/9
x = 38.9
Now 20%
(1 + 1 + 8x)/10 = 35
2 + 8x = 350
8x = 348
x = 348/8
x = 43.5
Now 30%
(1 + 1 + 1 + 7x)/10 = 35
3 + 7x = 350
7x = 347
x = 347/7
x = 49.6
These are rough numbers and they only account for infant mortality, but hopefully people can see the issue. We are confident that many more died after infancy but before reaching adulthood. Of course, for each of these, x is also an average, obscuring a range of ages.
Why is this important? Well, if much of the low life expectancy numbers can be explained by infant and child mortality, it doesn't necessarily follow that people would be forced to become adults at a younger age. If they passed the riskiest parts of youth, they'd have plenty of time to live their life and mature.
Additionally, at this point, we're not looking at things within the context of their times. Given how hard it is for us to get this information, it's unclear how much they would have had it at their disposal, especially since recording vital records wasn't particularly important for much of this time. It also assumes that the things we find important are the same as what they would have found important. In these discussions, I feel like we often take out their humanity, treating them as another piece of data instead of living, thinking beings.
Finally, even if many people died by the age of 35, that doesn't mean older people would have been a rarity and that people wouldn't have tried to plan for a longer life. An explanation of how many older people would have been around given different mortality scenarios can be found in Life Expectancy and 'Age of First Appearance' in Medieval Manorial Court Rolls by L. R. Poos.
In the end, there's a lot we don't know about this time period. But understanding life expectancies and the limits of what we can assume from them is a good start.
Art SourceHans Holbein, "The Dance of Death [Woodcut]," in Children and Youth in History, Item #186, http://chnm.gmu.edu/cyh/primary-sources/186 (accessed May 7, 2013). Annotated by Shona Kelly Wray