The Story I Wish Was Told about 1 Reason Why
---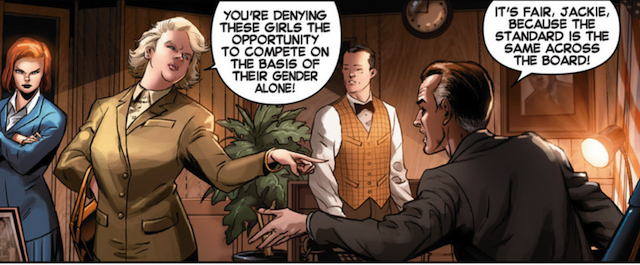 De Facto Discrimination - Captain Marvel: Copyright 2012 Marvel Characters, Inc.
As I mentioned yesterday, the #1reasonwhy hashtag has been on my mind a lot. For those who don't know, on Monday, Luke Crane, a game designer and an employee at Kickstarter, asked why there weren't more women designers.
Why are there so few lady game creators?

— Luke Crane (@Burning_Luke) November 26, 2012
A number of us replied, with Filamena Young, a game designer and co-owner of Machine Age Productions, adding the now-famous hashtag to her response.
While a conversation about 'why so few women designers' was going on, I was taking my son to and back from the docs. #1reasonwhy

— filamena (@filamena) November 26, 2012
Most of us started using the hashtag and our circle of respondents grew. I haven't had time to sift through all the tweets, but I've heard others say that the number of participants numbered in the hundreds if not the thousands. That's some pretty important stuff.
What bothers me a bit is that the press stories often start with pointing out that Luke Crane asked the question. I'm not upset he asked it but it's not exactly news that he did. He and I have talked about this issue before and I know he's been in on other conversations about the same issue. All of the women who directly answered his question have talked, in public, about these issues before. We have multiple posts on Gaming as Women talking about these issues.
No, the real story here isn't that Luke asked the question. It's that Filamena's awesome hashtag gave us an easy way to unify our voices in a way that could not be diminished or ignored. It's that, even though Filamena Young, Meg Baker, Jessica Hammer, Elizabeth Sampat, Nora Last, myself, and others have answered this question and others like it many times, we answered it again. We answered even though answering takes time away from doing things like, say, designing games.
And, in answering, we were able to release a bit of the tension that eats away at us each time we have to suffer one of these injustices. The memories of some of being physically assaulted at a con. The fear that accompanies hearing a number of grown men who disagree with you about something talk about their heights and weights and saying it's too bad they won't be at the con they know you are attending. The knowledge that some people will refuse to give you an opportunity because they don't think it's fair that they might have to hire a woman, she might get pregnant after all.
For some, witnessing that tension release is uncomfortable. First, we often have a taboo against it. That's why we diminish it by calling it "bitching" or "whining." Also, seeing the pain and anguish caused by expressions of our privilege tends to make us uncomfortable. We want to defend ourselves, our actions. We are afraid of being considered less than human even as, through our actions, we had done just that to someone else.
However, sometimes this tension release is a necessary first step in the process of building a new community, a new us. We need to be able to acknowledge the problems without feeling like we are being blamed and without assigning blame to others. That's one of the great things about the #1reasonwhy hashtag. It doesn't attempt to assign blame. It just says, this, this is a reason why I don't do all the awesome stuff I know I'm capable of doing.
Now, it's time to do a post-mortem. It's time to look at the reasons people gave and find ways to address them. We've already started doing that. Pretty soon after the hashtag was created, the offers of mentorship came in. Mentors are a great first step and we can do so many more. Maybe it's time to rethink what qualifications are needed to create world-class games. Perhaps it's time to rethink how we use archetypes and stereotypes in our games. Additionally, maybe the game press should start following some of the female designers who are out there so that the next time something like this happens, they can see the whole story, not just that some guy asked a question that's been asked a thousand times*, even if that guy happens to be Luke Crane (who, by the way, has been supportive of me).