Stop FOSTA-SESTA (and Protect Sex Workers and Freedom of Speech)
---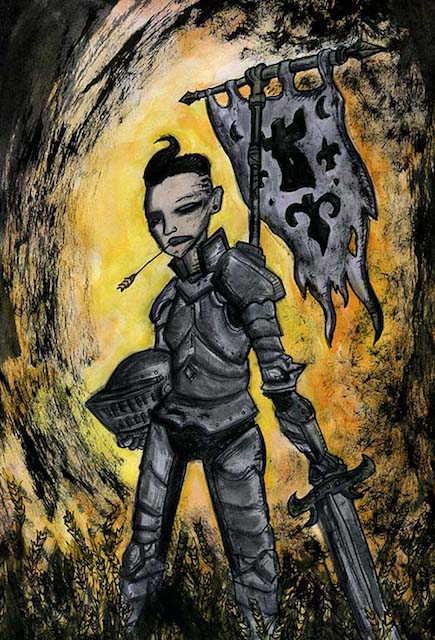 "Rook," © 2012 Jared von Hindman, used under a Creative Commons Attribution-ShareAlike license: http://creativecommons.org/licenses/by-sa/3.0/
Today I want to talk about the evils of FOSTA-SESTA. I understand it may seem strange for a blog focused on RPGs to cover US legislation that claims to be about stopping sex trafficking but there are a few reasons I feel it's important to talk about this issue on any platform I can.
Tabletop RPGs have a history of including sex work and sex workers within games and people who are also sex workers are part of our larger community.
While sex workers currently are bearing the brunt of this law, it has wider implications that should be of concern for all of us.
The conflation of consensual sex work and non-consensual sex trafficking is an issue for everyone but particularly folks from marginalized backgrounds as is the focus on sex trafficking while ignoring that it is not the majority of human trafficking cases.
So, first, what is FOSTA-SESTA? FOSTA is short for "Allow States and Victims to Fight Online Sex Trafficking Act" and SESTA stands for the "Stop Enabling Sex Traffickers Act." They are both named in such a way that makes it harder for folks to be against them. Who wouldn't want to stop Sex Traffickers?
But the problem is that it's completely unclear if either set of provisions would actually limit sex trafficking and is completely clear that both bills will curtail consensual sex work. How?
One example is that FOSTA. Until this bill, sites like Backpage were able to host advertisements because the Communications Decency Act didn't hold web site owners liable for content created by their users (speaking in broad terms). So if a person used a "classifieds" section of a website to advertise their services, the site itself was not liable. FOSTA, however, argues that the Communications Decency Act "was never intended to provide legal protection to websites that unlawfully promote and facilitate prostitution." And while that sentence claims unlawfully, the actual passage doesn't even distinguish that:
Whoever, using a facility or means of interstate or foreign commerce or in or affecting interstate or foreign commerce, owns, manages, or operates an interactive computer service (as such term is defined in defined in section 230(f) the Communications Act of 1934 (47 U.S.C. 230(f))), or conspires3 or attempts to do so, with the intent to promote or facilitate the prostitution of another person shall be fined under this title, imprisoned for not more than 10 years, or both.
As a result of that change, along with other aspects of the bills, we've already seen a rapid change in sites. Craigslist pulled their personals section, replacing it with the following note:
US Congress just passed HR 1865, "FOSTA", seeking to subject websites to criminal and civil liability when third parties (users) misuse online personals unlawfully.

Any tool or service can be misused. We can't take such risk without jeopardizing all our other services, so we are regretfully taking craigslist personals offline. Hopefully we can bring them back some day.

To the millions of spouses, partners, and couples who met through craigslist, we wish you every happiness!
Reddit banned a number of forum types including paid services involving physical sexual contact. Some services appear to be closing accounts based on content including Twitter, Instagram, Wordpress, Google, and Skype. A number of sites also just flat shut down including Backpage, The Erotic Review, CityMove.
I hope it's clear about the censorship ramifications of these bills, but I'd like to go a step further and talk about the impact on sex workers. As it is, due to the combination of laws and societal attitudes towards sex work, sex workers are among the least protected workers in our country. Sex work is work and it's often the only work available to some folks as a result of other systemic oppression and lack of resources. I don't say that to paint all sex workers as victims, because that is simply not true and people should be able to decide to be a sex worker, just as folks pick any other career out there.
Additionally, even in the US, not all sex work is illegal and even prostitution isn't illegal in all areas of the country. This is important to remember because too often I hear folks who try to wave these issues away by saying that's what criminals get. In addition, even if it was a crime, that doesn't mean that they deserve everything that happens as a result. Many people take advantage of sex workers because of the stigma and, in some cases, the legal or quasi-legal nature of the situation. This is one of the main reasons why, if we actually wanted to do something about sex trafficking, decriminalization of sex work would likely lead to better results.
But if we're unwilling to do that, removing the tools that sex workers were using to protect themselves and to find clients seems cruel at best, especially when no alternatives are given. For instance, a recent study suggested that Craigslist ads may have reduced female homicide rates by 17 percent. In addition, by further forcing sex trafficking underground, it will become harder to find victims as well as increase the stigma they will face as a survivor.
Sex workers are workers, are people, and are members of our community. We need to stand with them against laws like FOSTA-SESTA.
Way smarter people to listen to (note, some links may contain nudity):
Organizations:
Additional Resources: