Steal This: Goblin Market
---
As mentioned in a previous post, the British Library released over a million images from its collection for public use. I happen to love illustrations so every so often I love to revisit the collection to see what I can find. In this case, I found images from a book called Goblin Market, a narrative poem written by Christina Rossetti about two close sisters. This edition of the book is illustrated by Laurence Housman.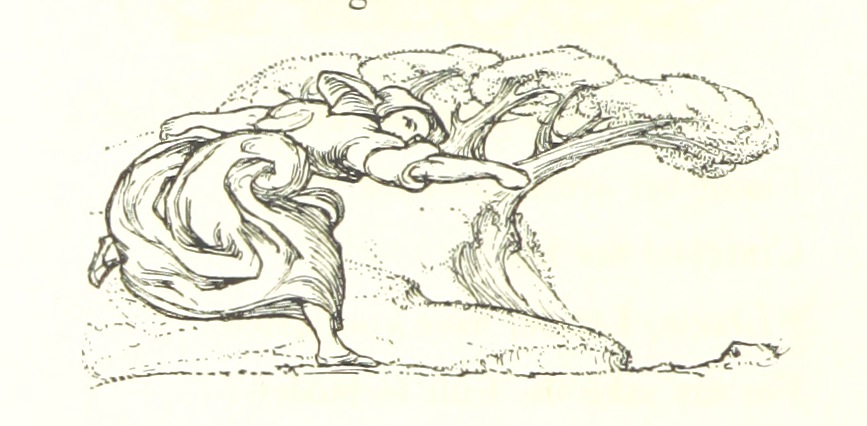 Things to Steal:
Random encounter: The story describes how a young woman decides to partake in the feast offered by the goblins, even though she doesn't have any money. This feast turns into a curse, however, as she finds that not only is she pining for the delicious fruit the goblins offered but also that she can no longer hear them and the seeds she saved from the feast will not grow. This curse could be used in many game systems.
A story of a resourceful and brave woman. Lizzie, seeing her sister near death, goes out to find the goblins and attempts to buy some fruit to bring home to her. This angers the goblins and they assault her, including trying to force feed her the fruits. Eventually they relent and Lizzie returns home covered in pulp and juices. Having nothing else, she gets her sister to eat these which at first causes Laura to be repulsed and to act wildly. But when she awakes the next morning, she is cured.
The art! Seriously, this art is fantastical and well done. Here's a gallery with some of it.

There's a lot more to the work to discuss, such as what appear to be strongly feminist themes and Housman's own work for the womens' suffrage movement. However, I leave it to you to find out more about that stuff if you wish.
One thing I will point out is that the art might be fun to color in and if you find enough other art of a similar style, you could use color palettes to tie the various works together. As an example, I quickly printed out one of the scenes this morning and began coloring in the woman's dress. To deal with the yellowing of the paper, I used an image editor called Pixelmator and did a combination of desaturation and setting contrast to 50%. I created a zip file with the images I processed in this manner that you can get here.