Spring is for Lovers
---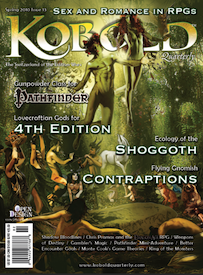 I admitted it on Twitter and I'm more than willing to admit it here. The mention of sex and romance in RPGs on the cover of Kobold Quarterly 13 is why I finally subscribed. I've been flirting with this topic since I started playing, in large part because I often become bored with stories that don't feature at least some degree of romance. And since I play, in part, as a creative outlet for things I keep bottled up most of the time, there is no chance that a little of both isn't going to make it into my games. In my campaign, we've had a smattering of suggestive scenes, a satyr playing for dancing wood nymphs, a female halfling in a bar with a twinkle in her eye, two young Lizardfolk sneaking into a back room, but pretty standard and relatively low key stuff.
But the truth is I'm just one person at a table of 6-7 and bringing up the subject can be awkward for both sides of the conversation. In addition, the only previous source I had on the subject was the Book of Erotic Fantasy and, well, people often think of the more extreme parts of that book instead of the PG-13 stuff. Now that this article is out, it will be much easier to approach the table and say, "So, I've been reading this great article from Kobold Quarterly and I want your thoughts on the subject."
In addition to making it easier to mention the topic, the article itself is full of great advice. I will definitely use the "boots" story mechanic, lest the game become a challenge of how much my players can make me blush. Also, while I'm willing to be open about a ton of things, the dynamic can get a bit strange when having a mostly male table and a female DM. Since one player has already expressed interest in having a love interest, at least now I have a better idea of how to frame that discussion. But enough about me. What about you guys? Have you brought sex and romance to your tables and, if so, how?