Sometimes We Miss The Bigger Picture
---
When we talk about women fighters in medieval-inspired fantasy games, people will often go on about how we're really trying to reinvent history. In some ways, they are right. Few women fought in organized armies at the time and most of history was written about those armies. However, in many ways they are missing the point.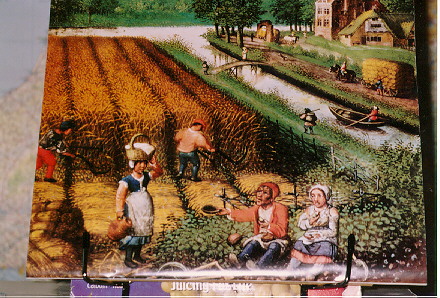 The Medieval Woman: An Illuminated Calendar for 1993. New York: Workman Publishing: From Working Women in the Middle Ages
Most Men Didn't Fight
A combination of ancient and modern warfare clouds our understanding of much of Medieval Western European combat and armies. We're used to large standing armies and large drafts to create larger and larger armies, especially in the two World Wars. We're used to large percentages of young men and smaller percentages of young women shipping off to war.
This view of war would have lost many Medieval wars. The simple reason: food. We have much higher crop yields today, coupled with machines to make harvesting easier, and this frees up more hands for the war effort. I read on one site that we're talking about something like 1 in 30 seeds would mature to feed us in Medieval Europe versus 1 in 2 to 1 in 7 today.
Lower crop yields required much more land and labor than today. To send significant numbers of men, especially young men, off to war would have put the fields and harvest in jeopardy. The exception to this would be the sons of nobility. Since one of the defining characteristics of the nobility is that they didn't work with their hands, they often didn't work the fields. And since titles couldn't be shared or split and a titled family often needed as many resources as possible, spares didn't always have much of a future to look forward to.
Since the overwhelming percentage of men were commoners tied to land and were needed to farm it, the vast majority of men simply wouldn't have been involved in the formal military campaigns of the period, the very same campaigns we often rely on for our information about medieval warfare. We ignore this for games like D&D because it's just not exciting. If it's not exciting for male characters to keep to historical realism, I might suggest it's not exciting for female characters either.
Overlooked Combat Opportunities
With the focus on formal military campaigns, other sources of combat experience often are overlooked. For instance, we know of a number of peasant uprisings during the period. Rebellions have long recruited whomever they could get and have been a source of opportunity for women who yearned for something more. Likewise, when under attack, women could be employed in a variety of defensive positions. They could pour boiling water from above.
In addition, women have long provided combat support roles throughout history. Wives, daughters, and other women might accompany a military campaign. Some would have been noble women, often attempting to get pregnant since that was their and their husband's duty.
Why Do I Find This Important?
There isn't as much documentations on women in these positions in part because it just wasn't that important to the people at the time. Portraying women as independent and strong went against the typical narrative of the day. But when we look at the vast amount of data from the past 300 years, we see plenty of evidence that the formal narratives of the time often differed from women's lived experiences. We should keep that in mind as well as remind ourselves of the limits of history:
Someone had to find the information important enough to record.
Future generations had to find the information important enough to save.
Our generation has to find the information important enough to seek out.
With all of that said, I'm not arguing for historical realism in the majority of games, such as D&D. Instead, I'm suggesting that we cease using inaccurate "historical realism" as an excuse to perpetuate the gender bias and stereotypes we have today.