Slash and Cast: New D&D Podcast
---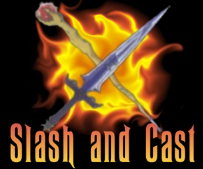 Slash and Cast Podcast There is a new D&D podcast in town. The host, Antony Gettig, a veteran podcaster and former radio personality, played Dungeon & Dragons in the early 80's and recently started playing again. Like me, his interest was piqued by the D&D podcasts done by Wizards of the Coast.
Most shows will feature D&D news and a main show topic, generaly a discussion with a co-host or an interview. Show notes for the first show can be found here. The next show will focus on ways to maximize your role playing experience and some tips for playing dungeon delves.
Perhaps most importantly, he spent some time talking about my homemade dungeon tiles. I definitely look forward to listening to more episodes in the future. In particular, the news feature will be incredibly useful since I can listen to it while I work.