A Richer Tapestry of Sexual Expression
---
I've been struggling for a while to figure out how to write this post. While I'm someone who often requests that we talk about sex and sexuality openly and honestly, I'm still unsure of how to do that in a culture that might judge or silence me, especially given the lack of examples we have for such discussions. At the same time, I've found that it's getting increasingly difficult for me not to talk about it, particularly with the way some are misinterpreting the bits I do let out.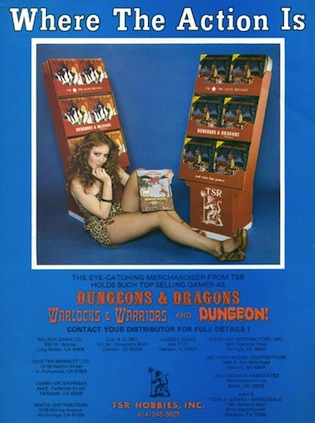 Male gaze in actionIn researching this, I found an article that sums out a lot of how I feel about the topic, On Men's Sexualization in Video Games. That article has a great explanation of the trend that I often refer to as the "male gaze." In my discussions with friends, I realize the short phrase often gets misinterpreted so I hope to clear the air on that a bit. The "male gaze" is a label applied to media framed in a way that suggests that a male, more notably a hypothetical, stereotypical heterosexual male, is the viewer. Scenes are composed and framed to highlight those aspects that the composer believes men would find attractive and quite possibly finds attractive as well. Some, including friends, who have never heard of the term before and maybe haven't studied media or art, believe that by using that term that I am attempting to make a statement about men, heterosexual men, the actual viewers, or them as individuals where it's often the composer who is making those statements, not me.
For me, the issue isn't the existence of the "male gaze." I think there are contexts and environments where people can and should enjoy sexual imagery for its full on, unbridled sensualness and sexuality. I'm just not sure the base D&D game is one of those contexts. I know both opinions put me squarely against some groups, but, that's honestly how I feel. What often bothers me is how pervasive it is and, with the focus on that one point of view, how little we see other gazes in our media. The pervasiveness, in my opinion, is sexist, against all genders. It represses and overly simplifies the full complexity and nuances of human sexuality. It also normalizes one masculine viewpoint, allowing it to dominate above all others, feminine and masculine.
As a woman, I often feel oppressed under it. Its constant presence reinforces messages I get from many places that my worth is tied into my body and my looks and my ability to please men. Hell, the uncomfortable comments I get about this, the refrain that I should shut up and just accept it shows how ingrained this point of view is. Yes, I get mad that scenes depicting female pleasure or that use a female gaze are often left out of our culture, especially in games. That those perspectives are often seen as more "mature" than similar topics from the male gaze. Yes, I get mad that more often than not, the woman is presented as a sexual object to be consumed by the viewer. It's not political correctness, it's the breaking of suspension of disbelief since this is not how I see the world.
But I also get mad about what those images say about men. My husband is a wonderful, complex individual full of lots of emotions. Many of my male friends are that way as well. The constant messages they get from these images hurts them as well. They need to know that it's ok if they aren't always sexually available. That men aren't always attracted to women. They care about women as people, not just as a source of sex or as wombs. It's ok to turn down sex with a woman if you don't want to because a woman doesn't have to have sex to confirm her self-worth. It's ok to appreciate a woman's beauty, but women have more to offer than just that.
If we lived in a society where images that conformed to the "male gaze" were a small portion of the overall images, if they were just one thread in the rich tapestry of life, my message too, would probably seem more nuanced and broad. But that's not the world I feel I'm in. Instead, by seeking a more balanced portrayal of human sex and sexuality, I'm painted as a conservative who wants all women in burkas which is utter and complete bullshit. It's the sort of accusation made by people who are used to having their whims catered to and are afraid that perhaps that privilege will end.
So, how does this all relate to gaming and what would I change if I could? The first, is that I would argue that there are contexts within gaming, even a game such as D&D. I've read some of the Forgotten Realms novels. In my experience, there is a diverse array of groups, including some who seek healing and divine guidance through the flesh while others are a bit more chaste. This is great. By including the latter group in your game, you're making it clear that sexuality may be a topic in your game. Players can know in advance, boundaries can be set, and we can have informed consent before the first die roll. By setting the game in a place where sexism exists or by having a character from such an area, you are signifying those topics are something you are interested in exploring.
But, I don't think by sitting down to a D&D game in general that I'm agreeing to cover adult themes such as sexism, sexuality, and pregnancy. It might be a fun mental exercise for a person who hasn't experienced sexism to want to play through a sexist society, but, honestly, I have enough of that crap in my real life that I want my gaming to be an escape from that. I don't want the general, the statistical, to inform what my character may or may not do or attain. In a world with magic, we should just have reliable birth control, for men and women, and allow players to decide if they don't want it or if pregnancy and father- or motherhood is something they want to explore without forcing them to keep chaste. I want a world where men and women are equal and can attain the same goals. Make half the guards women and make half the healers men, or at the very least, don't make it a deal when characters break out of the gender roles that confine us in the real world.
But most of all, let's create a richer tapestry full of different portrayals of sex, sexuality, sexual orientation, gender identity, and depictions of the masculine and the feminine. Let's provide easy ways for DMs to make clear that they want to include those subjects in their games, at their home tables, and for players to provide consent to those topics and set boundaries. Let's understand that what is considered normal might not be normal for everyone and that we leave out so much when we concentrate and emphasize images that fit under the "male gaze." Most importantly, let's talk about the issue.