Reclaim Riverbend: Some Examples
---
I wanted to give some more concrete examples of where my thoughts around Reclaim Riverbend are currently. Since it's a well known module and fits pretty well, I'm going to use The Village of Hommlet as an example.
Destruction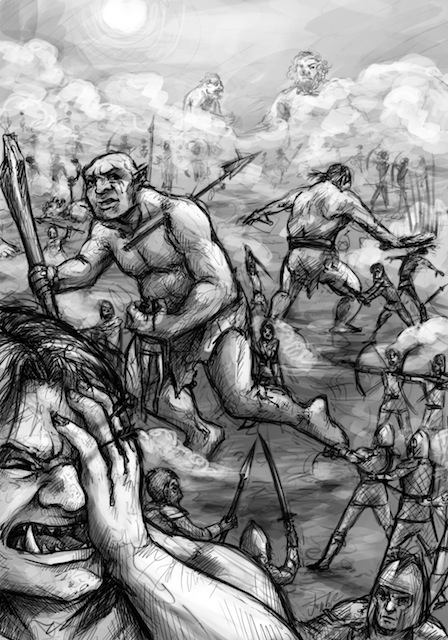 © 2012 Jenna Fowler, used under a Creative Commons Attribution-ShareAlike licenseVillage of Hommlet is great because it lays out an entire village complete with a village map as well as maps of a few of the buildings. My thought is that much of the town would have been destroyed by a combination of neglect by the evil forces that inhabited it (they did not agree that cleanliness is next to godliness) and the battles for control of the town. I think I would set everything except either the walled manor house (27) or the Inn of the Welcome Wench (7) as being in some state of being too broken to be immediately useful. I haven't figured out the mechanics of repair, but it would be something like filthy, cosmetic damage, structural damage, and beyond repair. Filthy buildings could be repaired without access to resources beyond labor. Cosmetic damage would require access to wood, either from other homes or a forest. Structural damage might require a carpenter. Beyond repair would require labor to remove the rubble before it could be built on again.
A nice thing about using something like Village of Hommlet as the underpinning is that we can tell the story of that village through this game even if we don't use everything from it. The people still existed and we can tell their story in the background elements and in the items left behind.
Repair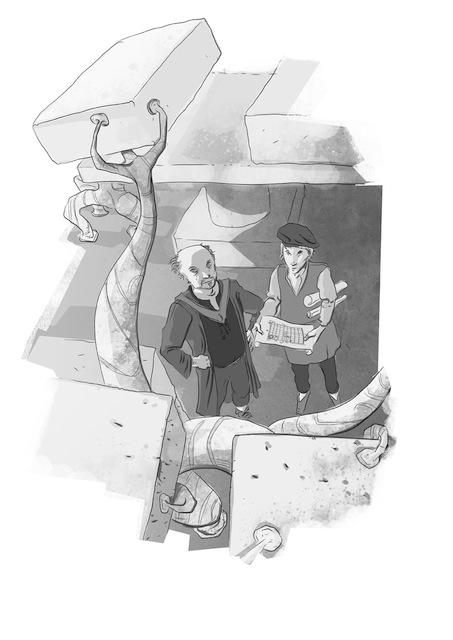 © 2012 Juan Santapau, used under a Creative Commons Attribution-ShareAlike license
Let's ignore the ability to harvest wood from the forest for now and only rely on reusing materials found in the town. Let's say each destroyed house provides 10 wood. Cosmetic damage requires 1 wood, structural damage requires 3, and new construction of a modest cottage requires 5. (I'm not sure how fine-grained I'll be when I get further along, so take this all with a grain of salt.) Repairing buildings with cosmetic damage doesn't require specialization and takes less wood. The issue is that the building the group really wants might not be one of the ones that are the cheapest to fix. Do the players focus on fixing the easiest to fix buildings first? Do they try to adapt the building to a different use than intended, costing them perhaps a few more resources and more time? Or do they focus their resources on the buildings they think would best serve them?
These are decisions constantly being made after a catastrophe. What do we have? What can we save? What is the cost of saving it?
Trade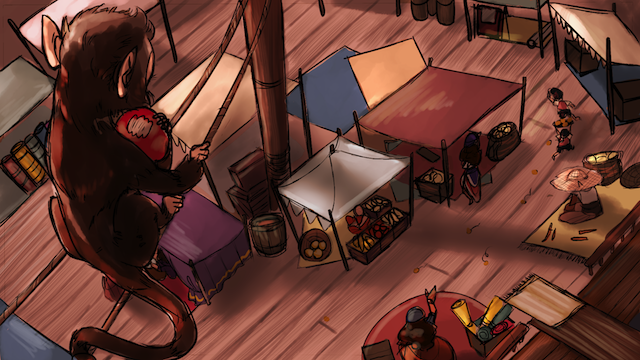 © 2013 Kaitlynn Peavler and Cheeky Mountain Parrot Games, created for Conquering Corsairs, used under a Creative Commons Attribution-ShareAlike license
One of the issues after war is that many of the trade routes are disrupted. A village like Riverbend couldn't expect regular deliveries of resources from other places. First, the area is still far too dangerous for all but the least risk averse merchants. Second, many towns and cities need goods after a war and Riverbend isn't exactly a thriving place full of coin. It needs to make itself better known for that. So currently, the town can except a visiting merchant only about every month or three. I might increase the frequency if I specialize the merchants though. Additionally, costs might be higher for even basic goods that have to be imported from elsewhere. For now, let's say that there is a 50% rise in prices.
The Village of Hommlet module works well for this because it faces trade issues. In the case of the module, a bunch of bandits have been attacking trade caravans. They are holed up in the ruins of the moathouse, a complete adventure already written for DMs. Since Reclaim Riverbend is a post war game, I might change some of the bandit characters to fit into that theme better. Maybe they deserted during the war or they grew cynical from their experiences and decided to live for themselves after the war. They also could be left over enemies who didn't want to go home.
Defeating the bandits would improve trade through Riverbend in addition to potentially giving real items as treasure. So after they are dealt with, let's say the additional cost of goods gets reduced to 25%.
Forgotten Lore
An additional benefit to The Village of Hommlet is that it's tied to the Temple of Elemental Evil. I might have in one of the buildings some writings from one of the evil clerics or wizards that mentioned ruins in the area of the town. By this point, between the overturn in inhabitants and the amount of time that has passed, it's quite possible that none of the current inhabitants remembers the temple. This diary could talk about how the cleric or wizard wants to find the legendary ruin and increase their reputation. The PCs might decide to see if the other side was unable to uncover the ruin or decide that they don't care, they want to see it for themselves.
You could even run Temple of Elemental Evil as a flashback before they discover it in the present. You could then modify the ruins to take into account the decisions of your group and, who knows, maybe the past adventurers left something behind that could be used by those in the present.
So that's my thought on how the concept of Reclaim Riverbend can be used to tie together published adventures in a way that reinforces the core story being told and organically changes the world around the characters. I fully acknowledge it might not be for everyone. Obviously, if I were to create my own Reclaim Riverbend for publishing, I couldn't use Village of Hommlet as a base but it's a perfect fit as an example of what could be done. Additionally, the framework doesn't need to be limited to D&D as a resolution mechanism. Other games, such as Fiasco, could be used for certain types of adventures or scenes and still have an impact on the world. For instance, perhaps the players want to convince a wizard to take up residence in the tower but he wants the PCs to prove that they are worth his presence. A Fiasco-style playset could be a fun way of determining if they succeed at the task of wooing him.
Note: The first two images are from the game Farewell to Fear by Machine Age Productions. The third is from Conquering Corsairs. All are part of the Prismatic Art Collection.