Reclaim Riverbend: It's about the People
---
Now that a big writing project is done, I have more time to focus on this again. As a refresher, Reclaim Riverbend is my idea for a sandbox adventure that concentrates on the PCs building their community. In this particular case, a long 25 year war has ended and Commander Blackwell seeks to reclaim her ancestral home. Players build the town as a result of their adventures. Collect enough objets d'art and the town creates an art gallery or museum. Uncover enough gems and gain a jeweler. These NPCs in turn, provide benefits back to the PCs.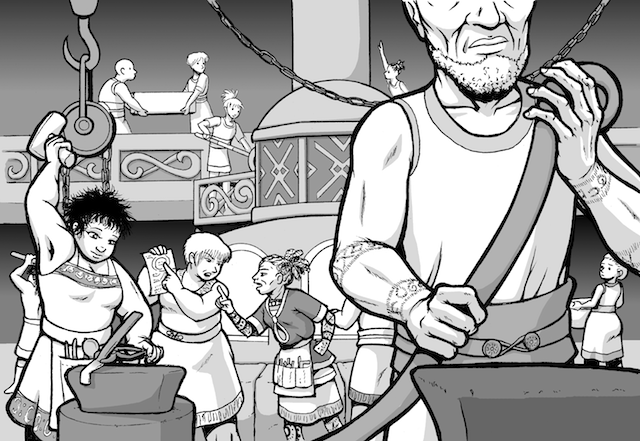 © 2012 Susan Knowles, used under a Creative Commons Attribution-ShareAlike license
A reason I started with Reclaim Riverbend is because I want to explore concepts of colony building and exploration while minimizing the issues of othering. This was their land. Absent the past 25 years, it had been in their families for generations. I haven't figured out what to do about the invaders yet, if they are going to be some concept of true evil or if they might seem that way at first but overtime become more understandable. I think for the first version, they are just going to be evil.
I've also been thinking a lot about how to do the community building. Some people pointed out the Pathfinder downtime system. I like the system and will draw inspiration from parts of it but, to me, it still seems a bit too distanced. It's also focuses a bit on the individual's influence where I'm not sure that fits with what I would like.
The other inspiration point I know about is Flatpack. This game features a lot of what I want, it's about overcoming obstacles and fixing the future. PCs go out, find flatpacks, and bring them home. These flatpacks provide resources to the town. They are buildings that you can put together and give the PCs access to specialists. In some ways, that's part of what's going on in Reclaim Riverbend but there's a bit more that I'd like to accomplish. I know sometimes DMs sometimes struggle with players who keep killing their hirelings or assume an unlimited supply of things. My thought is that this setup can address those issues. You can gain unlimited supplies of some things, but it requires building the town up enough to gain them. Likewise, you can kill as many hirelings as you want, but you might not then have enough people come harvest time. There are choices and those choices have consequences.
My thought is that players would start off with their initial expedition party. This will include the PCs, a number of unskilled laborers, and I'm thinking one or two skilled laborers per PC. I contemplated making these families instead of individuals but that might work better as an optional rule. Since the entire kingdom is in a rebuilding phase, it will be a while before they get reinforcements or more supplies. So they are pretty much on their own for at least 3 months.
In looking at the D&D Next rules, many of the backgrounds fit in naturally with this. Commoners form the lowest level and most plentiful type of human resource. They provide most of the raw resources for the town such as food, lumber, animal skins, and the like. The Artisans form the next level. They transform the raw materials into products and they require a certain number of Commoners to support them. So, we might not get a carpenter until we have 10 foresters because otherwise there wouldn't be enough lumber.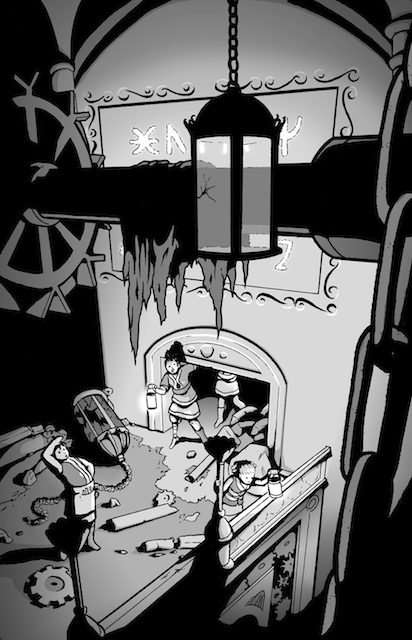 © 2012 Susan Knowles, used under a Creative Commons Attribution-ShareAlike license
I might make one change though. You can't gain access to certain types of Commoners until you have the natural resources to support them. One way to unlock natural resources will be to explore the hex map. So, explore enough forest squares and you can unlock a forester. Your exploration gives the forester confidence that the woods will be safe for him and his crew. Likewise, want fishers? Explore the waterways and determine their level of safety.
Gaining these more experienced laborers can happen in a few different ways. They can be part of the adventures. For instance, maybe you uncover a humanoid trafficking ring run by orcs that passes through the territory. As a result of raiding it, the PCs might gain a skilled laborer from the captives. Another way is inspired by Terraria. If you have an available storefront and uncover enough gems, either through treasure or as a result of uncovering a mine that has a vein of them, a jeweler might be enticed to live in your town. Or, if you uncover enough forest land, a laborer might decide to become a forester. Finally, as the town grows, the PCs might be able to pick particular types of skilled laborer that they would like to see more of and gain benefits from.
Another thing I'd like to focus on in this is that everyone has a role and is necessary for the functioning of the town. Food production is just as important as being a silversmith, even if it doesn't pay the same. Additionally, when the town suffers a catastrophe such as a natural disaster or a siege, each of these people are your resources for defense and recovery. My hope is that this would be closer to the reality of life in the middle ages. Adventuring brings great rewards but at a cost. You can decide to not teach the women basic defense skills but when you are attacked, you might find yourself at a disadvantage.
To summarize, here are some basic details and principles that I'm confident about.
Hex exploration uncovers resources to use, both general ones like wood and adventuring areas where more specialized goods and advanced technology can be found.
Simulate in a general way the hierarchy of resources and the people who refine them.
Resource limitations are tied to the town and its inhabitants, making people the most important resource.
More info soon!
Edit: The art comes from the Prismatic Art Collection and originally appeared in Farewell to Fear.