Recently Initiated Loud Mouth :)
---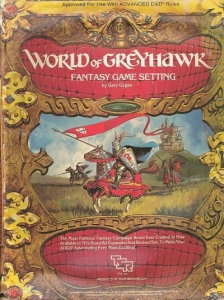 Yesterday neogrognard posted a great new article, Essential. If you haven't read it yet, I really suggest you go and read the post. It is full of the sorts of wisdom and critical thought that made me such a big fan of his. In my understanding, the thrust of his argument is this, to survive as a D&D or rpg company, it's important that the current, initiated fan base have a reason to not only buy, but also love, your product. To the initiated, few things are as important as feeling that years of mastering a game means something. If a game does a reboot and significantly changes its mechanics, as 4e did, that fan base will balk. Not only will that not buy the books, they will tell and shame others to do the same. Since RPG companies need to make money now, not take a loss for a few years as new markets are developed, this can really hurt a company.
I fully admit, I have no idea about the financials of a company such as Wizards of the Coast. I'm a smart person and I can make lots of guesses, but that sort of bench racing doesn't really appeal to me, at least not as a subject of a post. What I will say is that srm's discussion of the tension between the initiated and uninitiated matches my experience pretty well. He knows that of course, it was a big thing on my mind at DDXP, especially after Essentials came out. I saw it in my own gaming group. When the guy who had been DMing our game became a player, he constantly tried to create a single, awesome character and was frustrated in the process. 4e had changed the group dynamic and focus enough that he felt a bit lost at what to do. He would talk, at the table, about how this or that was so much better in 3.5 than in 4e. On one hand, I empathized with him and tried to find ways to make things more fun for him, reward him for that knowledge he had gained over the years. On the other, it kind of killed the fun for a portion of the group. We weren't as intent on having to know a rule for every situation or how to make a super awesome and capable solo character.
And when it comes down to it, that's the heart of the disagreement I had with srm's article. I agree with pretty much all of it except for the end where newbies are assigned to board and card games or comic books as the main way of getting them into the hobby. I think board games are useful to a degree, but unless there is a bridge between them and his version of AD&D, I think we'll still run into problems. On top of it, board games by their nature emphasize the mechanics over the story. Lots of people, maybe not a majority but I argue they do constitute a significant minority, love D&D despite its mechanics. If they are funneled into boardgames first, it's quite possible that we'll lose them. Of course, I'm highly biased here. I'm one of those people who don't enjoy boardgames that much but loves D&D.
I also bristled at the use of "our games" as a way to make those of us who don't value the elements of the game in the same way into a different group. I happen to know srm and I definitely don't think he's telling me to go away, but this type of language is used by many players as a sort of "Nerds Only" sign outside the clubhouse door. Sometimes I wonder if it's that, and not the game itself, that keeps people out. If so, no matter how many roads to Rome we build, we're still shutting out a large portion of people who might love and revere the game.
Leaving aside matters of money and a fan base for a second, I would love for this sort of advanced game to be tied to settings instead of the core rules. When I hear initiated, invested fans talk, they describe settings: Greyhawk, Mystara, Forgotten Realms, Dragonlance, Spelljammer, etc. They get that twinkle in their eyes and their voice changes to that awesome story-telling voice many of us have. From there they go to specific supplements. They'll go to their shelf and pick up a book. "I love the wilderness charts from this" or "Man, I've got to tell you, the random encounter charts from that were amazing."
I'm sure there are lots of reasons why this isn't a great idea, but I really think it would solve a number of issues. People would know from the setting what subset of rules were likely to be used for the game and the rules could be tailored for the types of stories people are likely to tell in that setting. So a low magic setting is likely to use the inherent bonuses and a setting that isn't points of light based might get rules for a richer society. Since the majority of specialized rules would be in the settings instead of core, a group could pick their setting based on their level of expertise and how much time they wanted to devote to the game. Groups who wanted to, could cross-pollinate to their hearts content and create the games they most enjoyed for their tables.
At least that's my opinion. What's yours? :)