Raising Funds (and Building Story)
---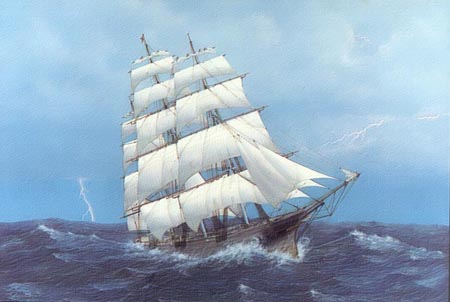 Clipper Ship Lightning by Bruce Von StetinaMy group is using D&D Next as our main system for our new campaign. We did a bunch of cooperative world building and in discussing things, it turns out that they wanted more of a commerce and intrigue based campaign. We threw out a number of ideas but most people really wanted airships.
With their input, I decided to make the start of the game about the development of a new type of ship, basically an air-based clipper ship. For those who don't know, the development of shipping in general and the clipper in particular changed the course of history. In Europe, we had the rise of merchant cities such as Venice and much of early US history and fortune is tied to trade. Shipping also caused a fair amount of disruptions to the status quo and played some role in the development of the middle class.
Clipper ships led to the development of markets for goods that are light and more perishable, such as tea and opium, as well as for passenger travel, given their faster speeds. As such, I think they'll lend themselves nicely to many types of adventures, everything from a time-based run (like Smokey and the Bandit) to transporting contraband (Dukes of Hazard) to important matters of state, both known and unknown. Can the PCs deliver the peace treaty before the general's planned strike? Can the spy get back in time to stop the assassination of the queen?
Once I felt confident that I could do something fun and interesting with the story line, I had to figure out how the PCs would build such a ship. Would I have them design it themselves? How would they fund the building? What I decided was that one of the characters, someone who had taken the charlatan background, won the last notebook of a noted shipbuilder during a card game. He looked it over, saw the applications of such a ship, and found some friends and acquaintances who might be interested in such an endeavor. This gave the PCs a reason to be together (and to look out for one another's interests) and made sure no one character had more power than any other one.
Then came the decision for how to pay for the building. For that, I figured out how much they needed (20,000 gold pieces). Instead of making the rolls binary, there was a scale of money they could get with different DCs. Since there was some randomness to the amounts each round raised, the feeling is a bit more organic than saying, "I need 5 groups you borrowed money from and reasons why they lent you the money."
I then had each of them decide who they would approach and what skills they would use to convince that group to give them money. So one PC comes for an old money family in the town who is currently involved in building ships. She had the nobility background for her character, making it reasonable that she could borrow a bunch of money. Another was from one of the rising middle class families and when the player rolled a 1, she determined that her character's family wouldn't have given him any money, probably saying something like "We had to pull ourselves up by our bootstraps, you will too." Another character owns a tavern in town (he's a brewer) and has connections to the underworld. He used both legitimate and shady connections to raise the funds.
What I love about this is that one day, these groups are going to want to ask favors back. Since the players decided which groups they wanted to involve and they knew in advance that favors would be asked for at a later date, they've been given some control over the types of stories they want to tell. They decided that the legitimate business interests were going to be tea growers and they even want to visit some of the tea plantations to see what the deal is there. When it comes time to figure out who in the underworld provided the funds, I'll be asking the players for their input there as well.
Also, this meant a lot less work for me. I didn't have to come up with all of the ideas of where the story should go but I still have the opportunity to throw in a few surprises. While I realize that this won't work for everyone, it works for me and seems to work for this group. One thing to keep in mind is that some people play D&D in a more competitive way. There's nothing wrong with that, but since the story evolves as we tell it and the players build the world instead of competing against it, it may be less satisfying for those players.