Podcast Playlist: Icosahedrophilia
---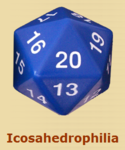 I have to admit, the main reason I decided to start playing D&D is the podcast done by WotC, Penny Arcade, PvP and Wil Wheaton. They didn't take themselves too seriously and had a ton of fun. When I professed this love on twitter, some kind users pointed me to the Icosahedrophilia podcast put out by Chris Heard. Like the other series, this one also features real game play. This might seem boring to some, but I've always been drawn to story telling so I find it incredibly interesting.
What's even better is that Chris takes some time at the end of the episode to explain some of the tools he used preparing and running the game as well as explaining mistakes he's made and the such. Also, usually he'll let us know when the players decide to take the game in a direction he didn't expect and how he then adjusted the story to line up with player expectations. For those looking to create a podcast of their own, Chris sometimes talks about the equipment he uses to produce the podcast.
Story Lines
More information about the Stormhaven campaign, including character descriptions and the names of the players, can be found on the campaign summary page.
There are a few other interesting things on the website that you might be interested in. Chris released his own initiative tracker, FightCard. The program is meant to run through a web browser, but since it runs directly from your hard drive, you don't need an internet connection to use it. In addition to the initiative tracker, Chris has a D&D 4E style guide, a dungeon tiles index, and a list of music tracks for game background music.
Chris can be found on Twitter at @d20philia.