PAX East 2013 - Day One
---
The first day of PAX East is over and I'm shoring up my energy for day 2. I had to cut day 1 a little short because I was losing my voice and I have a panel today, Campaign Doctors, at 3:30 in the Merman Theater. I didn't get to play many games during day 1, but here are the three I got to play:
Girls Like Robots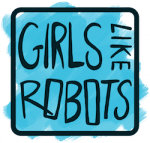 Girls Like Robots is a tile puzzle game summed up by the tag line "Adventure. Romance. Seating Arrangements." I played the first level yesterday and bought the game today. Most tiles represent people. Some people like to sit in particular locations or near particular types of people and don't like others. The goal is to sit everyone on the board in a way that maximizes their happiness. At the early levels, we have 3 types of tiles: girls, robots, and nerds. Girls like sitting near robots, and that makes robots happy too, unless they are surrounded by girls (4), at which point they freak out. Nerds like to sit next to girls but the feeling isn't mutual. They also like edges. Diagonals don't count. The girl/nerd relationship bothers me a bit, but if you can get past that, it's a neat game that's all about optimizing. As you play the game, a story unfolds. They all attend Four Corners University and often take the bus together (seating arrangements!).
Links:
Website: http://popcannibal.com/girlslikerobots/
Twitter: @girlslikerobots
Facebook: http://www.facebook.com/pages/Girls-Like-Robots/369940789687334
Greenlight: http://steamcommunity.com/sharedfiles/filedetails/?id=108824368
Systems: iOS, Steam Greenlight, Windows, Linux, and Mac.
Cupcakesandcritters.com


Save the cupcakes from the critters by smashing the bugs. But watch out, the tricky bugs are fast and can dodge your finger. This game is still in development, but some of its information can be found on their Facebook page. From the bit I played, it seems to be a cute game and I got a lot of enjoyment from smashing bugs.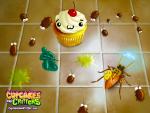 Links:
Website: https://www.facebook.com/cupcakesandcritters
Systems: iOS
Octodad: The Dadliest Catch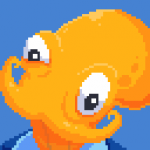 I had heard about Octodad back at the NoShow Conference and was happy to finally be able to play it myself. You control OctoDad, an octopus trying to just fit into a human world, with a human wife and human kids. The problem is, it's not easy. Since he's an octopus, he lacks bones and fine motor control. It's much easier to make a mess than it is to clean things up. But he tries, because he really does love his wife and kids. My instant reaction to the game is that I feel that this could help people understand how it is to be different, and in particular, to see how hard it is when your body doesn't respond in the way you think it should. You can download the original OctoDad here: http://www.octodadgame.com/octodad/download/
Links:
Website: http://www.octodadgame.com/
Twitter: @octodadgame
Facebook: http://www.facebook.com/pages/Octodad/163497377009211
Systems: Windows, Mac, Linux
Odds and Ends
Eclectic Eccentricities
This booth has handmade jewelry, most with a dice motif. They have earrings, necklaces, and bracelets and they do custom orders. They also have metal charms.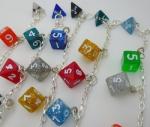 Links:
Website: http://www.eccerose.com
Facebook: http://facebook.com/eccerose eccerose@gmail.com
Other games I want to try: