Old School Hack: Weapon Types and Arenas
---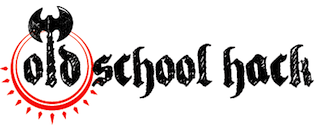 Recently, Rob Schwalb wrote a post on the D&D Next community site asking the community if they thought weapons should have damage types.
[T]he game has handled weapon damage in different ways over its long life. In the early editions, tables reflected how weapons fared against armor types and if a monster had a special resistance to the damage, the information lived in the monster's description. Later, to unify the tech, weapons dealt damage of a particular type (bludgeoning, piercing, or slashing), and the most recent incarnation treated all weapon damage as being effectively the same.
Schwalb, Robert J. Weapon Damage Types
While I realize that D&D Next probably isn't about creating new solutions to old problems, the discussions around this post reminded me of a mechanic I really liked in Old School Hack. In that game, instead of tying weapons to particular kinds of monsters, the most weapon types are tied to the different arenas. The two exceptions are very heavy weapons which are a special benefit in themselves and the neutral arena.
Weapon Type
Bonus
Arena
Light Weapon - Examples shortswords, rapiers, one-handed
maces, daggers, truncheons, nunchucks, clawed
gloves
+2 bonus when used in
Tight Arena - Narrow places that often limit
your mobility somehow.
Reach Weapon - Examples quarterstaff, poleaxe, spear, flail,
net-and-trident, sword-and-chain
+2 bonus when used in
Hazardous Arena - Places where footing is
difficult or visibility is limited
and requires care.
Ranged Weapon
+2 bonus when target is in
Open Arena - Stark, wide-open areas where
there is little to no cover.
Heavy Weapon
+2 bonus when used in
Dense Arena - A crowded environment that has lots of fiddly but smashable bits that might get in the way
Robinson, Kirin. Old School Hack Beta v1.0, p.12.
In my experience, the ties between weapon type and arena made combat more dynamic and made it easier for me to determine my first move in an encounter. If I had a weapon with a connection to a particular arena, I chose opponents in that arena first.
The other nice thing it did was spread out the group and provide natural spotlights. Instead of four or five PCs bunched in one area, we spread out a fair bit more. So even if a bunch of us were just making melee attacks, we were often doing it to different targets in different areas.
Unlike having monster traits that resist or are vulnerable to certain types of damage, this is likely to matter in each encounter. It gives players choices whereas players often don't have a choice in what monsters they face. While I'd have to test it out to be sure, my gut tells me that it's less likely that players will load up on a golf bag full of weapons in this system, since they won't be penalized for not having the right kind of weapon and they are likely to see some benefit in most encounters unless the DM isn't doing a good job of setting up arenas.
As someone who might run the game, I like how it naturally lends me to think about setting up diverse arenas within one encounter. It forces me to think about terrain and to include different terrain types, especially if I want to reward my players' decisions. However, it doesn't give them or me so many choices that I feel overwhelmed as a relatively new DM.
It also encourages thinking about what demarcates the various arenas, leading to richer descriptions in my experience. One example would be a theater. Much of the building is taken up with seats which can be thought of as either dense or hazardous. The stage would probably be either open or neutral. Backstage, with its wandering passages, could be tight.
Finally, the arenas lend themselves to an easy way to physically represent the encounter without drawing out a grid-based map. This is important to me because I often have a hard time remembering things for the short term, especially things that were spoken to me and I didn't write down. I could easily use differently colored pieces of paper or index cards to represent each arena and use everything from minis to glass beads to represent the various characters.
I think, with a little work, this could be layered on top of D&D. What do you think?