New Pathfinder book: Mythic Adventures
---
Last fall I had the great fortune of writing for new Mythic Adventures book from Paizo. The companion book provides ways to give a more mythic feel to your game, allowing for heroes and villains that break the mould. The system is meant to lay on top of the current structures of the game, allowing access at any level, even 1st, and tying it in with the deeds and actions of the characters. While I haven't had a chance to read the final book yet, this concept is one I was excited about from the first email I received and that interest hasn't waned.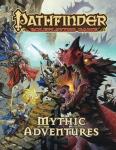 In addition to the public playtest, Paizo recently released two previews of the Mythic Adventures content. The first has some of the path abilities. Mythic paths, to me, are meant to tie in to the notion of the hero's journey. During their ascension phases, the heroes discover something that sets them on a separate and distinct path from those around them. The way I see it, unlike a character class, a character can have just one path to walk, one archetype to fill in our common stories. The path abilities help to set them apart from all others and make them truly legendary.
Here's an example:
Guardian, 6th Tier:
Invincible Stand (Su): You can expend one use of mythic power as a swift action to make yourself nearly invincible for a short period of time. You gain DR 20/— for a number of rounds equal to your tier. If you choose to move or are moved by another creature during this time, this protection immediately ends.
More can be found Mythic Preview—Path Abilities Mythic heroes need proper enemies. The book has a few monsters and there's a preview of the Mythic Lich.
As for me, I contributed a couple monsters along with some of the mythic adventure themes and adventure ideas. I had a lot of fun trying to come up with different levels of using mythic levels in a game. In my experience, it's not meant to be an on-off switch, but as a way of adding flavor and some additional mechanics in ways that suit the type of experience you want to build. Setting regular characters against mythic monsters will give a different feel from a game where mythic characters constantly fight other mythic beings. I also loved coming up with adventure ideas that played with some traditional tropes.
If you're at GenCon, the books are there! Jason Bulmahn posted this on his Facebook fan page. I couldn't make it this year, but be sure to say hi to the lovely folks in the Paizo booth.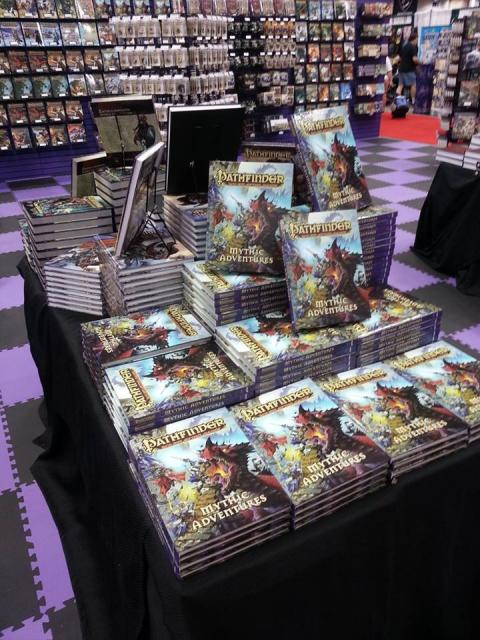 Mythic Adventures at GenCon
And here are the full credits:
Lead Designer • Jason Bulmahn
Design Team • Stephen Radney-MacFarland and Sean K Reynolds
Authors • Dennis Baker, Jesse Benner, Ben Bruck, Jim Groves, Tim Hitchcock, Tracy Hurley, Jonathan Keith, Jason Nelson, Tom Phillips, Ryan Macklin, F. Wesley Schneider, Amber Scott, Tork Shaw, Russ Taylor, and Ray Vallese
Cover Artist • Wayne Reynolds
Interior Artists • Rayph Beisner, Eric Belisle, Eric Braddock, Dmitry Burmak, Anna Christenson, Jorge Fares, Taylor Fischer, Grafit Studios, Tim Kings-Lynne, Diana Martinez, Brynn Metheney, Roberto Pitturru, Klaus Scherwinski and Luisa Preissler, Jason Rainville, Denman Rooke, Chris Seaman, Bryan Sola, Matteo Spirito, Sandara Tang, Tyler Walpole, and Ben Wootten Cartographer • Robert Lazzaretti
Creative Director • James Jacobs Editor-in-Chief • F. Wesley Schneider Senior Editor • James L. Sutter
Development Team • Logan Bonner, John Compton, Adam Daigle, Rob McCreary, Mark Moreland, and Patrick Renie
Editorial Team • Judy Bauer, Christopher Carey, and Ryan Macklin
Editorial Interns • Jay Loomis and Cassidy Werner
Senior Art Director • Sarah E. Robinson Art Director • Andrew Vallas Graphic Designer • Sonja Morris
Production Specialist • Crystal Frasier
Publisher • Erik Mona
Paizo CEO • Lisa Stevens
Chief Operations Officer • Jeffrey Alvarez
Director of Sales • Pierce Watters
Sales Associate • Cosmo Eisele
Marketing Director • Jenny Bendel
Finance Manager • Christopher Self
Staff Accountant • Kunji Sedo
Chief Technical Officer • Vic Wertz
Senior Software Developer • Gary Teter
Campaign Coordinator • Mike Brock
Project Manager • Jessica Price
Licensing Coordinator • Michael Kenway
Customer Service Team • Erik Keith, Justin Riddler, and Sara Marie Teter
Warehouse Team • Will Chase, Heather Payne, Jeff Strand, and Kevin Underwood
Website Team • Ross Byers, Liz Courts, Lissa Guillet, and Chris Lambertz
Special Thanks • Ryan Dancey, Clark Peterson, and the proud participants of the Open Gaming Movement.