My First Play By Post Experience
---
For a few weeks now, I've been involved in a great play-by-post game over on Google Wave. Our DM, Michael, is a great guy. He lets my character do lots of interesting and exciting things without letting her get away with too much. He's also really good at coming up with descriptions, which is great because I still have a problem visualizing and then describing some of the neat stuff my character does. The rest of the players have been really great in this regard as well.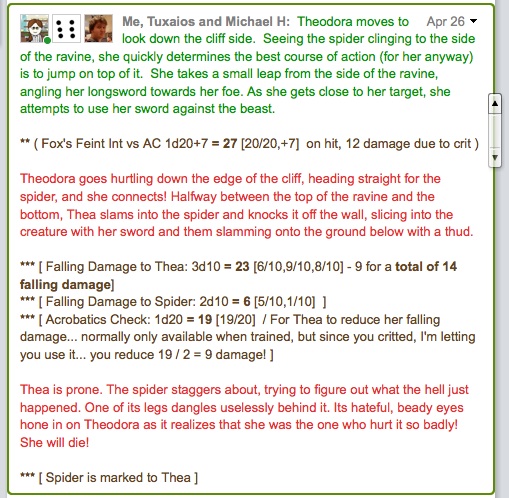 As for game play itself, Google Wave really makes it easy. The basics of game play are based on suggestions from Quinn on the At-Will blog. One nice thing about it is that it's easy to go back and edit and delete things like out of character comments in the in character combat wave. Given some of the quirks of wave, we create new waves every so often with one wave serving as an index to all the others. For dice, we are using Tuxaios and we are using the RPG-Bones Battle Map for combat. Finally, we have our character sheets on iPlay4e for easy reference.
While I'm not the best at it, one of the things I really like about play-by-post is that I can get more immersed in my character than I can at a physical table. Part of it is that the play style is just different, with a built-in emphasis on description over action. It's rare that we are all on at the same time, so there isn't a sense of rushing to get things done that happens when a group is trying to pack as much gaming as possible into a limited time window. Those of us who are on a lot find other ways of amusing ourselves, like goading each other into jumping off of cliffs. Also, I'm much less shy online than I am in real life. So I'm much more willing to take the leap and really make the game interesting.
However, there are some downsides. Keeping up with all of the info can be a little challenging at times. One feature I hope Google adds is the ability to have two waves open at the same time on the same web page. When you switch between waves, your current editing block closes. This is fine unless you have die roll tags, at which point it will also roll the die for you. If you have to edit the text right near the die roll, this edit will trigger a reroll, which is a bit annoying. Also, when real life interrupts and keeps a player away from wave for long stretches of hours or days, game progression halts. That can be a good thing, too, as it gives the rest of the players a little more time to think of something interesting to do with their characters.
Overall, I'm super glad that Michael let me join in the game and I'm having a ton of fun with it. It gives me a great chance to blow off some steam, learn a lot more about playing rather than DMing, and make some great new friends. My character, however, is going to need some healing help soon if she's to make it. She's already burned through her second wind and a healing potion. Hmm, maybe I should start on my next character now just to be safe.