More Like This Please: DMs Guild Titles - Part 4
---
On April 27th, OneBookShelf, in conjunction with Wizards of the Coast, Fantasy Grounds, and White Wolf, announced a Play It Forward Event, running from May 4th (Star Wars Day) until May 17th. During the event, community-created products on those companies will forgo their royalties on products sold on DMs Guild and Story Vault and instead, the creators of the content will get 100% of all revenue. This is intended to help the creators, many of who are struggling due to Covid-19.
In addition to this change of revenue sharing, the sites will be having a 20% sale on titles at least 30 days old and temporarily suspending the affiliate program.
Perhaps you, like me, are wondering about some titles to invest in and explore during this event. I did some exploring and would like to recommend the following:
Triple Murder Most Fowl
It is Highharvesttide and your character (along with two to four 10th-12th level characters) is invited to dinner. Soon after arrival, however, the characters learn that they don't have a Clue about what is going on. The matriarch was found dead, just that morning! And now they must figure out who did it, how, and where!
Reading through the adventure, I sense a lot of chances for jokes and just fun role play opportunities. I also wonder if it would be a good adventure if you have folks who want to participate in a D&D game by playing an NPC. It's exactly the sort of adventure I'd love to play.
To purchase: DMs Guild affiliate non-affiliate
Eat the Rich | Volume 1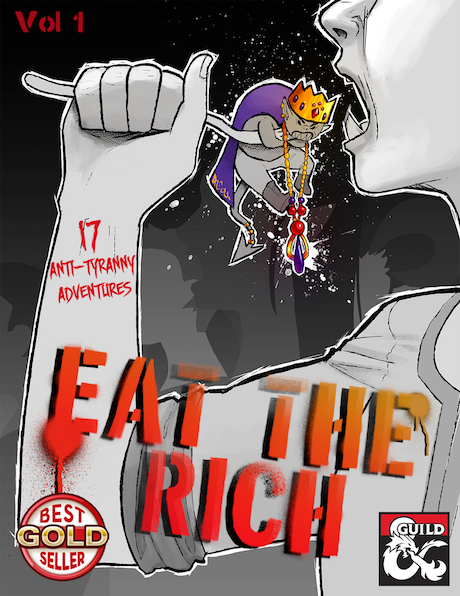 Eat the Rich, the anti-tyranny adventure anthology, contains 17 adventures for tiers 1-4. Like many of the adventures I've spotlighted, these attempt to explore real world topics through the guise of fantasy; allowing us to see the world around us in new ways. As such, some of the adventures deal with heavy topics like exploitation of workers, marginalized folks, and more.
Also, the pdf is gorgeous. I love the use of monotype and the art is decadent. The visual callbacks to zines fill me with a warm and fuzzy feeling.
To purchase: DMs Guild affiliate non-affiliate
UNBRIDLED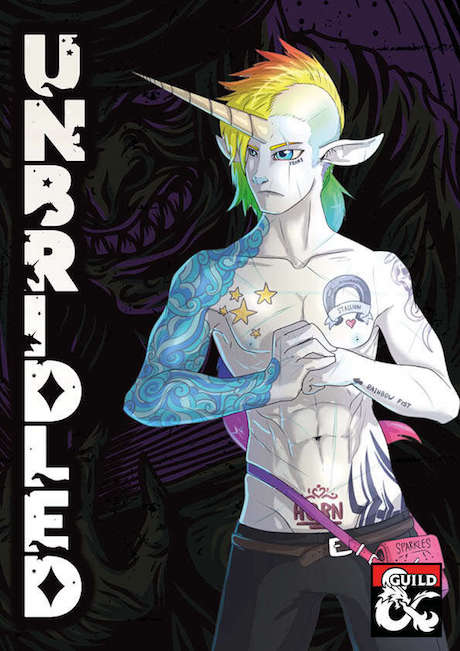 @ me, ok?
Where to start?
Boring voice: Unbridled is a collection of 19 adventures for 5th edition Dungeons & Dragons featuring hags and…unicorns?
Yes, folks, let's take the most of iconic of D&D monsters, hags and unicorns, and mix them up all over the place. Let's make it bizarre. Let's throw a bunch of stuff into a jar, add some glitter and water, and shake that sh*t up and play through whatever happens. That is what this book is all about. And if you think the cover art is catchy, wait until you see the unicorn on page 16. That's ok. I'll wait. Go have a look.
Ok, time to get back on topic. Another book where the art is gorgeous and on point and where the energy is amazing.
To purchase: DMs Guild affiliate non-affiliate