More Like This Please
---
Sorry. I know it's been a while since I did one of these but I've been hard at work on the Prismatic Art Collection project which is essentially one big,
More Like This Please
, except we'll definitely have more like this. I have a few posts on my site about it which can be found through the
Prismatic Art
tag and I started a
Google+ page
for the project. As an added bonus, the G+ page has an album full of artist pics and bios. The artists listed below are among those we hope to commission to produce artwork for the Prismatic Art Collection.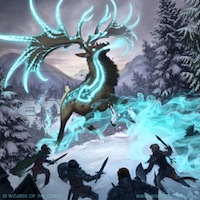 Primal Elk
What I love:
Three members of the party are women (or at least could be, it doesn't really matter if they were meant to be that way). They aren't in the back, using magic, but up front, with melee weapons.
By making the elk larger than life and in the center of the painting, its majesty becomes the center of attention, adding to the wonder and awe of primal magic.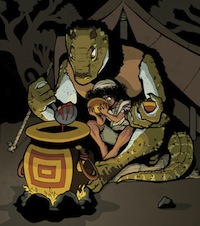 Care and feeding of your small human
What I love:
I think having scenes of parenthood (including fatherhood please) increases the possibility of having PCs that aren't murderous creatures that kill everything that might offer the chance of more XP or loot.
While I prefer to play humans, I actually like a game that has the diversity of races often offered in science fiction, like Star Trek or Star Wars.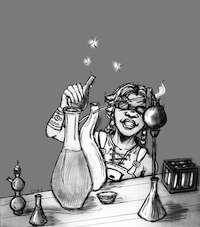 Abby in the Lab
What I love:
Sorry, she just looks like a fun character. I'd probably use her for an alchemist, one who knows to use safety glasses in the lab!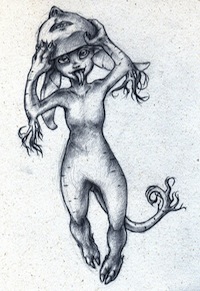 Goblin
So goblins that are obviously evil and do horrible things makes it easier to know to just kill them. I get that. But I love mythological goblins that are more troublemakers than murderous, vile creatures. A playful goblin wearing a human mask sounds like the start of a fair amount of shenanigans.
Legend of Korra
Watch on YouTube
The original Avatar: The Last Airbender tv series on Nickelodeon was awesome and had a lot of great female characters that I love. We even saw previous female avatars. Now we have Korra, a female water bender from the southern water tribe, who is also the avatar. I really like that she's a little older than the previous avatar, Aang, was when he started his adventure. In addition to hopefully connecting with the original audience, it gives the artists the chance to show some muscle tone on her. She's talented and spirited but not without faults. I may be in love.