More Like This Please
---
Valkyrie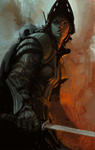 valkyrie by ~dangerousllamaWhat I love:
The art gives a sense of caution and a bit of fear. I envision her in caves somewhere, keeping a watchful eye out for enemies.
While she has an articulated breast plate, her breasts seem fairly normal for her build and for her occupation. I grew up playing sports and still enjoy playing them today. However, I would be lying if I said that larger breasts didn't make simple tasks, like swinging a bat, slightly more difficult.
She has a sword and a rather normal sized one at that. I love playing characters with swords.
Heal Aura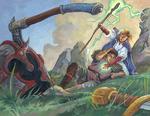 Heal Aura by Storn Cook
What I love:
Like much of the art I love, this one tells a story. The story of the warrior who gets hurt and needs someone to heal isn't that new, but I love that the story involves only women, at least in the frame.
The camera angle is awesome because it gets everything in. My eye was drawn first to the huge helmet with the axe through it and then back to the cleric doing a great job protecting the fallen warrior.
The art leads to more questions than answers. Who put that hammer through her helmet? Why isn't the creature attacking them now? Will the cleric be able to heal her?
Paladin and the Demon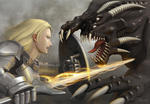 Paladin and the Demon by ~AerythesWhat I love:
She's in armor appropriate for her class, paladin, and for going up against a demon, especially one with claws and teeth like that one.
She's toe-to-toe with a demon! She looks determined and, most importantly to me, she's not interested in anything else other than killing the demon.
The Cave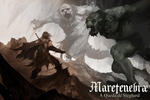 The Cave by ~diegodealmeidaWhat I love:
Again, story! The warrior went out in search of some food. He found a rabbit and was bringing it back to his shelter in the cave when two big trolls set upon him. Now the hunter has turned into the hunted.
I also had an instant connection with the man. I love artwork that makes me worry about the fate of the hero. Right now, the poor guy is surprised. He has dinner in one hand and his sword is still sheathed on his back. I want to know what happens next.
I'm adding much of the artwork I love to my Pinterest account.