More of This Please
---
With the announcement of D&D Next, I hope to talk about issues of inclusivity and how a game can foster a more friendly environment for non-traditional fans. Over the past two weeks or so, I've been using Pinterest to collect images that are closer to the style and content that I really enjoy. I've also been trying to be more conscious of the media I consume, looking for things that really appeal to them and thinking about why. I hope to do more of these posts in the future but for now, here are a few that stood out to me.
Knight Exemplar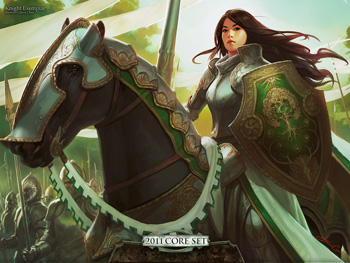 Knight Exemplar from Magic: The Gathering
What I love:
She's part of the army. The card just reads Knight Exemplar. I have no reason to believe that there aren't more female knight exemplars.
While her breastplate is given extra room for her anatomy, it doesn't emphasize her breasts. They are just a part of her, not objects to look at.
She's looking at the camera. While she has an aura of confidence otherwise, she's riding with her back straight and shoulders back and is properly equipped, looking into the camera contributes to this feeling of self-assuredness.
Arctic Druid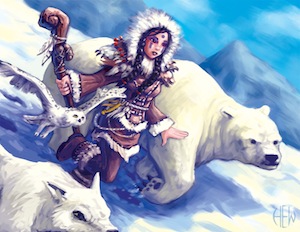 Arctic Druid by Gary Gill (via Deviant Art)
What I love:
Somehow she has been able to get a polar bear, a wolf, and a snow owl all to follow her and not go after each other.
She's wearing something other than Western European clothing. It makes me wonder more about what her culture and her life are like.
It's a scene out of her life. She and her animal friends are going ice fishing so they can fill their stomachs.
Elven Archer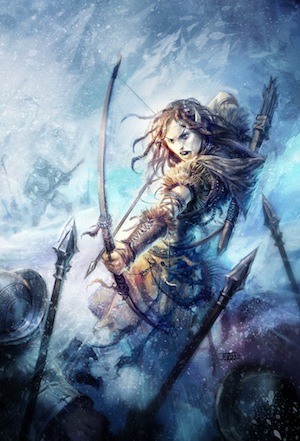 Elf Archer by Michael Ivan.
An action shot where a woman character is going up against multiple foes. What isn't there to love?
It's hard to tell for sure, but it looks like she is protecting a fallen ally. I love when women are shown as martial protectors, not just the people who need to be rescued.
She's determined. I don't think she'll give up without a fight.
The Conscripted Girl Soldier
I love the TV show, Once Upon A Time, for a number of reasons. One of the big ones is that it often passes the Bechdel Test by having two or more women on screen without talking about men or a man. What I love even more is that it doesn't do so at the exclusion of the romantic element.
One scene that got me really excited happened in the episode "Desperate Souls." The episode centers on Rumplestilskin's origin story, the lengths he went to to save his son for being conscripted into the army at the tender age of 14 and how they changed him. It opens with the duke's people conscripting another child into service. However, instead of a boy, they take a girl. Not only that, there's no discussion about whether or not a girl would make a good soldier. The default is gender equality and the focus is on their young age.