More inspiration: Knowledge Card Sets
---
This afternoon we found ourselves in a local game store, The Games People Play. Fred took the opportunity to buy one of the games he's loved for years, Diplomacy, and I splurged on a few items: Once Upon A Time (a card story telling game by Atlas Games), Story Cubes - Voyages, and two knowledge card sets, Forgotten English III: Long Lost Insults and African American Art.
Forgotten English III: Long Lost Insults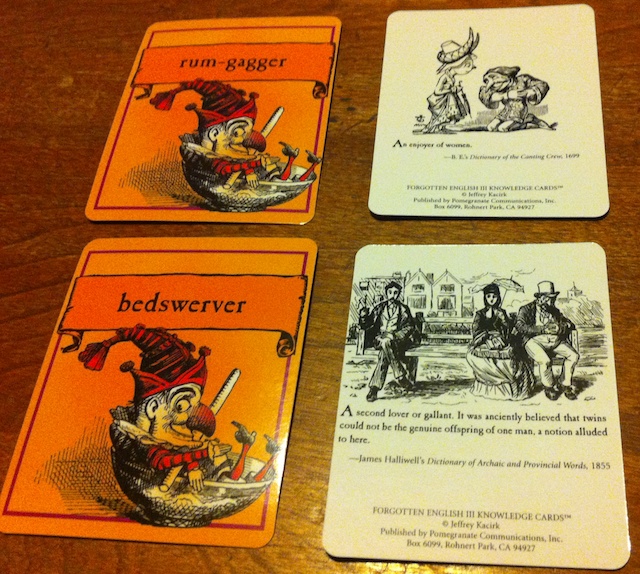 The set of insults should be good fun for gaming, allowing me to throw out random insults at player characters. Each card has the word on one side. The other side often has the word's definition, source for the definition, and an illustration that shows or evokes the behavior referenced by the insult.
Examples of Use:
My rather straight-laced character always worries that the new people she meets are sinful. I select a card at random and say that she hopes that the new person she just met isn't one of those people. "Did you see how he just interrupted their conversation like that, asking such foolish questions and not letting them get on with it? I hope he's not a nargyle!"
During character generation, whether for an NPC or PC, I want to add a unique character aspect. I select a card from random and apply that insult to the character. For instance, if I pick rum-gagger, I should make a bard who loves to tell her stories of woe wherever she goes, trying gain the pity of the poor folks who hear her tale.
The PCs decide to go in a direction you hadn't anticipated and you need to create a scene for them and quickly. Let's say that they go to see the local magistrate. You could pull a card and have two or more parties there trying to figure out what to do about the insult. If pre-planned, it could give background information on the NPCs.
Some of the images could easily inspire NPCs, scenes, adventures, and more. For instance, the back the Hogs-Norton card contains two well-dressed humanoid pigs.
Party game: Everyone gets an package with the list of insults, definitions, and one of the cards. They then have to act like a person referenced by the insult. Other guests have to figure out which you are. Using rules similar to Dixit, you get points based on how many people guess which insult you personify so long as at least one person got it but not everyone.
---
African American Art


The second set of cards will find a variety of uses in my life and games. I've wanted to become more knowledgeable of art and artists for a while and African American artists and their art are one of the areas where I'm least knowledgeable. By becoming more familiar with African American art, I'll be more likely to include and suggest pieces that would work in my games. Additionally, for games that are meant to fit into our history, I will enrich the characters I add to the game world. For instance, a number of these artists would work well in a game set anytime from the mid-1800s to the mid-1900s. Finally, picking a piece of art can bring all sorts of inspiration to my games since the art runs the gamut from landscapes to cityscapes to portraits to abstract works.
Each card has a piece of art on one side and information about the piece and the artist on the other. These cards appear to be made in collaboration with The Smithsonian National Museum of Modern Art, so it also includes details about the art such as call numbers, media used, and size. Just as a note, one of the limitations of this set is that it leaves out many contemporary artists.
Examples of Use:
A scene takes place in an art gallery or museum. The cards could be laid at random to provide ambience or chosen beforehand to support the story being told.
A game scenario, such as a Spirit of the Century game, takes place during a time period with multiple artists. The artists could be used to inspire characters in the scenario.
Playing in a game set now or in the future? Pick a piece from the deck that would interest your character. Research more of the artist's work and use that art at the table as a way for her to speak.
Tell a story using the cards. Each person takes a turn as storyteller, taking one card from their hand and using an element of the piece of art to add to the story.
Additional Sets
The company that makes these sets, Pomegranate Communications, Inc, has a number of other sets that might also provide inspiration such as these.