More Like This: The Hidden Halls of Hazakor
---
I recently backed the Kickstarter campaign, The Hidden Halls of Hazakor, and had the opportunity to interview the designer behind the adventure. I'm enjoying the previews thus far and wanted to share with all of you. At the moment, the campaign has 5 days to go and is almost 95% funded.
What is The Hidden Halls of Hazakor?
This is a starter adventure for fifth edition Dungeons & Dragons, covering a lot of the same "beginner Dungeon Master" ground as most starter adventures do. But it's also written specifically with a focus on young beginner Dungeon Masters (an age-12-and-up kind of thing), with the intent of helping those young DMs not got overwhelmed by the experience of running their first games.
Why did you pick 5e D&D?
I went with D&D partly because it's my go-to game for both work and play. But also partly because as a ruleset, I think 5e has a pretty solid foundation of being welcoming to new players. I love a lot of other games as much as I love 5e, but as part of the idea of doing an adventure to help get young DMs and young players into the game, one wants those DMs and players to then be able to easily keep going with the game. I find that fifth edition has a pretty optimal sense of being self-contained and approachable, and I think that makes it a good fit for younger players.
Why concentrate on writing an adventure for young DMs?
When I first wrote the adventure that has since morphed into "Hidden Halls of Hazakor," I did it for the RPG club I was running at my daughters' middle school a few years back. So at the time, it was a reaction to seeing kids in the club trying their hand at running games for the first time. I saw a lot of the same sorts of problems, and the same sorts of questions coming up — but I also saw pretty much every kid dealing with the same general anxiety about how running a game should feel, and how to keep the other players entertained, and what to do if things went off the rails. I remembered how those were all the same uncertainties I experienced when I ran my first D&D games, so I put the initial version of the adventure together quickly as a response to that. I wanted something that would be easy for a first-time DM to get a handle on, and that could incorporate advice for dealing with the broad range of issues that the young DMs in the club were dealing with.
What are some of the areas you want to concentrate on for new DMs?
In a general sense, I wanted to front-load an adventure with as much of the information and tips that come from the experience of running games as I could. So much of being a good DM comes down to the experience of having run games. It's very much a learn-by-doing scenario on many levels. And that's daunting enough when you're a teenager (as I was when I first started gaming) or even as an adult. But when you're a kid of a certain age, it can be downright scary to suddenly find yourself in a position when you're responsible for making sure four other people are having fun for three hours a week. And judging from my own experience, at least, that fear can get downright existential when you're a kid coming from that feeling-like-an-outsider/not-really-that-confident mindset that draws a lot of us into gaming in the first place.
So "Hazakor" first and foremost tries to provide an adventure framework that's relatively straightforward — a good old-fashioned dungeon crawl. Then as that adventure unfolds and things happen, the book explains to the young DM "Here's how to think about what's happening." Talking about different ways to improvise comes up a lot, both in the performance sense of playing NPCs and the more esoteric sense of dealing with the players doing things that are unexpected. Because for a lot of DMs (first-time or otherwise), that remains the hardest thing to get a handle on. And that sense of how to deal with things changing in mid-game extends into a lot of the specific advice any DM can get or give, from thinking about how the environment can alter the conditions of combat, to how to deal with players intentionally trying to wreck the fun for other people, to how to deal with characters dying.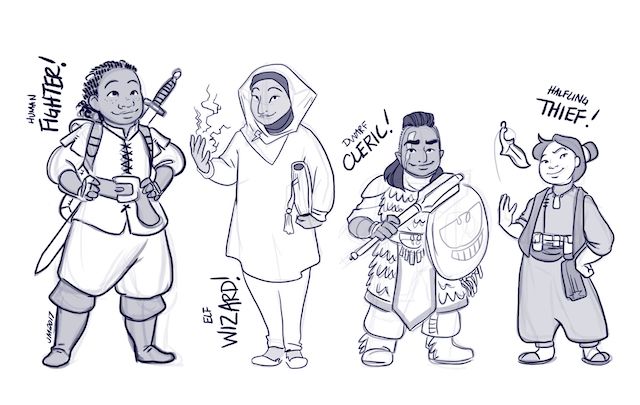 Halls of Hazakor Sketches
I love the artwork you've released so far for the game, but I may have noticed a theme with it. Want to talk about your philosophy behind the art?
Thank you, and you're in good company. There's been a ton of positive feedback about the project so far, and pretty much everyone who's commented leads off by talking about how much they love Jackie Musto's illustrations. The underlying idea for the art was first and foremost to provide the main entry point to making running a game feel accessible for a young DM, and to make the adventure feel as welcoming as possible. There's a fair bit of humor in the adventure, and I approached Jackie initially on the basis of knowing that her style would really suit that tone. I wanted the characters to look young because I wanted young DMs and players to be able to feel a sense of connection to them. And I wanted them to represent a balanced mix of genders and a broad range of ethnicities and cultures because that's what I want to see in the fantasy I play and read. And though I certainly expected that Jackie would be on board with that, I couldn't have predicted how amazingly her art would bring all those different parameters to life.
I'm extremely privileged, both in a general socio-cultural sense and in the more specific sense of being a person who gets to work in tabletop games and in fantasy fiction for a living. And I'm finding that the older I get, the less patience I have with fantasy that refuses to break out of the faux-European-Medieval tropes that have driven the genre for way too long. Now, I'm not saying that there isn't a lot of amazing non-Eurocentric fantasy out there, because that clearly isn't the case. But I think that fantasy in general, and gaming in particular, has a real "fallback position" problem, wherein our first instinct as readers, as players, and as creators is to think about fantasy in terms of the fantasy we already know. And there's an undeniable bit of a white-male feedback loop in the fantasy that many of us already know, and I'd really like to see that broken.
Where can people find out more about The Hidden Halls of Hazakor?
The Kickstarter campaign page has pretty much all the info on the project, its background, and the questions people have been asking about it. And for anybody who wants any more information, I'm on Facebook and Twitter pretty much anytime.