More Like This: Broken Age
---
Jared and I watch a lot of video game play throughs together. There are more video games out there than we have the time (or money) to play but knowing about them is a great idea given what we love to do. Additionally, some of the commentators are just awesome. Recently we watched one that just blew us both away, Jesse Cox playing the first act of Broken Age by Double Fine Productions.
Two years ago, Tim Schafer and his company Double Fine Productions asked fans to fund his idea for an point-and-click adventure game through Kickstarter. Originally asking $400,000 to create both the game and a movie about creating the game, they raised $3.3 million. Promising to put the extra money into the game, the result is just beautiful. Not only does the game use great voice actors such as Masasa Moyo, Wil Wheaton, Jennifer Hale, Jack Black, Ginny Westcott, and Nicki Rapp, the art is amazing under the lead of Nathan Stapley and the music ties the whole game together.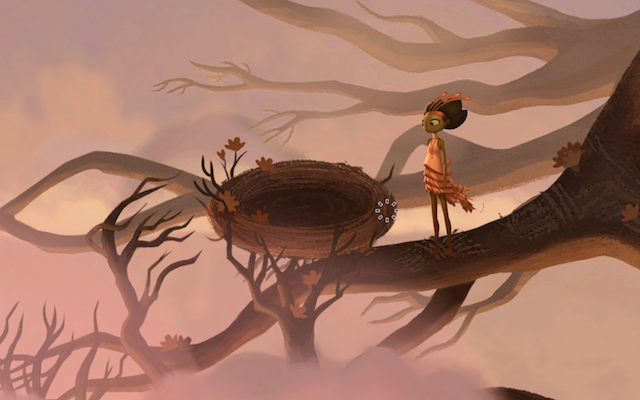 Vella - © Double Fine Productions
Over the course of the game, you play two different characters, both question authority and tradition in their attempt to be heroes. Vella, a maiden from the village of Sugar Bunting is expected to dress up in a fancy costume and sacrifice herself for the greater good. In this case, it's to appease Mog Chothra, an ancient creature from far away who visits the villages every 14 years. Out of fear of having their villages destroyed, they hold maidens feasts where the girls are on the menu. Vella, encouraged by her grandfather, thinks there has to be a better way and sets off to find a way to kill Mog Chothra.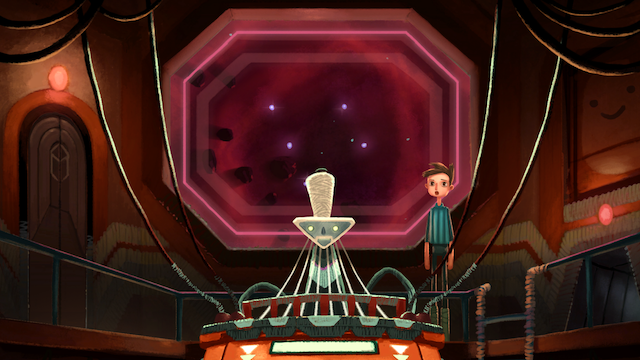 Shay - © Double Fine Productions
The second character is Shay, a boy in spaaaccceee...er, sorry about that...a boy in space. He is watched over by the ship, largely through a computer interface that represents his mother. After a hearty breakfast of cereal (I particularly liked the one named Soylent Dreams), he's given a choice of missions to undertake such as saving people from an ice cream avalanche. We quickly learn that he is in a protective bubble in the form of a ship. He feels like there has to be something more out there.
I can't quite give a proper review of the game as I had watched the entire play through by Jesse Cox before playing it myself. I grew up playing point-and-click adventure games like Kings Quest and I love the genre even if I didn't always love the finickiness of some of the older games. For instance, Jared and I have been watching "I have no mouth, and I must scream" and I don't think I'd ever play that one. The people playing it are often frustrated with the difficulty in clicking just the right pixel and figuring which of the commands are the right one to use.
Broken Age is different. Gone are the multiple commands and limited vocabulary. With very few exceptions, the pixel areas are rather forgiving. You interact with the environment by clicking and/or dragging items from your inventory to the environment element you want to interact with. While watching the play through, I never felt stuck although there were times when the commentator wasn't quite sure what to do although I imagine it's hard to give commentary while playing. The simplicity of the game play isn't for everyone, but I thoroughly enjoyed the game.
The humor throughout was refreshing and often made me laugh. While I think gender definitely influences the adventure each is on and what is expected of them, no element of the game feels gendered. I also love that Vella is definitely a self-rescuing heroine while Shay is someone who likes to rescue others and that the creatures he rescues don't have a gender. Overall, I found the game delightfully subversive.
The main difficulty I see with the game is the price. On Steam it is currently $24.99 for the base game and $29.99 for the game with soundtrack. I played it in about 3 hours but I had already seen a play through. In one of the reviews I read, the writer said he played it in about 5 hours of casual play. I was worth it for me and I'm glad to support the game but I could see it an issue for wider adoption. The other difficulty I see is that the second act isn't out yet and there doesn't seem to be a firm release date for act 2. Act 1 leaves on a cliff hanger, so I could see some fans wanting to wait so that they can play the whole thing through at once.
All that said, please check this game out. Not only does it have a female protagonist, but she is a person of color. Both main characters question the world around them in important ways. The story, art, and music are all superb. It's a great example of innovation in gaming. Now I must find some way to be patient until Act 2 comes out.