Marking the Female and Artifacts of the Male Gaze
---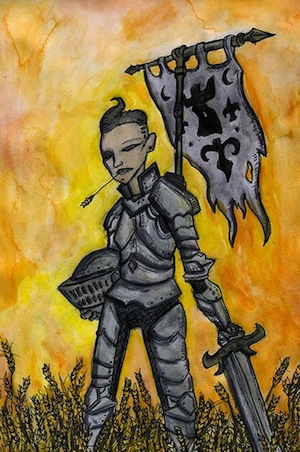 Rook by Jared von HindmanA lot of great discussion has happened since yesterday's article
Minotaurs, Udders, and Worries of Gender Stereotyping. It seems that two of my points about bias might have been lost a bit beneath all the other words so I'd like to talk about them here. Both of these biases individually and together reinforce the idea that the female is "The Other." This feeling of otherness can drive away some players, particularly women who are unsure if the game is right for them. So I think it merits examining these issues a bit more.
Female as Marked
What is "marked?" Here's a basic definition from "Marked Women, Unmarked Men" by Deborah Tannen.
The term "marked" is a staple of linguistic theory. It refers to the way language alters the base meaning of a word by adding a linguistic particle that has no meaning on its own. The unmarked form of a word carries the meaning that goes without saying -- what you think of when you're not thinking anything special.
Notice in Jon Schindehette's article, there was no discussion of what defines a male minotaur. In fact, we rarely discuss what defines males of any race (although we might talk about average height, weight, etc) This is because we consider the male to be the default and the female to be the exception or "marked" condition.
Now at least one commenter argued that this is because there is an overlap in male characteristics, in that both minotaur and human have a penis, but there is a difference in location of the female mammary glands, and, thus, we need to discuss this. However, the issue here is that both breasts and udder on a fantasy creature could be just as easily hidden as a penis often is. There's no reason to believe that a muscular minotaur wouldn't be flat chested and have her breasts covered by a hairy chest. Likewise, lower body coverings could easily cover an udder and, if the minotaur tends to be naked instead, then whatever covers the penis could cover the udder as well. As a construct of the human imagination, we can create this creature however we wish. That we believe the male intimate areas would not be noticeable but the female ones would is part of this bias towards marking women.
Omniscient Breasts
Another part of our bias is focusing on the mammary glands as a way to mark femaleness. While there is a fair bit of variation due to time period and location, heterosexual males often (but not always) have a bit of a fascination with breasts. That's one of the reasons why the "male gaze" often focuses on them as an important body part. However, this way of looking at the female body is far from universal. Kate Elliott explores this in her post, The Omniscient Breasts. Focusing on breasts as the way to distinguish a female character can easily run into this problem. In my opinion, it fetishizes them and takes them out of the context of the character as a whole.
In addition, I'd suggest that this may be one of the main reasons we end up with characters that look like they've had a boob job and are dressed in clothing that shows off their breasts, such as boob plate, corsets, and boob windows. I can see the thought process now: "Well, they told me they want a female character and that female characters of this race are distinguished by their breasts....If I draw the breasts too small, they might not be noticeable, so, to make sure I don't have to redo any of my work, I better create the fantasy art outfit equivalent of big neon signs that say 'HERE THERE BE BREASTS!'" If your intention is to cut down on artists depicting women in this fashion (and I've heard multiple times from multiple people that it is), perhaps telling them that breasts are the way to define a character is counter-productive.
Being Aware
The main reason I wrote yesterday's article and this one is that I think we should be aware of the biases not only that we hold but that exist in what we consume. Being aware of a bias doesn't mean that we must stamp out all occurrences of it. As Elliott discusses in her article, there are times to write a character using a "heterosexual male gaze" point of view, just as there are times we should use the "heterosexual female" or others. Rather, it's a check to make sure that we are using the one that aligns best with the story we are trying to tell. In the case of D&D Next, I'd hope that game material that discusses races and classes clings more to a gender neutral perspective than some previous editions have.