A Map to the Minefield - Kobold Guide to Game Design Volume 3
---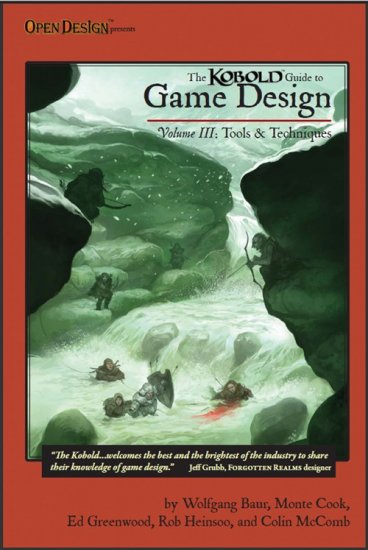 As someone who blogs about RPGs, especially from a new person's perspective, I constantly feel like I'm navigating a minefield without a map. Like any industry, it's filled with its own language, customs and tribes. If you have any opinion at all, you're likely to upset someone.
So what does this have to do with volume 3 of the Kobold Guide to Game Design? Like the other volumes in the series, this one helps to demystify certain dark elements of the game design world, the parts that create the wall between the producer and the consumer. For this reason alone, the series is an important read for anyone who wishes to participate in the discussion of game design.
A few sections of this volume really stand out for me though. In particular, I loved the section on Collaboration and Design. Wolfgang Baur takes on the tricky issue of ego in game design. Ego is necessary to design worlds and games. Without it, we couldn't create and put forth our ideas; we couldn't be gods in our lands. The tricky bit is acknowledging that and knowing how and when to turn it off. For collaboration, learning that skill is a necessity.
Another great section is the Gamers' Social Contract on p. 67. The whole chapter, Myths and Realities of Game Balance, is quite good, but every player and GM should read that section. No amount of rules or guidelines can create a balanced game the way a trusting group can. It's a position I've been advocating since I started playing, but I could never put it as well as Monte Cook.
As with the previous volumes, I learned a lot about the industry by reading this work and they have made me a better DM. I highly suggest it to everyone out there with even an inkling of desire to participate in the industry, whether actively designing or joining the conversation.