A Look at "Sexism in Fantasy"
---
If you haven't read Jon Schindehette's article about Sexism in Fantasy, I suggest you go read it. I will reference it a fair bit in this post.
The portrayal of female characters in fantasy art, including how sexism affects the art process, is an important subject to me. When I read Jon's article, I felt like I had been punched in the stomach. I know and am friends with many people at Wizards of the Coast. I have had chats with Jon on this subject among others. We even had him on a Tome Show episode. I write a column for the website celebrating the company. Yet the words I read on the screen left a mark.
You might ask why. For one, the "poll" set up to show that sexism isn't well defined is a bit flawed as was the definition used. Like many academic terms, it's easily misunderstood or misapplied. It is full of nuance. Whether or not something is sexist depends on lots of things, including context. While his test might have proved that the term is misunderstood by people in the community, it doesn't mean we should stop trying to understand it, even if it makes us feel uncomfortable and perhaps even triggers guilt. It's those feelings that cause some to feel that the term is "convenient, inflammatory, and polarizing," a phrasing that itself is often used as a derailing and silencing technique.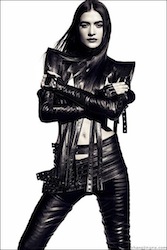 Photography: © Zhang Jingna; Model: Natalia Bonifacci/Ford LA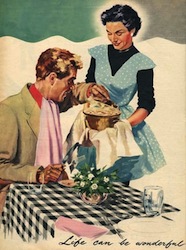 So, let's talk about those two images quickly. One of the issues faced by women is that they are seen as being present mostly for decoration. If most images of women looked like that first image, our artwork would play into that expectation and gender-based constraint of women. Another issue is that women are often put into the role of nurturer. So while a woman in that role is not automatically sexist, if the only times we depict women are when they are in that role, that can be. Finally, a third issue is what is commonly called the virgin/whore dichotomy, something that is illustrated when the two pieces are presented together. In one, we have the nurturing woman in modest dress, devoid of most if not all sexuality. In the second, it seems that if she uncrossed her arms, we would see her breasts. That hint of sexuality that goes beyond the normal bounds of our society is part of what makes that picture exciting.
Now that we've addressed the "sexism poll" Jon constructed, I'd like to discuss the issues of the portrayal of women in D&D. I don't want to limit it just to the art because to be honest, both the art and the text often amplify each other in ways we might not intend. Beauty comes up often in the article, implying that women are beautiful objects and that artists are drawn to creating that sort of art. This, to me, points out some of the problems present due to latent sexism in our society. Why isn't an older woman considered beautiful? When it comes to female characters, why is beautiful so often correlated to cheesecake and fan service rather than compelling stories and other aspects of the character? How does the descriptions of what the artists like to create explain the relative diversity of male representations? Wait, doesn't some of his statements assume a male artist?
Also, when I and other people often discuss sexism in D&D art, we're talking about the art as a whole, across the product and across the entire game. We're talking about the lack of variety in age, body styles, clothing options, composition, content, and the like when it comes to female characters. We're talking about how much more often you are to find a character with an exposed midriff or cleavage than someone above the age of 25 and why it is that so many of the images with multiple characters perhaps one or two token women in them, if any at all. If you haven't looked at which images are chosen for the covers and the half-page vertical images for the classes (and races), I suggest taking a look. William O'Conner appears to be used for just about every class image and he, almost without fail, shows off the female character's breasts and adds elements like garters.
People often step in at this point and ask why I'm bringing "real world" issues into the game. I'd like to turn the question around and ask why they are insisting on bringing "real world" discrimination into the game. Whether they like it or not, the game world of D&D has a world full of women over the age of 25. The Forgotten Realms is supposed to be a game world where women are equal to men. In a world with magic and healing, there's no reason why women would have to be relegated to a subservient role in the world.
But the thing that really got me about the article is that Jon goes out of his way to talk about and even demonstrate why he believes that "sexism" is such a loaded term. Ok, fine, but if you honestly believe that, why use it to frame the entire discussion, especially one as important as the role of women in the D&D world? Why feed the trolls who believe that discussions that myself and other people have often, almost every day at times, are just some attempt at political correctness run amok.
That's what bothered me the most about the post and what led me to feel the most betrayed. I spend many, many hours talking to people about how awesome D&D is, about how much I love being part of this community, and how to get more women to play. Then the very real feelings myself and others have about how women are presented in the game world, in both the art and text, feel dismissed because we dared to use the correct term to discuss them.
As for the circle of finger pointing, the "it's not our fault because it's what the customers want or what the artists turn over to us," well, that's the reason I started the Prismatic Art Collection. Are there limitations on what people like Jon can do? Sure. But there are many things that they could still do within the constraints.
Create a safe space for female fans to provide feedback. It feels so strange to me that I have to point out that many women don't feel comfortable commenting publicly, either as comments on a post or in forums. There are many reasons for that. Give them a space to leave comments and listen to what they say.
For D&D Next, create a less restrictive license, even if it's only for certain groups. I want to create D&D content that is more socially aware for the current version of the game since past versions aren't always conducive to that sort of content. It's also easier for the people I want to reach with it to get the newer books than the older ones and for them to get support from the community.
Create groups (not races) within the D&D world that hold a variety of beliefs about gender, sexuality, and the like. Then divide the characters presented in the artwork among those groups. Then the artwork and the game text will more often align with each other. Cheesecake art will be presented in a context where it makes sense instead of feeling like it's fanservice to a presumed heterosexual male audience who wants that sort of artwork.
I think those would at least make a good start. I'll have more to add once we get to the commissioning stage of the Prismatic Art Collection project.