Kickstarter: Hero Chest
---
Some of you may know about my recent foray into reading and enjoying comics. It wasn't easy at first to figure out where to start and I was led down some dead ends. Recently one of my friends from college contacted me about an idea she had for a business venture and I fell in love with it because of my experiences. What if someone sent me every month a box of new comics for me to explore, perfect for someone new to a particular title or character? I recently received a Hero Chest beta box in the mail and I think the box delivers on this promise.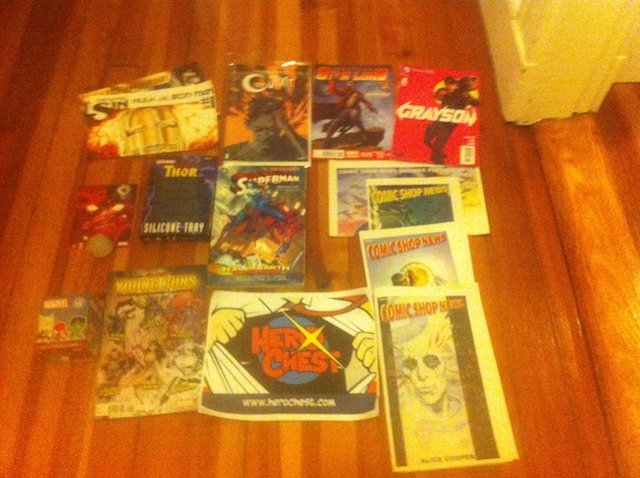 Hero Chest loot
Here's what I got in the box:
Superman He'l on Earth (trade paperback)
Outcast 1
Legendary Starlord 1
Grayson 1
Avengers Silicone Tray
Marvel Vinyl Bobble Head mystery mini
Original Sin bouncy ball
Comic Shop News 1409-1412 and summer preview 2014
All-New Young Guns
Some small posters and other promotional material
Write ups of each of the included comics including any backstory you might need to jump right in and why the curators thought it was awesome.
In the past, I've talked about some of my experiences with comic book shops, some good, some bad. The way I view this box is like a comic shop in a box. I get the great recommendations from people who love and care about comics, comic shop news which can help point me in new directions, and the ability to dip my toes in a variety of comics to see what else I might like whether it be a character, story line, writer, or artist.
For me, the star of the group was Outcast, the first issue of a new project by Robert Kirkman, of The Walking Dead fame. This issue came bagged and boarded because the book sold out nationwide. It's a dark book, with a fair bit of blood, but an interesting story line. The other two issues, Grayson and Legendary Starlord, are both interesting though veer on being a bit too similar to me since both involve rather young men who are off seeking adventure, the former as a spy and the latter as a vagabond hero. I haven't had a chance to delve into the Superman trade paperback yet, but I'm interested that Supergirl is included and that the writing and art is supposed to be strong. The All-New Young Guns is fun and I think it is an neat way for people newer to comics to find artists they like.
In addition to the comics, there were a few fun items. The bouncy ball feels really nice to me as a foot massager. I keep rolling it around under my foot. The silicone tray is awesome and I can't wait to make a bunch of little Mjolnir ice cubes for a party (although I better get started now). The timing was particularly fun because I received it not long before the announcement that a woman will be Thor (again) soon. I got the Green Goblin as the mystery Marvel Vinyl Bobble Head.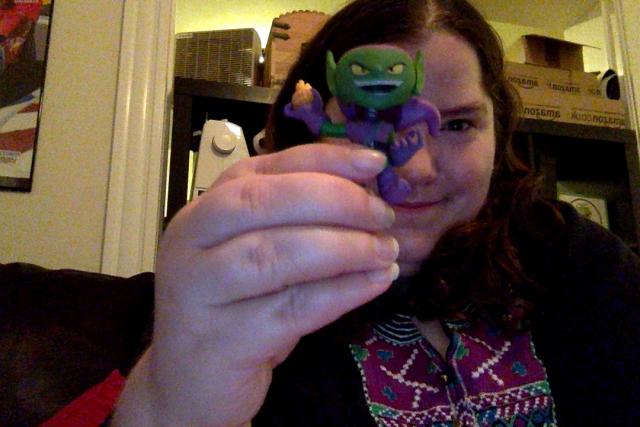 If getting a curated collection of comics and geeky accessories appeals to you, check out their kickstarter.