How a picture of girls playing D&D went from cool to awesome
---
So, some of my friends were sharing an image around that I thought was pretty cool.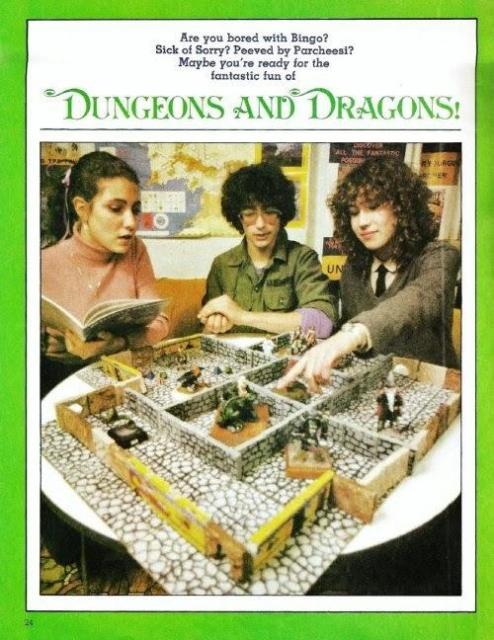 I love it! They claimed that it was a D&D ad from circa 1980. That would be awesome to hear about but something was nagging me about the story. It didn't feel like an ad. I've seen a bunch of ads from that time period. Where was the TSR logo? Or the address to write to for more information?
So I did a Google image search. (In Chrome, I can do this easily by right clicking on the image and choosing "Search Google for this image"). I found this article from 2012 that discusses the image and points to a Scribd page as the source. From this page, it claims that the image, instead of being part of an ad, is actually part of an article about Dungeons & Dragons published in Dynamite Magazine.
Unfortunately, the site would only give me the first page, the one with the image, for free, so I still couldn't be sure that it was more article than ad. My curiosity overcame me and I paid for a one-day pass to the site so I could download the entire article. I'm glad I did!
While the article itself doesn't say Dynamite Magazine, it gave me two more clues. The credited photographer, Richard Hutchings, has had over 20,000 pictures published by Scholastic, Inc, the publisher of Dynamite Magazine. Likewise, a search on the author's name, Margaret Howard, points to a connection to Scholastic. While not conclusive proof, they provided support.
The article is pretty amazing to me. I'm so used to hearing tales about the satanic panic when it comes to the early history of the game. Reading a relatively balanced article from the time period is nice to begin with, but seeing one aimed at kids feels awesome. It was cool to see some of the industry stats too, things like 250,000 sets of D&D were sold in 1979 and that was double the 1978 numbers. It was also interesting seeing it called a FRP, the fact that only Gygax is mentioned as the creator, and that it started from stories his father told him while he was growing up. I also laughed a bit at hearing a group of Orcs called a flock.
After the brief history, it talks a bit about how the game is played and includes two more photos, close ups of two characters, a wizard and a monster.
Dungeons and Dragons is not a game in the usual sense. There are no little "men" to push around a board, no cards to tell you what to do, no race to finish first. There isn't even a winner. Instead, each player becomes a character in an imaginary adventure set in a mysterious world. The game is acted out under the direction of a Dungeon Master (DM). He or she creates the dungeon in which the adventure will take place and controls the action of the game. Usually D&D is organized as a search for some fabulous treasure that lies at the end of the dungeon. Each character hopes to survive the perilous journey and claim the treasure, which could be gold, jewels, or objects with magical powers. Dice are used on each turn. And throwing the right number can mean the difference between life and death, success or failure.
This is a great introduction to the game and no wonder children responded (more on that later). Those familiar with the history of games and of Dungeons & Dragons will know she points out a lot of what made Dungeons & Dragons a success. This wasn't about winning or the end. The middle part, the journey, was why one played (with the possible caveat in regards to tournament games). In addition, the game is more than just what it is not, but what it allows to happen, an open world that can be simulated without necessarily limiting.
She then discusses the role of the Dungeon Master, how they create dungeons, the more complicated the better, and how the players create their characters by "roll[ing] some weird looking dice." Even the role of mapping by the players in the game is discussed, something that later editions often left out and a brief explanation of leveling, "as the players move from one fight to another, they gain experience and become more powerful."
Then she gets to the monsters.
And what monsters! One DM we know especially likes something called Green Slime. According to the D&D rulebook, Green Slime acts like an acid. But when it touches flesh, the flesh itself turns into Green Slime. The only way to get rid of it is with fire, cold, or a magic spell. Yecchhh! And Green Slime is only one of the enormous gang of monsters which could be roaming through the dungeon. Carrion crawlers, shrieking fungus, giant ticks and beetles, hell hounds, berserkers, black puddings, orcs, ogres, stirges, trolls...page after page of the D&D rulebook is devoted to descriptions of these nasty creatures, the damage they can do, and how they can be killed, repelled, or neutralized.
I love this! She includes quotes from at least two players, including one boy who is listed as 13. He tells us, "all you really need is some paper, a pencil, and a good imagination." She also tells people where to find D&D games, although it's part of the paragraph that talks about how some kids take it too far. But astute readers will now know to go to hobby stores and also that they can learn more by reading "issues of Dragon, White Dwarf, and other FRP magazines."
So, am I just over enthusiastic about this article? Well, that's where the story gets even more awesome. While researching the origin of the image, I found a number of people who credit the Dynamite Magazine article with introducing them to Dungeons & Dragons. Let's take a look.
Ryan Dancey
I entered the hobby gaming market as a 6th grader at Westhill Elementary in Bothell. I found an article in Dynamite magazine that had a picture of a map set up with miniature figures and about a half page description of people playing Dungeons & Dragons. Without rules, a firm understanding of how you made a "game" out of that stuff, or much else to go on, something deep in my soul connected with the idea of a roleplaying game, and I was hooked.
Source: https://web.archive.org/web/20070118231810/http://web.mac.com/rsdancey/i...
Frank Brunner
I heard about Dungeons and Dragons in a Dynamite magazine at school. I grew up in a small town in northern Michigan, and being in 4th grade, didn't know anyone else who played. So I told my mom about it, and she tried to DM for me. She had no clue what she was doing. It was fun because it was a family activity, but we ended up just saying you know what, wait until next summer when you're at your cousins, and they can show you how to play.
Sources: http://futileposition.com/2012/07/interview-spellbound-kingdoms-designer... http://www.enworld.org/forum/showthread.php?309277-Your-intro-to-RPGs/pa...
Geoffrey McKinney
That's not merely an ad. It's actually the first page of a three-page article about D&D. It's in Dynamite #82, cover story on Buck Rogers and Wilma "TV's Fun Couple of the Future!"

It was this D&D article from late 1980 that first caused my D&D obsession. For days I pored over each and every word in the article, until that weekend when my parents took me to the toy store so I could buy the Holmes Basic D&D set and the Monster Manual (plus a few dice).
Source: http://odd74.proboards.com/post/33807/thread
They aren't the only ones. I also found this reference by a movie reviewer, Shawn Francis, who credits the article as the source of his weakness for certain types of movies.
I think I got into Dungeons & Dragons back in the sixth grade, hearing about it for the first time in Dynamite magazine, although I didn't really start playing it until I got into my sophomore year of high school. Because of this, I have a weakness for medieval fantasy movies and there have been a ton of them that reminded me of D&D. They even started making movies based on Dungeons & Dragons; unfortunately, they have all been, for the most part, lackluster.
Source: http://www.youwoncannes.com/2014/01/27/movie-review-vikingdom-2013-dir-y...
So yeah, this tidbit of D&D history went from cool to awesome for me as Iooked into it more. I sent emails to the photographer, Richard Hutchings, and Scholastic to see if anyone has more information about the article. I was also able to confirm that the article is from Dynamite Magazine, issue 82 from March 1981.
Thanks to Jonathan Bolding for bringing the picture back to the forefront.
Jared von Hindman provided moral support and fact and trivia checking during much of this search. I love this tweet of his with a pic of the pimping wizard.
Hey @JonathanBolding, we found the full article (Dynamite Magazine) and holy balls, Pimping Wizard plays a big part. pic.twitter.com/KnSp0QeIQu

— Jared von Hindman (@JaredvonHindman) October 4, 2014
Also, if you're like me and are curious about what book the girl on the left is holding, apparently it is the Holmes edition blue book.
Finally, if you are looking for a TSR ad with girls in it from around that time period, check out this commercial.
UPDATE: I got an email from the photographer!
If I remember correctly, the male in the picture is my Nephew David, Now 50 who was showing his girlfriend and her friend how the game is played. Whether they continued playing, I do not know, but my nephew played D and D with his step brother and other friends.

Thanks for the memory,

Richard