Having it All
---
Recently I came across a story about a decently well-known illustrator finding a comic cover depicting a woman breastfeeding offensive and calling it "adult content." Here's the cover: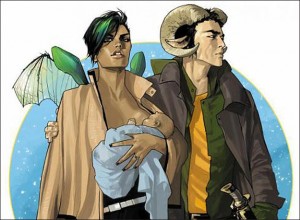 Saga, by Brian K. Vaughan and Fiona Staples

The person goes on a bit of a long rant about the cover, some of it due to his belief that the comic is for all ages although a simple Google search shows that it's rated mature. Easy mistake, sure, but it didn't explain this paragraph.
It seems that in today's desperate-for-sales comic book market, nothing is sacred. In the midst of world-saving adventures, today's modern heroine breast feeds her child with zero modesty. Talk about work-life balance! It hearkens back to those Enjoli fragrance TV ads of the '70s — I can bring home the bacon, fry it up in the pan, and never, never let you forget you're a man…" I'm just so impressed with this I-can-have-it-all super heroine. I had to wonder, did La Leche League (or as my wife took to calling them after she delivered our son, "The Breast Milk Mafia") pay big-time sponsorship money for this cover? What a wholesome, family-friendly image!
I'm surprised that he came away from the picture assuming this was a tale of a woman who had it all: baby, significant other, and she's a hero. I mean, he didn't come across the picture without any context. From the USA Today article about Brian Vaughan that he referenced:
Admittedly a "big Star Wars nerd," Vaughan has channeled his inner George Lucas to create a sci-fi/fantasy epic. It follows two soldiers — a ram-horned man named Marko and a winged female warrior named Alana — from different sides of an intergalactic war who fall in love and decide to have a baby.

That's when the real adventure begins, as the new family is pursued by everyone in the universe, Vaughan says. "You'll get a nice mixture of some bounty hunters, monsters and all sorts of lovely threats."
So it's about a new family, pursued by everyone in the universe. So much so, from the cover, that they can't even find a moment's respite to feed their baby without having their weapons in hand or at least in easy reach. And the sneak peek offered through the USA Today article shows that this is exactly what is going on. In that section, Alana is breastfeeding her baby when the coalition forces arrive to arrest her for "abandoning her post and aiding the enemy." Given that background, I find it a bit strange that he decided that the depiction of breast feeding was gratuitous.
And if having it all is so bad, where is his anger at the father? Where's the anger when Superman gets to save the city and Lois Lane? Why is there a glass ceiling for mothers that even heroines can't break through?
I also am at a loss as to where he came up with "zero modesty." Very little of the woman's breast is shown. Her jacket covers the other breast completely and her midriff isn't showing so there's a good chance she has a shirt or part of a dress covering most of her upper half.
So, the question at this point might be what in the world this might have to do with gaming. Well, in my opinion, a few things:
The person who made this comment has illustrated for a number of companies including Wizards of the Coast. While a person's private opinions shouldn't keep them from working, it does make me wonder if they seep into his work, limiting how far a female character in the work can go, especially since he is willing to attack another artist on this matter.
I've heard this sort of latent dismissal of women from other people in the community (and to be honest, in society in general). When combined with the assumption that the mother chose to put her child in harms way, it frustrates me. The assumption that a mother can't decide what's best for her own child points to an underlying belief that women can't reason for themselves. It's wrong and it really needs to stop. I hope we get to the point where the first thought when viewing a picture like this one is "Wow, what is going on such that that family can't even have a calm moment to feed their child" rather than "How could a mother allow her child to be in such a dangerous situation?"
Too often, even in the world of science fiction and fantasy, what is possible or allowable is different for a woman compared to a man. Even in a world we make up, we have to somehow limit ourselves due to gender. Fathers can be anyone, do just about anything, but a mother is a mother and has just one aspect to her. That's not equality.
This is also what happens when the female perspective is deemed inappropriate and removed from society. Something as natural as a woman feeding her child becomes a trigger for an attack against mothers (and women) who dare to defy society's expectations and limits on their potential. True equality will mean that some men (and women) will have to deal with things that make them uncomfortable, just like I often have to deal with things in current society that make me uncomfortable. The only way to combat this is to get more women (and men) into the public discourse and to give equal consideration and time to their outlooks and points of view.
As for me, I'm looking forward to reading a story about a couple where the child is part of their life experience, where we get to deal with the ramifications of having a child unlike in the mystical pregnancy, where real issues many mothers (and fathers) deal with are explored and potentially even celebrated in a world that might expand our imagination of what is possible. But most of all, in the aftermath of the DC relaunch, it's nice to see a story line where the woman owns her own sexuality, where her body is not something being exploited. I hope it catches on.
By the way, another awesome sneak peek can be found here.