Hacking as Women
---
One of the awesome things I did during GenCon was help with the Hacking as Women workshop on Saturday night. As some of you may know, I've been looking into a number of the women-focused initiatives in technology (my professional field) and seeing what we could translate over to the gaming space. For example, I've been a vocal advocate of anti-harassment policies and the Ada Initiative's work in that space.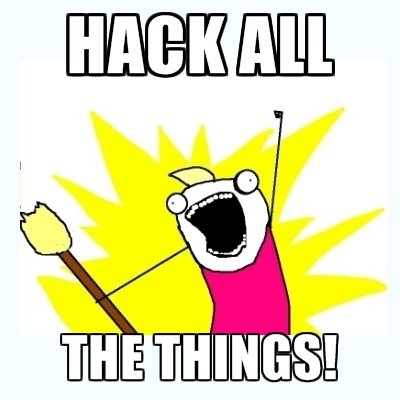 Another initiative I've taken great interest in is the Boston Python User Group's attempts to get more women involved, including their workshop series for women and their friends. Given that I hear many of the same concerns for getting into tabletop game design as I do for getting into tech, I thought it would be awesome to do something similar for RPGs. However, I am not an organizer and I had no idea how to translate this idea into reality.
Then last winter, Mark Diaz Truman moved away from Boston and offered to have coffee with anyone in Boston who wanted to see him before he was gone. I took him up on the generous offer and we talked about a bunch of stuff. During that talk, I pitched him on the idea of the workshop. With his ties to the Indie Game Developers Network (IGDN) and his experience as an actual real-life organizer, he knew how to make this a reality. We talked a bunch, both over coffee and later over the internet, about how this should happen. We worried about wording. We worried about the influx of trolls (one of the reasons I didn't talk about it more was a fear that I would draw trolls to the project, which is another reason why I was more comfortable not having my involvement overly spotlighted).
We talked it over with the supportive Derek Guder. We decided that having an honor system while making it clear who we wanted to participate (women and non-binary people). We knew we weren't going to get it right. Mark got together an excellent team of coach/mentors. Besides himself, our coaches included Marissa Kelly, Cam Banks, Stras Acimovic, and Brian Engard. (By the way, the honor system worked.)
Since this was the first workshop like this any of us ran, we only had a very loose script. Mark started off by thanking everyone for being there. Then we went through why a number of us felt this was so important. Then we went through a quick introduction of the coaches and which systems they were best at (for this, we focused on FATE, Apocalypse World, and Cortex+ as systems to hack). We also took some time to make the implicit explicit, and worked as a group to set some ground rules for the session, giving everyone the ability to provide input.
We tried to organize groups by who was most excited by which systems but realized that one of the system advocates did a great job explaining one of the systems and many people wanted to do that system, which wouldn't work for the way our knowledge was spread. Instead, we started having people pair up and pitch concepts to each other. Once most of the groups had agreed to a concept, we went through again and the coaches tried to match up systems with the concepts. We had two groups where both members didn't agree on a concept, but they were happy to switch group members so most groups were in favor of the pitched concept and the system.
With four of the five groups having a concept, system, and mentor, they started designing and spent the next hour doing just that. For the fifth group, Mark suggested more concrete steps (sorry, it was even cooler than that but I don't know how to describe it). For instance, Mark suggested that they should figure out a type of story they both like and then left for a bit. When he came back, they had a concept and then he talked about what sort of system would be best for it. Their game felt like FATE would be a great fit, so he gave them a character sheet and talked about the parts of a FATE character. He asked them to consider if the attributes listed on the character sheet encapsulated what the characters were likely to do or need to do and, if not, to suggest alternatives.
After about an hour, it was time to start winding down. He described the pitch process and gave each group a few minutes to pitch their idea to the rest of the group. It was a cool experience. Not only were most of the groups super excited about their idea, but there were some awesome ideas out there that I would never have heard about otherwise. We also talked about how to go forward, suggesting that people create a design document that they could easily share and to not get discouraged if the idea doesn't last. Most if not all of the mentors have game ideas that they start but just never finish for one reason or another.
It was my favorite part of GenCon this year and honestly, I'm having a hard time thinking of a convention related experience that beats it. It was great seeing 10 women excited about game design, to watch them go from being nervous about hacking on games (a lot of the intros focused on being nervous or inexperienced) to hacking on games to create they want to see in the world. Afterwards, we collected all of their contact information and shared it to the whole group.
So, if you are at all interested, steal this idea! Seriously. Hack it even! Make it your own. But let's get more women designing and let's build more opportunities for learning, networking, and mentoring. We definitely want to do it again next GenCon and I'd love to see this at other conventions.
Also, don't just take my word for it, here's a description from one of the participants, Sarah Richardson: Con Diary: Gen Con wrap up