Great Insight on Fighting Women
---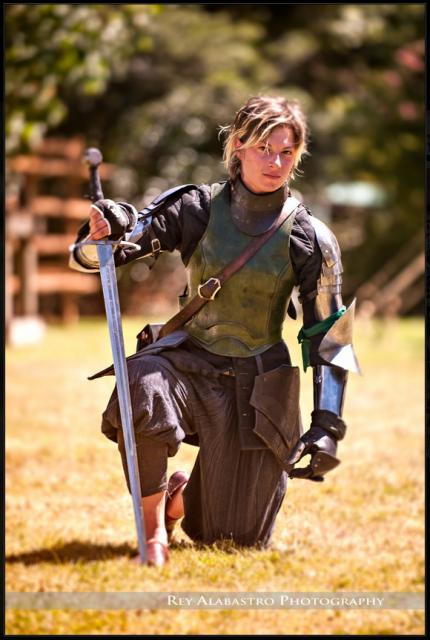 Samantha Swords
I recently found a profile of Samantha Swords from the Fight Like a Girl blog (part of Combatant Magazine). For those who are unfamiliar with Samantha Swords, she is a Western Martial Arts (WMA) fighter, actor, prop maker, stuntwoman, and more. Earlier this year she won the long sword competition at the World Jousting Invitational in New Zealand.
I particularly enjoyed her insights into fighting and I think it could be useful to gamers and other creators of fantasy stories. Too often I hear that women are just smaller and, thus, have no chance in combat. She talks about this a bit but points it out as an advantage.
We ladies have a unique advantage over our sword brothers. As well as having a lower centre of gravity, we're predisposed to be physically inferior, which means that we have to work harder, be accurate and quite cunning to maintain the edge against most of our competition.
It may sound like an illogical advantage, but developing these attributes should happen anyway as a fighter; it's just necessary for women to get a headstart because we have less to offer in the brawn department. Due to WMA being in the infancy of its revival and having no solid divisions of weight or gender, we're allowed to be outmatched in competitions. This is good, it teaches humility for learning proper defence. We need to apply tireless dedication to getting things right, because the result is much more obvious when we don't.
While I know a number of women who are physically bigger and stronger than the vast majority of men out there, I agree with the overall point that not being to fall back on brawn means that women fighters often have to dedicate themselves to their craft. While I don't always find it important to replicate our sexism based on differences in physical size in fantasy literature and games, I do think the concentration on training and practice would be important to anyone of a smaller size regardless of gender and especially among women.
Additionally, Swords points out a number of martial arts that work well for people who aren't as large or physically strong.
I'd advise any female fighters to look at aikido, kumi uchi, goju ryu, and all the fighting guides you can find that use biomechanics to take a pressure or force, and redirect it to compromise your opponent. This will enrich your understanding of historical European combat, because they all point to the same concept: that effective martial arts don't rely on speed, strength or agility, but an artful understanding of physics and how to apply it to the human body. If your technique doesn't work because "you're not fast or strong enough", you're doing it wrong!
Often in fantasy stories, we often think that only the strongest or best capable served in combat. The reality was far more complex. We have many different combat styles in part because we were at the mercy of who happened to be available at the time and their capabilities. The challenge put before those responsible for martial maneuvers was how to use what they had to get the result they needed or wanted. We know women have always fought, we just don't always have records of who they were and how they fought.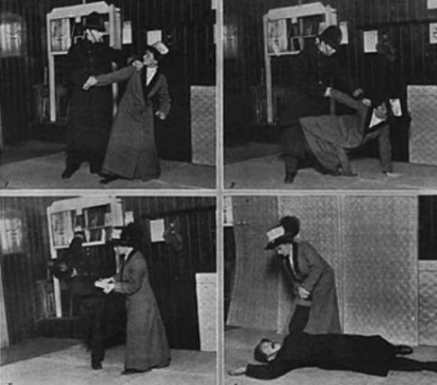 Edith Garrud Flipping a Cop
In a world that didn't tie leadership to combat and/or didn't believe in the natural inferiority of women could easily be set up to teach people of all genders how to fight in a way that used their natural attributes and skills to the best possible advantage. This often didn't happen in the middle ages, at least in the rhetoric, because women's supposed inferiority was an important part of the governance structure, which relied on divine right to rule combined with patrilineal and patriarchal customs. If your fantasy world doesn't have those same strictures, it's harder to argue for the continued lack of women warriors in a society.
I'd like to ask you to consider one further reason why you should include at least athletic girls and women if not women warriors in your stories. Earlier pulp novels could assume an audience that reflected the sexism of the time. This is becoming less and less true. For instance, since the introduction of Title IX in the US, women's athletics has increased dramatically with a 560% increase at the college level and 990% in high schools. Additionally, around that time self-defense courses grew in popularity as a rape counter-measure. Few girls and women my age and younger want to hear that they are physically incapable of defending themselves or others and fewer people, regardless of gender, are used to a world in which girls and women are kept from physical exertion. It does not reflect our reality and will break suspension of disbelief for many, disregarding the fact that many of us want to be strong when we use literature as escapism.
So, if you want to include more women fighters but also want it to make it feel "real" enough given our society's current views of women, this might be a good start. In fantasy literature, Arya from Game of Thrones is a good example of this. If you want more examples of warrior women, especially those who study WMA, the Fight Like a Girl blog highlights more. I also know quite a few women who fight in the Society for Creative Anachronism (SCA) such as Jeanie Davan.
Also, while I'm on the subject of women fighters, I must point out these awesome sketches by Tess Fowler. Here's an example and you can find more here.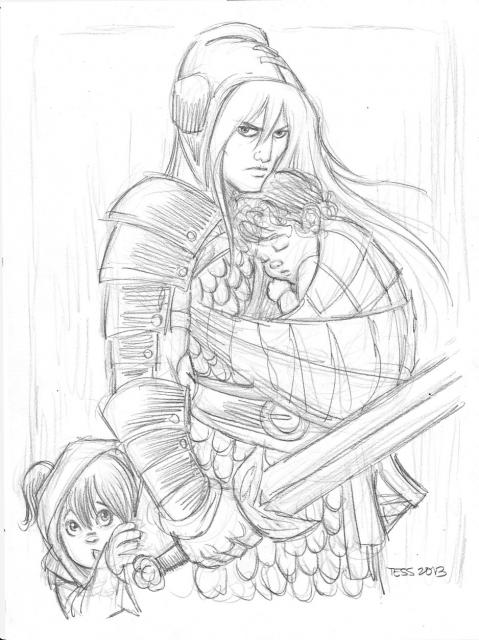 Tess Fowler Sketch