Game Journaling: Character Sheets for D&D 5e and BubbleGumshoe
---
In my last post, I talked about the basics of bullet journals and the utility of the concept when it comes to gaming. I even showed examples of how to layout helper charts for running a BubbleGumshoe game. This time, let's explore how we can use any dot grid journal for keeping character sheets.
Just a quick reminder, I use the Rhodia Webnotebook. Each journal manufacturer may have different page measurements as well as placement and spacing on the page.
D&D 5e
One challenge I want to set for myself soon is to make a bunch of characters. I want to make a portfolio of these, so keeping them in a gaming journal makes a ton of sense. If I didn't have a separate journal for gaming, I'd be tempted to keep them in my primary bullet journal because I would have it handy whenever I wanted (no more "where did I put that sheet?" as I look at a pile of at least dozens of sheets).
For the first one, especially since it's meant to be an example, I largely just reworked the character sheet presented in the back of the player's handbook.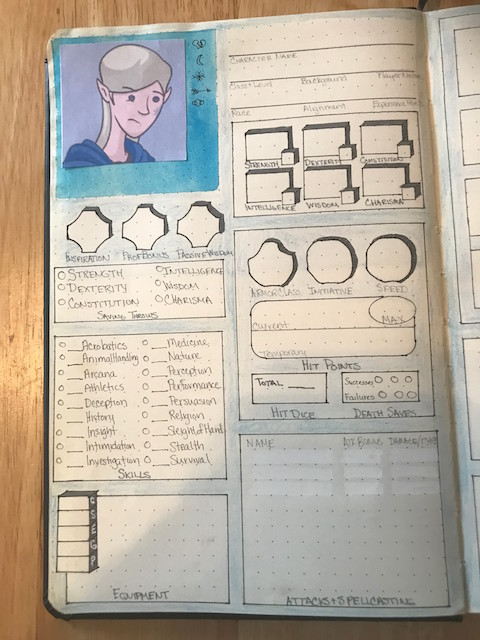 D&D Character Sheet Stats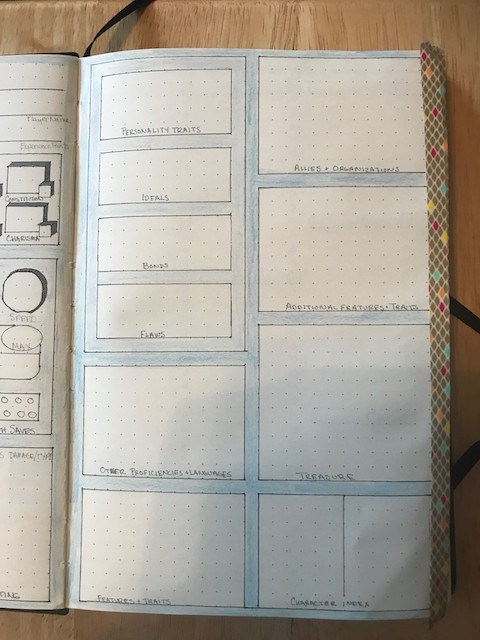 D&D Character Sheet Character Info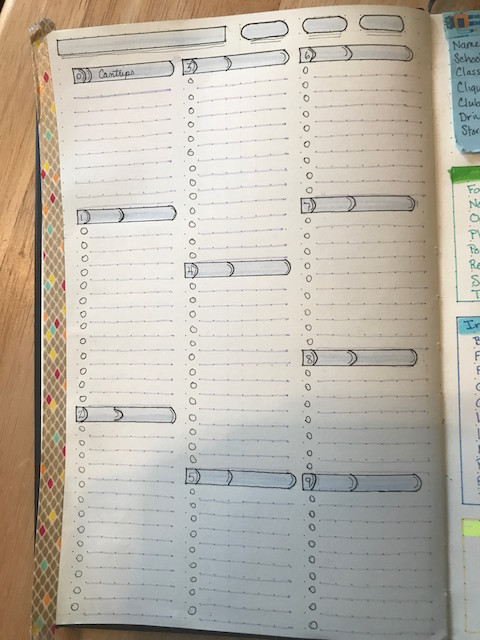 D&D Character Sheet Spellcasting
Supplies Used:
Watercolors (Van Gogh student set)
Sakura Pigma Micron pens (.005, .01, .02, .05)
Copic Multiliner in Cool Gray
White Gelly Pen
Faber-Castell Pitt Artist Pen
Prismacolor Color Pencils
Scotch Washi Tape
Tombow Adhesive Tape Runner
One key is that the washi tape on the right hand side can make it super easy to find your character sheet in the future and gives you an additional opportunity to customize for your character.
Of course, this is just the basic character sheet. One of the benefits of the dot journal is that you can customize however you wish. For instance, I might rework this to do the spell casting sheet as the second page if I had a spell caster. I also would come up with trackers for various character classes, such as anything that is limited to a certain number of times between rests or tracking consumables.
After I shared my work in progress, my friend, Chelsea Kerr, rushed to create a version of her own. Here's her version.

D&D Character Sheet by Chelsea
You can find Chelsea online on Twitter @chelseachan.
BubbleGumshoe Character Sheet
After I made the D&D character sheet, I had a cute (to me at least) idea for how to do a BubbleGumshoe character sheet. I thought about some of the items that a high schooler might have in their backpack. (I couldn't find a plain old ballpoint pen in my bag of tricks, but it would have been a great addition).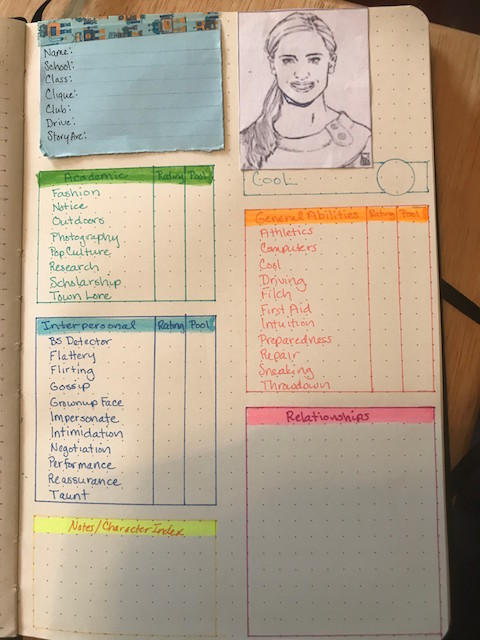 BubbleGumshoe Character Sheet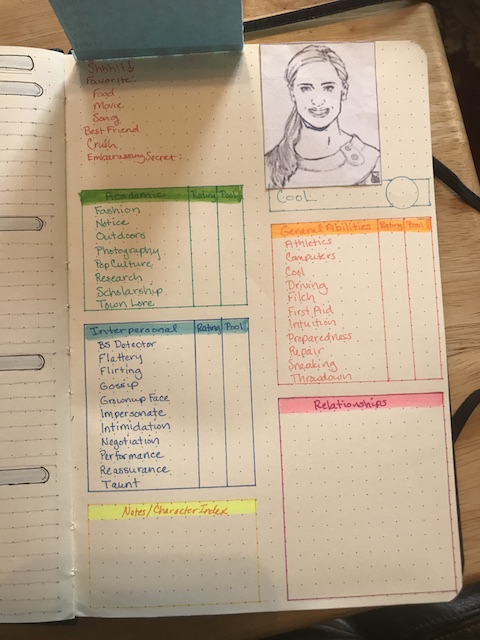 BubbleGumshoe Character Sheet Secrets
Supplies Used:
Highlighters
Small colored notepaper
Sakura Pigma Micron pens
Sharpie Art pens (from the set of 12)
Where to get inspiration
If you're looking for more inspiration on how to draw your character sheet, here are some great resources:
If you create your own, feel free to share them with me via Twitter, Instagram, or via the contact form on this site.
Note:
Character art:
D&D: "Half-Elf Paladin" © 2012 Brian Patterson, used under a Creative Commons Attribution-ShareAlike license: http://creativecommons.org/licenses/by-sa/3.0/ http://www.prismaticart.com/collection/half-elf-paladin
BubbleGumshoe: From example character sheet available on Evil Hat's website. https://www.evilhat.com/home/wp-content/uploads/2016/01/Sleuth-Amanda-Ba...