Fantasy M*A*S*H Up
---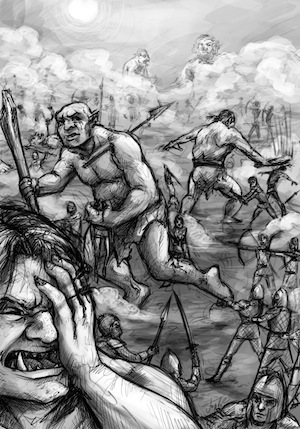 Giant Fight © 2012 Jenna Fowler under CC BY-SA 3.0My friends and I have been working on getting a new gaming group together. Our old group split up a bit, two of them moved away around the same time the third welcomed a baby girl to our awesome world. Those of us left kept talking about getting a game together but no one felt the fire to get it started. Recently that changed for me and I'm now planning a new campaign.
I realized a few things about myself from the last one. I much prefer to play an episodic campaign, with more in common with say Doctor Who than Lord of the Rings. The stress of making sure I can hold up my end of an epic tale that rivals the struggle in Mount Doom gives me too much anxiety. Plus, I really enjoy both not railroading players and interacting with their characters' stories more than my own.
One thing I've struggled with in the past is making their choices matter as much as I think they should. I've done my best, doing things like showing them the spriggan whose life they spared went on to follow his life's ambition and start a bar in the middle of the woods with an eclectic, but friendly, clientele.
I recently played a simulation game called Dungeon Village. I frakking love that game. Essentially, you are the planning manager for a small village near a number of ruins and monsters. Your job is to make the town as appealing as possible to adventurers, getting them to not only spend money in your town but also hopefully get them to settle down and make it their home. You do this by building various shops and attractions and throwing events.
While I loved the concept of town building as part of the game, I wasn't sure how to make it matter in terms of an RPG. Then I read the Flatpack RPG by Machine Age Productions. Now that game has a few other elements that I'd love to borrow (such as using other puzzles and games to simulate in-game challenges, more in the future), but for this, it's the Flatpacks themselves that have me interested. In this game world, you play young or young-at-heart WRENCHes in a post-apocalyptic world. Before the big apocalyptic event, people had invented various types of buildings that folded flat for easy storage and movement. WRENCHes find these buildings, bring them back to their hometown, and set them up. As they do this, they gain resources they can use for future challenges, including access to specialists.
What I'd love to do in my new campaign is something similar. I want to set this game during a war, giving the PCs the job of protecting an important part of the supply route, most likely a ferry. They might play soldiers, medics, or even regular townspeople being asked to pitch into the war effort. They may have volunteered or be forced to serve. But all of them will hopefully be invested in improving the town. I'm using a lot of the research I've done on what happens when war is local. Think M*A*S*H but in a fantasy setting.
We're likely to use D&D Next for the main portion of the campaign. The backgrounds, and especially their traits, should work pretty well for this. A number of the traits require access to something like a library or a temple for there to be a benefit. I'm also thinking of linking specialties to improvements that can be made to the town. Want to add a new skill, such as Planar Lore? Perhaps it's time to requisition new books or find a way to entice a specialist to move into the town.
Also, since it's war time, resources overall will be fairly constrained and they may be expected to get what they need or want on their own. Perhaps they decide that there's too much traffic through the town for the ferry to keep up. They could build a new ship or perhaps design and build a bridge. Both need wood and some study. Want to make the work go faster? Find a way to provide enough nighttime illumination to have additional shifts (fire beetles might help with that).
By linking this to a town setting during a war, we should have a variety of stories to tell and a variety of characters we can use. This means some sessions can be closer to a more traditional playtest experience while other sessions can play with the rules a bit. It also means we can use other games some nights. For instance, characters that can be NPCs during the D&D Next sessions could be PCs for another system such as Dungeon World or 13th Age. We also could create Fiasco playsets to use on the nights when we can't quite get a full group and play out some crazy shenanigans (I sense a play or talent show to raise morale in our near future).
I realize it's still a rather loose idea and needs to be worked out quite a bit more, but that's where I am at these days.