Exploring Women's Power
---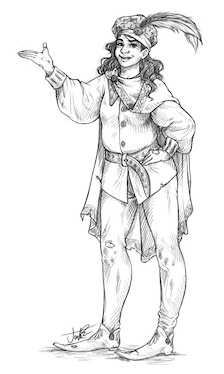 "Gonteut"; © 2012 Jenna Fowler, used under a Creative Commons Attribution-ShareAlike license/3.0/Recently, Amanda Valentine wrote a great post on her site about why story matters. In it she says, "Story matters, on a fundamental level. Fiction reveals reality and can, in turn, change it." This sentiment has been something that's been on my mind for a while now, and I think often gets lost in the discussions and critiques of story.
One of the issues I often face in reading fantasy books or in playing a number of roleplaying games is that it feels obvious that people knowledgeable of women's history weren't involved in the creation, either as creators or as an expected target audience. I can sense this because the historical feminine perspective, and in particular, women's sources of power are often left out of the world, especially when it comes to mechanics.
I can already hear some of you saying, "Hey, just wait a minute. Women were oppressed in ye olden times. They didn't have any power. What's this you're trying to sell us now?" I can understand that sentiment, it's a common trap we can fall into when discussing systemic oppression. We have a tendency to view things in the binary, you either have power or you don't. Our stories often reinforce this since complex stories are much harder to tell and don't give us a clear message. However, this point of view also dehumanizes women in history, painting them as powerless victims while we know that this wasn't always the case.
So, I'd like to ask you to put on your game designer hats for a moment and explore the world of women. First, let's talk about world building. We know that in the US and Europe (and some other places besides) certain rules affected women. Let's call the the default story of the world.
Women are expected to submit and be subservient to men, especially in any area with a Christian tradition. This starts with them obeying their fathers and is expected to continue when they marry. This was meant to mirror the hierarchy in the church and there was a common belief that the two became one with marriage, with the husband at the head.
Women are not allowed to own property nor enter into contracts on their own. When their husband dies, if they have any property, they may get that dower, meant to sustain them in the event they outlived their husband, but the rest of the estate was portioned out by the husband.
Given that education was expensive, it was common to not educate girls to the same level as boys were educated and to restrict their education to subjects appropriate to their future lives as wives and mothers in the home. Many professions and guilds banned women members (although sometimes there were exceptions for women who worked under male relatives) and many universities would not accept women as students.
Children were the retirement plan for many. A relatively large family of both boys and girls meant the costs for care could be spread around and would increase the chances of having a child alive when it became harder to work. In parts of colonial America, children could be compelled by the court to pay for their parents' care.
Much of society is ruled by families, not nations. Being born or married into the right family can increase your prospects; the wrong one can lower your esteem.
Upward social mobility is limited, but families that lose esteem or gain enemies can fall fast.
So, that's the power structure you find yourself in if you are born a woman. While some women, particularly those of noble birth, can break those rules, for the vast majority of women, that wasn't really an option. And remember, you're still a person with basic needs and desires, such as food, water, shelter, sex, etc.
So, if you were a woman with those restrictions, how would you navigate society, providing for your own future and, perhaps if you have them, for your children?