Example of Including Pronouns: Uncaged Anthology Volume I!
---
A couple of weeks ago I posted a blog post discussing how including pronouns for characters could be helpful in a number of ways. Soon after I did a highlights flip through of a PDF and saw an example of including pronouns. The product? Uncaged Anthology: Volume 1*, a collection of adventures, each of which feature a creature that is traditionally considered female. Many of these adventures have a section called Dramatis Personae and within this section, some authors decided to include the character's pronouns.
As an example, here is the list from one of the adventures, The Guardian of the Forest, by Awkward Bard: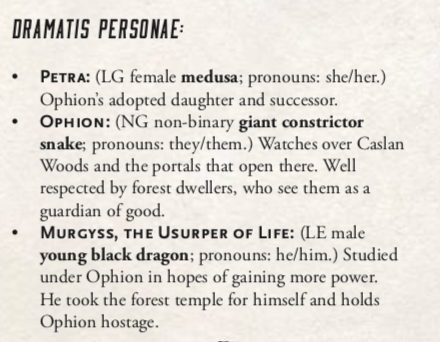 • Petra: (LG female medusa; pronouns: she/her.) Ophion's adopted daughter and successor.
• Ophion: (NG non-binary giant constrictor snake; pronouns: they/them.) Watches over Caslan Woods and the portals that open there. Well respected by forest dwellers, who see them as a guardian of good.
• Murgyss, the Usurper of Life: (LE male young black dragon; pronouns: he/him.) Studied under Ophion in hopes of gaining more power. He took the forest temple for himself and holds Ophion hostage.
It was awesome to see that some folks are trying this out and this is an example others can use in their adventures.
If you are interested to learn more about Uncaged Anthology, the project's website can be found here. In April they are partnering with Non-Toxic Gaming to run a charity stream to raise money for RAINN.
I also did a selected flip through of the pdf and posted it on YouTube.
* Affiliate link