Edna Adan Ismail
---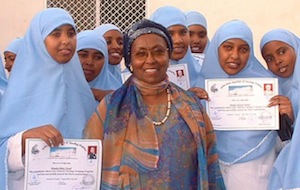 Edna Adan Ismail: from WikipediaThe PBS documentary Half the Sky introduced me to the wonderful Edna Adan Ismail. The daughter of a prominent Somali doctor, she trained as a nurse in the UK and returned to serve her homeland. In the mind-1980s, she started to build a hospital in Mogadishu but the Somali Civil War interrupted the project and forced her to leave. From then until the late 1990s, she served in a variety of advisory positions, sharing her knowledge with others who wished to help the area.
When she returned to Somaliland, she built the Edna Adan Maternity Hospital using donated land. The hospital had two purposes: provide much-needed medical services to the people and rebuild the corp of trained nurses. The latter was a particularly important issue, the civil war had caused many nurses to flee and many of those who stayed had been killed. Since the hospital opened in 2002, a number of improvements and additions have been made. According to Wikipedia, "[t]he hospital now has two operating theatres, laboratory, library, computer center and a complete wing dedicated to training nurses and midwives."
While some of the nurses trained at the hospital stay there, many more network out into the surrounding area, bringing their skills and knowledge to the surrounding people. In particular, midwives often serve in an area, visiting the homes of pregnant women and tracking their progress. Given the traditions of the area, it's important that many of these midwives are women and that they visit the women in the homes rather than asking them to travel to a central clinic. Furthermore, these midwives often have to have specialized training since female genital mutilation is still a common practice here and the resulting scars provide unique and particularly dangerous challenges to women during birth.
When I watched the documentary, I instantly wanted to play a character like her. I already knew midwifery was one of those traditionally female occupations that often was left out of games like D&D[1]. As a PC, I could see her traveling from town to town, teaching people in each area not only how to heal one another through nursing skills, but also teaching a few of them how to teach those skills to others, much in the way clerics might establish new temples. A PC might also want to learn about how pregnancy and child birth are handled in the various cultures he comes across. Many societies have special rituals for the birth of a child and, for some groups, exploring these are fun.[2] As an NPC, why not replace some of those caravan escort missions with helping a nurse or a teacher? Or she could be a great teacher that a PC nurse and/or midwife wants to visit for future training.
Additionally, we could take inspiration from how she builds the community and bring that to our games. What if adventures did the traditional D&D things, such as killing monsters, but some of the rewards from the adventure built up the community and area. The Edna Adna Maternity Hospital was built on land that had been used as a garbage dump. Perhaps, the PCs could reclaim land for a similar community-oriented facility. Likewise, midwifery needs light but babies don't consider whether or not the sun is up when they decide to come out. What if a low level adventure required finding better sources of light?
Some videos of Edna:
[1] For example, when working on Pathfinder Ultimate Equipment, I noticed midwifery was on the list of professions for the game, but no tool kits existed. So I submitted one and it made it into the book.
[2] I'm also partial to coming of age ceremonies. When I wrote my ecology of the minotaur article for Kobold Quarterly, I included a few including a form of ritual combat and the importance of a person's first set of armor.
Interested in more black history? Quinn Murphy is posting and collecting great content on his website Thought Crime Games. Please consider taking part of his challenge.