Drelnza, The False Disney Princess
---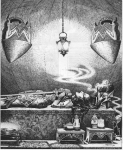 Attention: Spoilers of the Lost Cavern of Tsojcanth ahead.
Some people questioned how I could have a problem with the Lost Cavern of Tsojcanth. The main character from history is a woman afterall, and a powerful one at that. She imprisoned the demon
Having an evil main character be a woman isn't necessarily a problem. Heck, in a world with gender equality, that should happen about half the time. I have problems with the fact that the only prominent women in the world are evil. In the societies presented, such as the gnomes, there are no strong women. In fact, the female gnomes are non-combatants even when the blood thirsty PCs are at their door attempting to slaughter them.
Furthermore, there are additional issues with Drelnza. First, she is literally called treasure. Now some people might want to spin this into a "Look, motherhood transcends pure evil for Iggwilv considered her daughter to be her treasure." I could almost buy this, although I'd find that too a bit problematic, but Drelnza is presented as literal treasure, a golden Sleeping Beauty or Snow White.
The sleeping maiden is armored from toe to neck in gold chased plate mail. A long bastard sword is atop her body, its quillons below her breasts, its point near her feet. The woman's gauntleted hands are crossed over the sword's pommel. Her pale face seems composed. Her lips are bright red and her raven-hued tresses are lustrous. A helmet with plumes as black as the maid's hair rests on the slab just above her head.
To play up this Disney Princess connection even more, she attempts to manipulate and charm the party.
Drelnza will then awaken and be fully aware, but she will remain still until someone enters the chamber. Drelnza will then sit up slowly, pass a hand across her brow as if coming out of a strange coma, and then blink her eyes open. When she sees the party, she will smile sweetly and welcome her "rescuers" -using a vampiric charm on each member of the party. She will attempt to charm as many persons as possible before the whole party comes down into the lower portion of the sphere. As soon as a lawful good cleric comes within 10' of her, Drelnza's sword will spring into her hands, and she will smite the cleric. Drelnza has a bonus of +2 to hit and +4 damage with weapons, due to strength.
So, yes, part of me wants to say, well at least she's strong and bad ass. However, I'm not entirely sure this is due to her strength or due to the weapon itself. In fact, she also stands out for having a sword that has its own ego and intelligence. The sword is so powerful, it overshadows her.
Her sword is a chaotic evil bastard sword +4 with an intelligence of 17 and an ego of 20. Its special purpose is to slay lawful good clerics, and any such cleric struck by it must save vs. Paralyzation or be paralyzed for 1-4 rounds. The sword also has the following powers: detect good, detect magic, detect invisibility, flying. The sword can communicate telepathically, read languages, read magic, and speak Common, Hill Giant, Minotaur, and chaotic evil. Drelnza wears plate mail +2, and slippers of spider climbing (see the end of the module for details on this item).
I need to pause for a moment and ask an obvious question. Full plate mail, gauntleted hands, a helmet, but her feet are covered with slippers?
Also, here we have one of the few examples of NPC women fighting in this module (the exceptions being Trogoldytes, Formorians, Female Wolfwere, and Alu-demons, most of them being evil), and she's pure evil. In the good aligned groups, we have lots of male warriors, but the women are listed as non-combatants, as with the gnomes.
We also have no idea going into that room who she is. The module plays on the trope of wanting to save the sleeping woman, someone who is very often a princess. Sure the armor might throw it off a bit, but it's shining! She can't be bad, she probably needs to be saved, even though we were warned against saving her, but just look at her. Besides, if we don't do anything, we don't get any treasure. Clearly she's part of the treasure we're supposed to get.
While I can understand that at first glance, she seems like a badass character, in the context of the story, it's all off.
So, what would I change? Well, first, adding some female warriors who aren't evil would help a bunch. Make some of the border patrol leaders women, and the same with the gnomes, dwarves, and elves. If you want to keep her as the sleeping beauty, I might suggest putting some clues as to who she is. Maybe place some images of Iggwilv throughout the dungeon and when the characters come upon the warrior-maid, have them roll a check to see if they notice the resemblance to give them a chance against falling prey to her wiles. I'm sure that there are other things to do, but I think this would be a good start.